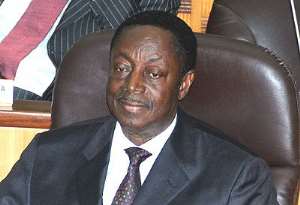 Should the circulation of information on the Ghana internet news portals and social media platforms in regard to Dr Kwabena Duffour aiming to contest for the NDC flagbearership be true, then I, Rockson Adofo, promise him having my back. There will be neither any ifs and buts nor hesitation on my part, but to declare my unflinching support for my Kumawu compatriot come the D-Day, regardless of the odds.
I want former President John Dramani Mahama who sees himself as the de facto flagbearer of the NDC but overflowing with ill-mannerisms, cluelessness, incompetence and corruptibility, to be shown his smoothness level through competing with, and unseating by, the noble son of Kumawu.
Much as I believe in the continuity in power for the NPP to do more for Ghana as they are by every standard and stretch of the mind better than the NDC, I will simply support my Kumawu kinsman to rid the NDC of that disgraceful power-conscious and dangerous John Dramani Mahama. By his pronouncements, scheming and foul-mouthing, he is just a misfit in both the positions of NDC flagbearer and president of Ghana. He is simply an indelible mark or stain in the annals of Ghana politics.
I can hardly understand why he feels he is born to lead but not to follow hence always plotting and colluding with equally-minded evil persons to cause harm to his rivals. What else does he need from Ghanaians and God after all the numerous positions he has held in the country and the amount of wealth he has acquired both genuinely and criminally? Does he think the country belongs to him alone hence his unflinching desire to move heaven and earth to come back to power again?
Ghanaian ace musical artist, Lucky Mensah, sums up the greediness of John Dramani Mahama in his 2020 electioneering (campaign) song he made for the NPP.
To scupper the selfish aspirations by John Dramani Mahama coming back to lead Ghana after all the thieveries himself and his family and cronies have perpetuated in Ghana or inflicted on Ghanaians, it is just appropriate that I support another candidate to unseat him hence throwing my full weight behind my own Kumawuman compatriot in the person of Dr Kwabena Duffour.
I am not a member of the NDC but to have John Mahama enrol yobs and criminals like Sammy Gyamfi, Samuel Ofosu-Ampofo, Kwame Appiah Stadium, etc., to come to terrorise Ghanaians and ransack the nation's coffers, I will exercise my intelligence through prolific publications to neutralise his diabolic dreams.
I have only to be given a signal that someone credible like Dr Kwabena Duffour is contesting him and I will gird my loins to proceed to the NDC political battlefield to help him win the battle, if not the war of the Titans. The war or the clash of the Titans here will be the one between NPP Dr Mahammudu Bawumia and any chosen NDC presidential-candidate.
Rockson Adofo
Tuesday, 21 September 2021