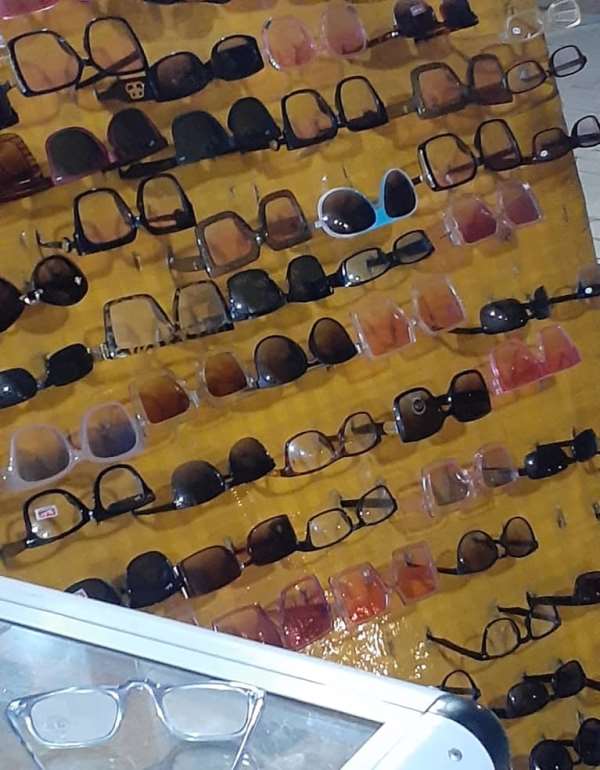 Gradually, the wearing of non-prescription sunglasses popularly known as "dark shades" has found its way into the Ghanaian culture and almost the order of the day now. As some wear it for life "flex" or style, others may presumably, be wearing it to protect the eyes from the ultraviolet (UV) sunrays. It mostly looks good on anyone wearing it since most of them come in a lot of nice shapes and models. Their prices also seem affordable and easy to get since they are sold almost everywhere and one does not need a prescription from an eye doctor to purchase these.
Most youths will opt for a sunglass in the name of fashion. Tarifatu, a tertiary said she only put on sunglasses to look good and to take pictures, adding that the nose pads makes her nose pain her when she wears it for long. Godfred a Customer relationship executive also said though he uses the laptops for long hours, he realised the need to protect the eyes but he will choose unprescribed sunglasses over going to an optometrist for a medicated lens because of the cost involved. He mentioned that he settled for unprescribed sunglasses base on their design and cost.
It has been said that continuous exposure to the sun for hours every day increases one's risk of developing conditions such as pterygium, photokeratitis, and age-related conditions including cataracts, macular degeneration, among others. The effects on one's eye may range from having sore and teary eyes to major blinding effects.
This then necessitates the need for sunglasses since their role is to block the sun's harmful ultraviolet (UV) rays from entering the eyes. Unfortunately, not all the sunglasses in the market are able to efficiently block or limit the sun rays from reaching the eye. This calls for the need for everyone to be careful when selecting a sunglass on the shelves for various reasons.
According to Dr. Gideon Banini, an Optometrist, sunglasses must be effective in blocking much of the sun's harmful ultraviolet (UV) rays. He mentioned that not all dark glasses referred to as sunglasses automatically protect the eyes against the potentially damaging effects of the sun's ultraviolet A (UVA) and Ultraviolent (UVB) rays.
" There are dark glasses that do not give any protection against the sun, the UVA and the UVB protections are rather added features to the glasses though they are a must have features", he said.
Dr Banini added that most people ignore checking the UV and UVB protection of their sunglasses though this has a significant impact on the value of the glasses.
"Over exposure to UV rays can lead to serious eye problems over time, including permanent damage to the front surface of the eye (cornea), cataracts and certain cancers," he said.
He mentioned that the amount of UV protection non-prescription sunglasses provide has nothing to do with the colour or density (darkness) of the lenses. UV radiation is invisible and is not significantly impacted by lens tints. It's the lens material and coatings on sunglass lenses that block UV rays.
Most good-quality non-prescription sunglasses have a label or tag attached to the lenses that indicate their UV or UVB protection but still require the advice of an optometrist to verify. Another option is to purchase non-prescription sunglasses with photochromic lenses that are clear indoors and automatically darken outdoors in sunlight. These lenses typically are available only at optical stores or eye doctors' offices.
Dr Banini advised the public a scheduled eye examination with an eye doctor would be appropriate before selecting a non-prescription sunglasses since only an eye doctor knows for sure.