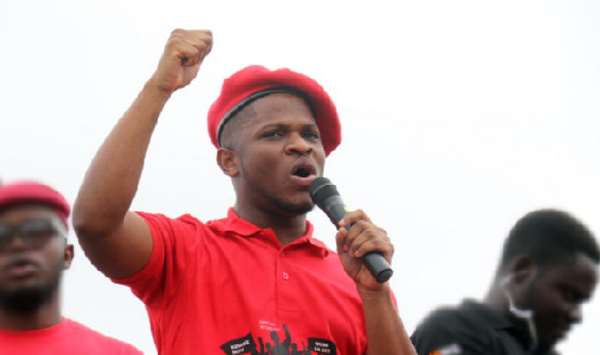 National Communications Officer of the National Democratic Congress (NDC), Sammy Gyamfi has alleged that President Nana Akufo-Addo and Vice President Dr. Mahamudu Bawumia are behind the arrest of Rev. Isaac Owusu Bempah.
The Founder and Leader of the Glorious Word Power Ministries was arrested last Sunday alongside three persons after being captured on tape issuing threats, brandishing weapons, and assaulting some police personnel.
After struggles to secure bail, Sammy Gyamfi says it is a deliberate move by powerful men in government to frustrate Rev. Owusu Bempah as punishment for prophesying that Dr. Bawumia cannot become President.
The NDC National Communication Officer also alleges that President Akufo-Addo and Bawumia have a hand in the arrest because Rev. Owusu Bempah recently defended ex-president John Dramani Mahama's do or die comment.
According to Sammy Gyamfi, if President Akufo-Addo and Dr. Bawumia were at peace with Rev. Owusu Bempah he wouldn't have been arrested in the first place to be made to go through his current ordeal.
"What we are being told that the law is working is not true. That is now what is happening. I will always advocate for the rule of law. I will be the last person to defend him but where there is a fight in a particular party [NPP] and because of that they want to discredit someone [Rev. Owusu Bempah] and harass the person to cover up what is happening in their party, we must come out and speak against it," Sammy Gyamfi alleged in an interview on Asempa FM on Wednesday.
The NDC Communicator added, "Nana Addo and Bawumia are unhappy Rev. Owusu Bempah is not in support of the Vice President ahead of the 2020 general elections. It is because of this that all this is going on."
Sammy Gyamfi in his argument, said if it's about rule of law, the IGP should arrest Kennedy Agyapong Nana Agradaa, and others who have committed crimes but are walking around because they have influence.