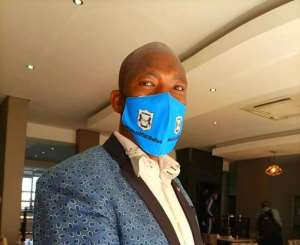 Botwana Boxing Association (BoBA) has elevated its publicity secretary (spokesperson), Taolo Tlouetsile to Secretary General (SG) in elections held on September 11.
BoBA held its Annual General Meeting (AGM) on 11 September, which was initially scheduled for June 28, but was postponed due to COVID 19 restrictions. The AGM was also an elective one, with elections taking place every four (4) years,
Elected committee members are expected to lead BoBA to the 2024 Paris Olympics. They are also expected to draft a return to competition manual which will guide local competitions. The association had two boxers at the just ended Tokyo 2020 Olympic games: Rajab Mahommed 52kg (male) and Keamogetse Kenosi 57 kg (female) who unfortunately lost at the preliminaries.
In an interview with (delreport), the new Secretary General, Taolo Tlouetsile congratulated all who made the BoBA elections possible, as well as all newly elected members of the association. He also urged boxing associations across Africa to endeavour to develop young talents capable of bringing laurels to the continent.
He went on to commend Ghanaian boxer, Samuel Takyi for securing bronze medal in the men's featherweight at the Tokyo 2020 Olympics, Ghana's first podium finish in 29 years. Taolo Tlouetsile, concluded saying: "One day Botswana boxing team will visit Ghana or invite them to the beautiful republic of Botwana."
The new BoBA Secretary General is an award-winning sports journalist and BoBA publicity Secretary (spokesperson) for the last four years. He is also a public relations specialist and sports analyst. Besides, he is a member of the competition committee at AIBA- International Boxing Association headquartered in Lausanne, Switzerland. AIBA committees have other African leaders from Lesotho Eswatini, Nigeria, Morocco, Mauritius, Egypt and Algeria.
Election outcome
For the Presidential candidates the two (2) other candidates failed to make it and the other two finished equal. So, the two candidates with a tie went into the second round. This ended in a tie again, which was broken in the third round. Vice-president (VP) and additional member positions also finished equal. The two (2) ties were broken in the second round.
PRESIDENT
Gilbert Khunwane 14
Micheal Moroka 10
VICE PRESIDENT
Othusitse Mogotsakgotla 13
Hlanganani Digwere 11
SECRETARY GENERAL
Taolo Tlouetsile 13
Ireen Ntelamo 11
COMPETITION MANAGER
Phetogo Tsheko 14
Mathata Mathata Tingwane 10
PUBLICITY SECRETARY
Moitshepi Nkabiti 16
Emannuel Boefelo 8
ADDITIONAL MEMBER
Boitumelo Taolo13
Peter Tshenyego 11
The position of treasurer is still vacant and the new committee will co-opt.