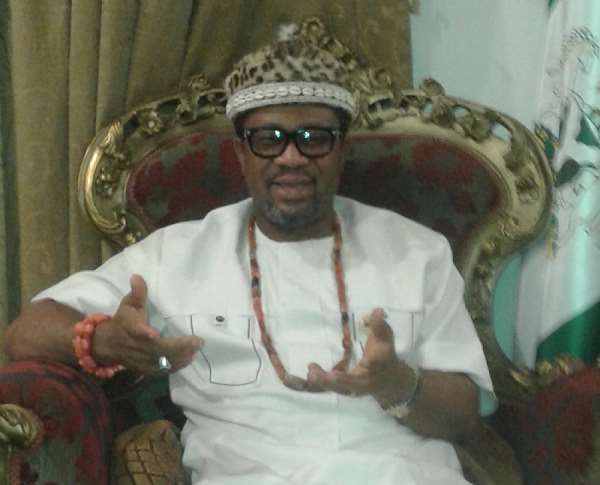 Eze Jude Chukwudi Ihenetu, the Eze Ndigbo of Ghana
Beyond being a celebration of yam, the Igbo new yam festival this year will also build bridges, more importantly: bridges of friendship and of mutual understanding between peoples; and, more specifically, people-to-people bridges between Ghana and Nigeria, Ghana, Eze Jude Chukwudi Ihenetu, the Eze Ndigbo of Ghana, tells MARTIN-LUTHER C. KING in this interview, in Accra. According to him this year's event will bring together Ghanaian royalty, including kings and queen mothers, as well as top government officials, in a celebration of fraternal bonds between Ghana and Nigeria. Excerpts:
Q: You are celebrating your new yam festival this September 19 as, among others, a conscious effort at building cultural bridges between Ghana and Nigeria, using specific Igbo festivals. But what really is the significance of the new yam festival? And why is yam so important to the Igbos?
A: Among the Igbos, yam is a crop that our forefathers respected a lot. And among all the crops that they planted, they had so much love for yam. They saw yam as a saviour that can be turned into various menus: pounded yam, or utara ji; yam porridge, among others. Yam could also be used to bless other families, by giving them, maybe, twenty or thirty tubers of yams to plant during the next planting season. When you give somebody twenty tubers of yam and he cuts them to plant, that twenty tubers can give you multiples of tubers of yam in future. Automatically, with yam, you are sure that there will be no hunger in various families. So, when you give somebody tubers of yam, that means you are starting something agricultural for him or her. So, our forefathers saw the importance of yam, and respected yam as the king if crops. And life is a continuum. One generation follows, and learns from, another. Our children are watching us as we celebrate yam. And every year people are sewing new clothes hoping that Eze Igbo Ghana and the elders will celebrate new yam festival; and, even without invitation, people are planning to attend. Think about it: as they are growing up with it, and we are also getting old; in the next twenty, thirty, fifty years, or whatever, this our generation will fly out. And the following generation will then take it up from there. So, it's something that we inherited from our forefathers; and there is no how we can stop it. Because, if I have a family of four or five children, maybe one person out of those four or five boys might love tradition. So, yam is what Igbis cherish a lot as king of crops.
Q: What are the plans for this year's event?
A: Preparations are going on very well. Our planning committee is seriously working so hard. This year we will display a lot of masquerades, we will display a lot of Igbo women traditional dancers, we will display a lot of our youth traditional dancers, we will display yams, we will display our people in Igbo farming attires. We will also display our food, Igbo foods. We also intend to use the new yam festival to strengthen the traditions and cultures of Nigeria and Ghana. You will see a lot of Ghanaian kings and queen mothers that day, because tradition is what every African cherishes a lot. And, through tradition we build serious bridges. So, you will see a lot of Ghanaian kings, you will see a lot of Ghanaian government officials who will attend the event on that day. Because we are not just celebrating yam, we are also celebrating relationship between the two countries, Ghana and Nigeria. So you will see a lot of things on that day; the expectations for that day is very high.
Q: How will this year's event be different compared to last year's?
A: One is that we have reached out to many people who have hitherto not been attending the event. The Igbo New Yam festival is virtually the same every year and everywhere. It's all about yam, yam, yam. What makes one different from the other is the kind of people you invite from one event to the next, the kind of display you put up. So when new people attend, when many more people come in, that means that well and are extending the frontiers to many other kingdoms here in Ghana for them to know what we are doing. So, these are some of the new things you are going to see this year.
Q: Which particular tribes in Ghana would you say share similar cultural traits with the Igbos?
A: The Ewes; they also celebrate yam festival. Togbe Afede and his kingdom, and many other kingdoms, for instance, also celebrate the new yam festival. There is also this king from Techiman. Two years ago, he brought about 200 to 300 tubers of yams for me; so, they celebrate yam, also, in Techiman. So, there are similarities in so many areas. Africans are the same, migration of our peoples notwithstanding. Take, for instance, like we are here in Ghana, we try to let our people understand that we have become Ndi Igbo Ghana. I married here in Ghana; so, we are part of the system for ever. And it's not everybody that we give birth to here that will eventually go home; some will remain here forever. But that name 'Igbo' will forever be running. So, if we are growing with that name, and our tradition is established very well the way we are working hard for it now, that means that in future, you will see this kind of similarity. If you go to Equatorial Guinea, for instance, there is Ndi Igbo in Equatorial Guinea. The third largest community in Equatorial Guinea are Igbos; they speak Igbo there. These are Igbos that travelled during the time that country needed more farmers. They went there for farming, and stayed back there. They still display all Igbo culture. I'm even planning to link up with these Igbos of Equatorial Guinea. Before the end of 2022, I assure you that we will make contact with them to see how best we will move our culture forward. That's something for another time, though. But, what I'm trying to say here is that we are doing this because we want the relationship between Ghana and Nigeria, traditionally, to remain strong.
Q: Kindly assess the condition of Nigerians, and Igbos, in your domain?
A: Nigerians in Ghana are comfortable, generally. It's easier for a father of two to provide food and control the children compared to a father of five or seven children who will likely have difficulties taking care of those five or seven children; feeding them, clothing them, paying their school fees, paying utility and other bills. There will always be a challenge. And, among those 5 to 7 children, one or two might be stubborn, might not be listening to daddy's or mummy's instructions; but when they are two it's more likely that the fear of the parents will be there, and it's easier to control them. Nigerians in Ghana are no longer just few in number; they are many. Naturally some, among the many, will try to be stubborn, one way or the other. So, it's not like before when the numbers were not much and it was easier to control them. But all told, Nigerians in Ghana are ok. We are comfortable, and the people (of Ghana) love us. Which is why more of us are still coming to the country. So, I don't see Nigerians in Ghana as having problems. The problem some of us encounter are self-inflicted.
Q: How do you mean self-inflicted?
A: For instance, some of our people, when they are doing, maybe parties, and they are supposed to get approval from the government, they don't do it; and, they try to block the road without getting necessary approval. So, what do you expect the government to do? Then in the markets, some of our people fight with Ghanaians over their businesses. Not the issue of them asking us not to retail; that's not what I'm talking about; that's a different thing. I'm talking about unnecessary challenges within them. Again, some of our people behave roughly. So, for people like that, do you expect the Ghanaians to be happy, to be comfortable with such people? That's why I said that some of our people are the cause of their problems; I won't say 'our problems', but 'their problems'. Because majority of Nigerians in this country, Ghana, are law-abiding people.
Q: Ghana and Nigeria make up 61 per cent of West Africa's population and 68 per cent of the the subregion's GDP. But business people in both countries often complain of frustrating barriers to exports into each other's markets. How can both countries cross this hurdle?
A: We can only pass these hurdles by agreement of the two countries, at the top levels of governments. And by the special grace of God, I am convinced by the assurance of the honourable speaker of Parliament Alban Bagbin to the Nigerian government that this problem is over. Therefore, I no longer talk about the issue of trading in Ghana; the problem is over. What we are now waiting for is for him to come out with the measures that he has put in place. As long as he has spoken that it is over, to me it is over; I don't want to talk about any negativity on it anymore. I only talk about it in the positive. For me, what remains is for the two countries to come out and affirm that they are doing business, that they are working, for Africa.