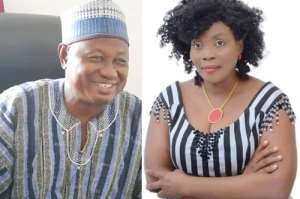 The General Secretary of the People's National Convention, Janet Nabla has petitioned the Criminal Investigations Department (CID) of the Ghana Police Service (GPS) to investigate embattled leader David Apasera over alleged misappropriation of GHS1.7 million party cash.
In the petition dated September 14, 2021, the PNC General Secretary also fingers suspended National Chairman, Moses Dani Baah.
"Following the removal from office of Messrs David Asibi Apasera and Moses Dani Baah as Leader and Chairman of PNC respectively by the National Executive Committee (NEC) on grounds of misconduct and financial malfeasance on 7th day of September 2021, I petition your august institution on behalf of the party to investigate the two on the following financial malfeasance and stealing," part of the petition reads.
In the petition, Janet Nabla says the accused persons spent the GHS1.7 million raised for the 2020 general elections without her consent contrary to Article 53 of the party's constitution.
"An amount of GHC1.7 million was raised to fund the December 7, 2020 elections. The entire amount was withdrawn from the bank and cause to be spent by the leader and the chairman without the knowledge of the General Secretary who by Article 53 of the constitution is in charge of daily operations of the party and no proper account has been rendered," the petition adds.
Below is a copy of the petition to the CID: