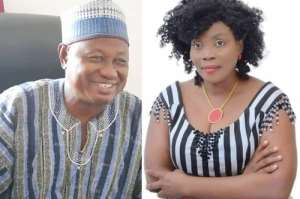 Suspended General Secretary of the People's National Congress (PNC), Janet Nabla has lodged an official complaint at the Kotobabi police station in Accra against two officials of her party, Mr David Apasera and Moses Dani Baah.
This follows a forceful ejection from her office by persons believed to have been commanded by David Apasera and Moses Dani Baah.
Speaking with Citi News after she was locked out of the party headquarters in Accra on Thursday, September 9, 2021, Janet Nabla said she will be forced to resort to illegal means if the police fail to arrest those responsible for her ejection.
"These are not party people. They are hooligans picked from the streets. I am going to the Police Commander to report this issue, so they do the needful. Ghanaians should talk to them that they should move out quietly or there will be chaos in the country."
"I am going to the police for them to open the office for me. I will make sure that I remove them [Apasera and Dani Baah] from office. I am going to the police station to report and tell the Police they should do something about it, if they do not, I will use illegal means," she said.
Janet Nabla was at the office to present copies of dismissal letters to the duo issued by some leaders of the party's National Executive Committee earlier this week.
Mr. Apasera and Mr. Dani Baah were removed from office by a section of the party's NEC over allegations of corruption, mismanagement among others.
On August 28, 2021, the National Executive Committee (NEC) of the PNC took a decision to indefinitely suspend Nabla over gross misconduct, insubordination, and incompetence.
She has so far denied all the allegations levelled against her, thereby rejecting the suspension.
Nabla rather alleged that the party's Chairman, Moses Dani Baah, and their 2020 flagbearer, David Apasara embezzled funds to the tune of GHS70,000 from the party's coffers without accountability or any justifiable reason.
---citinews