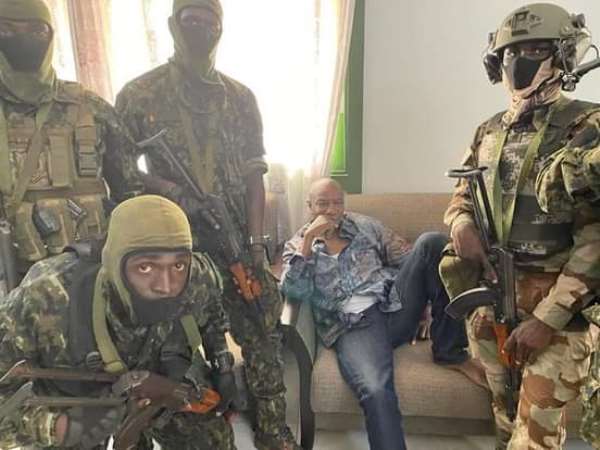 In the early hours of 5th September 2021 gunshots were heard from the presidential palace of Guinea with its capital being Conakry. This action later we got to know was a coup d'état being led by one Lt. Colonel Mamady Doumbouya. President Alpha Conde was arrested after a standoff with the presidential guard.
Conde was in his third term of governance after successfully running Guinea for two terms since 2010 and through a referendum was able to amend the constitution to make space for his future political escapades.
Guinea a third world country rich in Aluminum having a coup d'état at such a time is very bad for its growth but Lt colonel Doumbouya a French American trained Special Forces soldier and a commander of the Guinean Special Forces. He can't be faulted for leading the coup against the constitution of a democratically elected president.
Videos emerging on social media shows the people of Guinea jubilating on the streets of Conakry showing their support for the overthrow of the constitution. This action would tell one that Guineans have had enough of President Conde who had succeeded in imposing his will on the people.
In recent times President is said to have increased the salaries of the political class and neglected the civil servants which include the military, police and other parastatal agencies. In Lt. Colonel Doumbouya's address to the nation yesterday announcing the coup sighted massive corruption, abusive of human rights, economic hardship and luck of basic social amenities like access to water as the basis for they the military coming out from the barracks to seize political power.
Guinea is better off with this coup and the outcomes of this activity should be one that Africa must pay close attention to. They stood to refuse to subject themselves to a constitutional dictator, who was using the constitution to extend his stay.
People who disagree with the coup d'état should tell us what alternatives measures could have been used to get Alpha Conde to step down.
Since August 2020 till today, there has being a strong wind of coup d'état blowing across the ECOWAS sub-region. There was an attempted coup in Niger, two successful coups in Mali and now Guinea. All being led by the military which has sworn to protect the constitution. One thing to note is that all these coups have had similar reasons for the overthrow. They come in "clean up the system" for some time normally a year organize elections hand over power and leave. This is the blueprint most regime changers use.
The political class, the bourgeoisie in Africa should look at these trends and advice themselves accordingly. In the sense that Politicians appoint military commanders and they feel that these officers owe allegiance to them and would bow to any pressure from they the political class. They should know the military have a mind of their own and there are factions in the military like in any other institution.
The military cannot and is not your friend.
What does Eighty-Two (82) years old Alpha Conde want to do for Guinea that he hasn't done since 2010 he became Head of State.
Politicians have taken the masses for a ride. They are a few people who are voted to lead the masses but they income into power and in a few months amass wealth they never had when they were without political power. The massive corruption seen across Africa, the general disregard of the rights of citizens, the love to continue to be in power, thereby making them amend the constitution to extend their stay beyond the required limit they had agreed to. Also the political arrest of opposition members tends to make citizens harbor in hatred for the government.
WHY DON'T AFRICA LEADERS WANT TO LEAVE POWER AFTER THEIR TERM IS DONE, GREED?
One may use Rwanda the East African country recovering from the 1994 genocide as an example of a country being ruled by one man Paul Kagame. Let's not forget that Rwanda even after the deadly genocide is recovering very positively and Guinea can't be compared to it by saying Paul Kagame isn't doing his best to lift his country from poverty. Economically Rwanda is far ahead of Guinea even with latter being rich in natural resources. Due to this the people of Rwanda are solidly behind Kagame to stay and power to continue leading the country out of poverty. Note there was little opposition when he amended the constitution to extended his stay. Same cannot be said for Guinea where there was massive protest on the streets of Conakry to drum home their displeasure which was Conde contesting for a third term.
The head of ECOWAS H.E Nana Addo Dankwa Akuffo Addo in a letter in the evening of September 5, 2021 has condemned the coup and called for a return of power to the ousted President Conde. In my personal capacity, I will refer to ECOWAS as a TOOTHLESS BULL DOG. Recent activities in the Ecowas sub-region has shown to us ECOWAS have no power to interfere in the happenings of a member nation and therefore the foundations on which the organization was formed has been weakened. I do not excerpt Lt. Col Doumbouya to give any credence to the statement released by ECOWAS.
Where was ECOWAS when Alpha Conde was amending the constitution to extend his stay in power, as against the will of the people. Nana Addo Dankwa Akuffo Addo was at Alpha Conde's inaugural ceremony and congratulated him knowing very well the unpatriotic means he used to acquire his third term in power.
There have being in recent times cases where ECOWAS was fed to the dogs. Nigeria closed it borders to the east affecting Benin, Togo and Ghana massively for close to a year. They were instructed by ECOWAS to rescind their decision and reopen the borders that never happened.
Furthermore, Assimi Goita led two successful coups in Mali ECOWAS released statements on both coups condemning the actions of Assimi Goita. The coup leaders were invited to a meeting in Accra Ghana to convince them to hand over power to the ousted president or bring a road map which would lead to elections eventually handing over power to a democratically elected government. The outcomes of that meeting hasn't being respected and the military as you read this is in the helm of affairs in Mali.
One cannot say ECOWAS has the leverage over its member states and in summary has the power to call shots in member states.
International Relations and International Politics lovers should note that some African countries in the last four (4) years have experienced coup d'états and that isn't going to be the end of military takeovers. Zimbabwe, Niger, Mali, Central African Republic, Ethiopia, Sudan, Gabon are countries where coups has been attempted and some coming out successful.
Cameroon, Senegal, Uganda, South Sudan, Sudan, Togo, Burundi and Niger are countries I foresee being taken over by the military in some few years to come. Cameroon is being ruled by Paul Biya, he rules the country in absentia and has been at the helm of affairs for over 30 years and mineral rich country hasn't been better off.
Using the Late former president of Ghana Jerry John Rawlings as an example he was able to turn Ghana into democratically rule after close to his 19 years of his rise to power through a coup d'état. But can these military rulers of countries like Mali and Guinea hold onto political power and still have the support of the people? Or will they call for an election in the coming months as we wait to see.
Africa isn't out of the woods yet, Africa is still fragile.
GATOR REINHARD ELORM
(Gr.E)