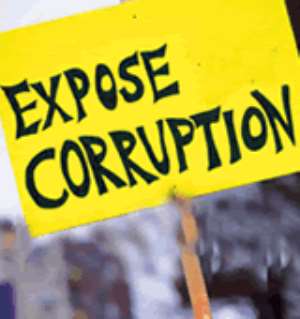 Please, my fellow Ghanaians, with the greatest respect, kindly permit me to say that as far as the excessive abuses of the public purse is concerned, if all that we can do as a nation is, only talking and gossiping about the abuses of the public purse or the corruption scandals, then I am very sorry to make it loud and clear that we are doing nothing, but wasting everybody's time and ears.
If all that we can do about the corruption scandals, is just making too many noises about it, gossiping about it and nobody taking the Auditor General's reports seriously, then please, I am not a prophet of doom, but I can say without fear or favour that we are doing nothing but preparing Ghana to collapse on our heads, as it did happen to Ghana of old.
I personally do not wish or want Ghana to be a failed State and collapse on our heads, because it will be a terrible disappointment to God, who has made Ghana, the most favoured country in the world, as far as human, natural resources and climatic conditions are concerned if I am not exaggerating.
Indeed, I do not wish or want Ghana to be a failed State, hence, I would like to appeal to all the Conveners of the #fix the Country Movement, as well as all the leadership of the Civil Society organizations, to come together and list all the corruption scandals, that they are aware of and have discussions with the New Inspector General of Police (Dr. George Akufo Dampare ), discussions, that can help them put a very serious and reasonable pressure on the President of Ghana, to set up a by -partisan or non - partisan commission, as a matter of emergency, to investigate the corruption scandals that are tarnishing the good name of Ghana, our Motherland.
I would also like to suggest that a time limit should be given to the prosecution of all those who will be found culpable.
Those found guilty by a competent court of jurisdiction, should not only be jailed, but also, they should be asked to pay back to the State, everything that the State lost because of their actions and inactions.
I strongly think that as a nation, if we are able to make good use of my humble suggestions, all the excessive abuses of the public purse, will be a thing of the past and Ghana will be able to embark on rapid socio - economic development, that will bring about equitable distribution of the national cake; all those wallowing in abject poverty, slavery and misery, because of the excessive abuses of the public purse, will gain their genuine freedom and prosperity.
May God grant the Youth of Ghana and all the Civil Society Organizations, the spirit of fearlessness, courage and boldness, to save Ghana our Motherland, from becoming a failed State, to the glory of God.
Written by Rev. Fr. Ignatius James Yaw Amponsah