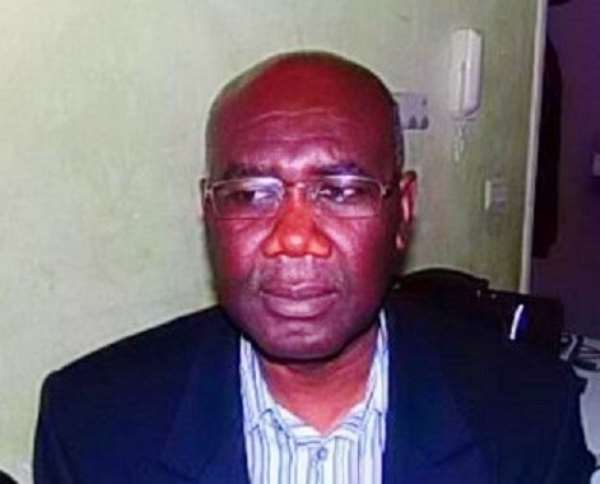 Joel Savage
It is very scary; Ghana is in a very bad position, even though the government is not happy about the criticisms against the poor leadership of the NPP government, which has led to a sharp increase in hardships, a high rate of unemployment, and crime in the country.
I don't think I am the only Ghanaian disappointed in the leadership of our president. I strongly believe that there are thousands of even NPP supporters, who are also not happy about the poor governance of Nana Akufo Addo because what he promised Ghanaians before the 2016 general elections is contrary to what we are witnessing now.
After decades in Europe, Nana Akufo Addo, this writer who will be 65 next year, has to retire and go on pension. Please, do you think the current position in Ghana is so nice, beautiful, comfortable and relaxing, for me to pack my luggage and run like a sprinter to enjoy my pension in Ghana? I don't think so.
Many times, I hit so hard against you, not because I hate you but the fact is I want to try and see if you can change your ways to make Ghana a better country but you never did.
It seems to me you are not only a difficult person to deal with but also associated with bad politicians and advisors who are scared to tell you about the wrong direction you are heading.
Why should I call you a stubborn or difficult person? Because it doesn't make sense to any intelligent person in this world, to abandon projects, including schools and hospitals, which belong to Ghanaians, not the NDC, to be covered by weeds in the bushes.
Then after five years of your leadership, despite all the promises of projects you made, which were carried away to the Kalahari Desert, you come around with something you named "Agenda 111, claiming to build hospitals. Who in this world in his right mind will take you seriously even though it might be true or false?
You did convince both foreign and African missions that you are ready to fight corruption, how can you explain this, Mr. President if you keep such people, Charles Bissiw, Justice Kwasi Anin-Yeboah, and Eugene Arhin, in your administration? Because all of them are not only corrupt, I will call them criminals.
Do you think any developed country leader will respect you for that or consider you a serious African leader? Not at all.
Something I have observed about African politicians is that they often forget themselves. They think they can rule in any manner they like whether the people like it or not and sometimes they think they are far from Europe and America, without thinking about the presence of those foreign countries' missions and embassies in their countries.
In fact, foreign countries know what is going on in Ghana more than many Ghanaians. All those diplomats serving foreign missions are not just there to serve their nations but to let their nationals in those countries they represent know more about what is taking place on our soil in Ghana.
When Donald Trump referred to the African continent as a 'Shithole nation,' many Africans and leaders were angry. To me, that reference is too nice because abandoning uncompleted projects left by the former government, NDC, and claim to build new projects under "Agenda 111," qualifies Ghana to be called "a double Shit-hole nation."
Such childish actions you have shown are some of the reasons developed countries' leaders have no respect for African leaders because they think they are either stupid or not intelligent.
I am not choosing my words carefully because I am telling you the Gospel truth. If you claim to have lived in the United Kingdom before then you should know this.
Nana Akufo Addo, you can travel all over the world and take beautiful smiling photographs with developed countries' leaders, the fact is they don't like or respect you. Developed countries' leaders show beautiful smiles with African leaders because of what they are looking for on the continent of Africa.
There are African-Americans who are millionaires, yet, you see how blacks are treated in America 400 years after slavery? Even though they build America with blood, sweat, and tears, the law in that country doesn't favor them much. They are manhandled, physically and psychologically abused daily.
You reacted when George Floyd was brutally murdered in America but you forgot to follow Jesus' advice to "First remove the beam out of your own eye, and then you can see clearly to remove the speck out of your brother's eye."
Where is the justice for Ahmed Hussein-Suale's family? Where is the justice for all those that have been politically motivated killed?
The way Ghana is at the moment is not something I will congratulate you on because those in Africa see things differently from those outside the country.
Those tribal bigots living outside the country, who aren't experiencing the problems in Ghana, and, therefore, praising you, are part of your downfall today.
Everyone is quiet for reasons known only to them, five years have been wasted without any significant achievement, just imagine the corruption which affected every infrastructure in Ghana including the ports.
After working so hard, Ghanaians in the Diaspora only come home to meet high customs duties and when they can't claim their goods and vehicles, the Ghanaian government auctions them at a very cheap price for their families, wives, cousins, aunts, sisters, and brothers. God will judge all of you. Please, stop building the Cathedral to avoid provoking God.