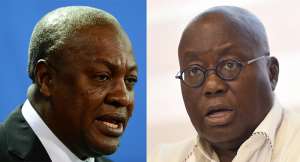 Former President John Dramani Mahama has described the current state of the E-blocks his government was constructing nationwide under a community day school project before he lost power in 2016 as "a disgrace" to Ghana's reputation.
He told eminent traditional chiefs in a meeting held on Tuesday in the Upper East Region that the unfinished buildings had been abandoned by the current government and asked them to lend their weight as "the moral voices of society" to calls being made by the citizenry on President Nana Addo Dankwa Akufo-Addo to continue and complete the projects.
"When we decided to build community day schools, the Upper East Region got its fair share of the community day schools― the E-blocks. Governance is supposed to be a continuum. And so when a government takes over from the other, it continues what the previous government was doing. When I came into office, as best as I could, the projects that we had inherited from the preceding government, we tried to continue them. Some we concluded, some we finished [and] others were moved to another level so that another government can also continue based on the resource envelope that was available to us.
"And so, I'll urge that you continue to urge on this President that the E-blocks that are standing, they are a disgrace to our national reputation. Because as I have said before, it's not my Education Minister here, Naana Opoku-Agyemang, who was my running-mate in 2020, who financed them out of her pockets. Or it wasn't me who financed them out of my pocket. It was the taxpayer's money― your money and my money that we used to put up those blocks. Some are near completion. Others are at various stages and they've just been abandoned. And today, we don't have enough capacity in secondary school. The children are not getting enough contact time with their teachers," he stated.
The Tuesday's meeting at the Upper East Regional House of Chiefs was part of the activities outlined for his thank-you visit to the region at the back of the 2020 polls he contested as presidential candidate of the National Democratic Congress (NDC).
"And it's not only schools. It is road projects, it is hospital projects― we should continue them so that our people can benefit from the money that has been invested in those places. And because you are the moral voices of our society, when you talk, your voice goes far.
"And so, in the issue of development and things, I think you shouldn't keep quiet. You should continue to draw government's attention to taxpayer's money that is being wasted by the numerous abandoned projects that we have in your traditional areas," urged the former Chairman of the Economic Community of West African States (ECOWAS).
---starrfm--