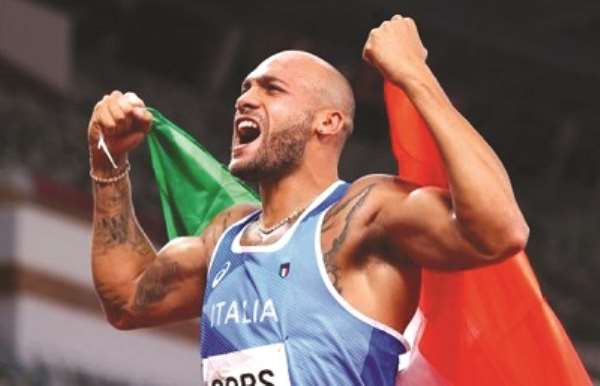 Marcel Jacobs
Well, okay – he is Italian by nationality. But he's Afro-American by DNA! So it's all right!
Yes, Marcel Jacobs, who ran the 100 metres in Tokyo on 1 August 2021 in 9.80 seconds, was born on 26 September 1994 in El Paso, Texas, in the United States. His father was an African-American soldier who was stationed in Italy when he met Jacob's mother.
But two years after Marcel was born in El Passo, his father was transferred to South Korea, and he and the Italian mother of his child broke up. Marcel and his mother went to live in Viviana in Desenzano, on the southern shore of Lake Garda, in northern Italy. Jacobs grew up there and in Rome, where he joined an athletics clubs at an early age.
Jacobs attributes his success to expert advice he received from coaches he encountered when he moved to one athletics club.
Jacobs was inevitably under the spell cast by Usain Bolt: "I can recall every one of his races because I watched them all," Jacobs said. "It's unbelievable that I am here today, where he was before. He was the face of the entire sport, which he has changed fo rever. I've just won an Olympic medal, it's not time to compare myself to him," he added..
In fact, the bookmakers gave Jacobs only a 3% chance of winning! Before he went to Tokyo, he'd run under 10 seconds only twice in his life -- a 9.95sec at an International Meet in Savona in May 2021 and a 9.99sec at the Diamond League in Monaco a fortnight before the Olympics.
Until the 100m heats in Tokyo, he wasn't even reckoned in the top 10 fastest runners of 2021. The United States trio of Trayvon Bromell, Ronnie Baker, and Fred Kerley had all run quicker this season. So had five other Americans who didn't even make the US Olympic team to Tokyo. And then, there were South Africa's Akani Simbine and Gift Leotlela, and Canada's Andre De Grasse. Each of these harboured ambitions of occupying the vacant Usain Bolt spot, of course! And their progress towards that goal was unmistakable.
But Bromell and Leotlela bombed out in the Tokyo 100m. semi-finals, while Baker and Simbine made it to the race but never really got into it. Kerley made a lightning fast start and held the lead at halfway, But then Jacobs pulled up alongside him at halfway point and pressed on ahead, all through the second half of the race. Kerley and De Grasse followed him home.
It was a new Personal Best for all three, and De Grasse's 9.89sec was one of the fastest times to finish third in a 100m race. Jacobs set a new European record too – his time beat the one he had homself set in the Olympic semi-finals just two hours earlier! There was silver for Fred Kerley and bronze for Andre De Grasse.
Britain's Zharnel Hughes, who was thought to be a good prospect, was disqualified after making a false start.
After Jacobs had powered to glory, he unleashed what one reporter described as "a primordial roar and flexed his biceps, macho-man style." But it was his legs, and nerves, that had made his "impossible dream" come true.
This was the Italian's first global final. But that was impossible to tell, from his calm demeanour at the start, or from the way he tracked the American, Fred Kerley, "before rushing past him like a bullet train, 20 metres before the finish line," (as reported by a journalist.)
Kerley, who took silver in 9.84, admitted later that he "really didn't know anything" about the man on his inside. He was not alone. Andre De Grasse, who added another 100m bronze medal to his collection, admitted he never expected the Italian to "go so quickly."
No-one could blame them! After all, only three years ago, Jacobs was merely a promising long jumper! He did reach the semi-finals of the 100m at the World Championships. But then faded! "Now, suddenly, he was in orbit", one reporter noted.
As could be expected, Jacob became unusually eloquent after his victory: "It is amazing, it is fantastic, it is a dream!" he stated. "Me, Olympic Champion in the 100m? I have no words. It is a gold medal, it is for ever! I am very happy. …I didn't look right, I didn't look left. I just focused on running as fast as possible. I wasn't the favourite. But my start was great, then I had this burst of speed. I thought I could run 9.79 – but I was happy with 9.8."
Such phenomenal events make me wonder whether the planners of the Olympic Games are not too cautious for their own good. It is true that they want to give every type of sport the opportunity to make a mark on the world; to enable as many sportsmen and women as possible to showcase their skills to the whole world. But they haven't been too clever trying to achieve that objective -- in my opinion. For i if you devote almost all the early days of a tournament like the Olympics to "niche sports"(especially those that need special equipment and techniques that do not come easy to many of the people of the world, especially those in developing countries, you are surely going to turn many of them off?
I mean, suppose we had an event like the 100m men's final every other day? Or the similarly enthralling event run by women (in which, incidentally, the Jamaicans made a clean sweep this year, in a Caribbean super-thriller)?
Ah well -- it is the money of the International Olympic Committee, and they are entitled to plan their events any way they want. But it is unwise to cxreate a situation whereby so many people wouldn't even have been aware that such thrills were coming, because they had moved away after yawning before their TV sets for so long, watching "dull" events that took place in water, or hard boards and that sort of thing!
BY CAMERON DUODU