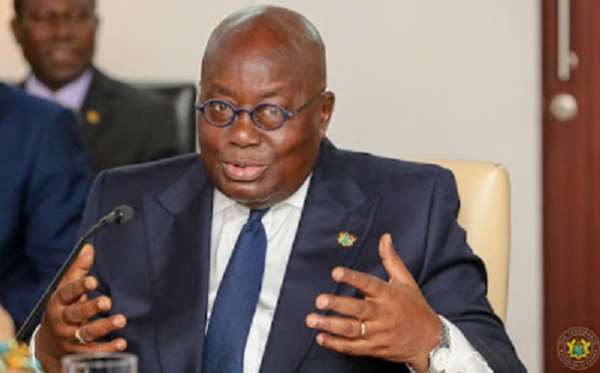 The Ghanaian president, Nana Addo Dankwa Akufo Addo
It came as a surprise to me when the president of Ghana, Nana Addo Dankwa Akufo Addo, while speaking at the EBII Africa Investments Risk and Compliance (IRC) Summit, at the University of Oxford - July 30, 2021, saw the need Africa must build robust financial compliance systems against financial crime.
I did ask myself why now Nana Addo Dankwa Akufo Addo? The fact that through the continuous illicit financial outflows, Africa has lost billions of dollars decades before and after colonialism, yet these problems haven't been serious issues of concern to any African leader.
The president found it necessary to speak about this due to the fact a "recent report has put the cost of financial crime compliance across all financial institutions, globally, at a cost of $180.9 billion for the year 2020.
He further stressed that "in 2015, report on illicit financial flows from Africa, by the former South African president, Thabo Mbeki, revealed that Africa was losing, annually, more than $50 billion through illicit financial outflows and also the UNCTAD's Economic Development in Africa, 2020 report, indicated the figure has gone up from US$50 billion to $88.6 billion each year.
It is very rare to hear African leaders talking about crimes foreign governments and multinational companies commit in Africa. Therefore, the mentioning of this problem by the president became a subject of interest to me.
It will be recalled that on January 29, 2019, 'ModernGhana News' columnist, Joel Savage, wrote an article entitled "Who Creates Trade Rules, Poverty, Tax Evasion, And Corruption In Africa?" In that article, I indicated that:
1. In 2015, the African continent received a total of $ 161.6 billion such as loans, remittances from migrants, and aid. What Africa has lost, however, amounts to about 203 billion, either directly in the case of multinationals that exploit its resources but then send profits to tax havens and indirectly, in the form of costs imposed by others, such as for adaptation to climate change.
2. Estimates speak of about 500 billion in tax havens, that is, 30 percent of all African financial wealth, a patrimony taken away from the most important public services for development, such as education and health. It is no wonder that controls and fiscal rigor are discouraged, in a policy that also tends to offer generous incentives to foreign companies to attract investments.
"International trade policies have created a system that takes raw materials from Africa to work elsewhere, making it lose the margin of greater gain, in the oil sector as in the agricultural sector."
As for remittances from abroad, in 2015, they amounted to 31 billion, but many were offset by the 32 billion profits exported by large foreign companies. Governments have received 32.8 billion in funding but have paid 18 in interest and ever-increasing debt.
Not to mention the 29 billion that disappears every year with the illegal trade in various natural goods, such as fish, animals, and vegetation. International trade policies have created a system that takes raw materials from Africa to work elsewhere, making it lose the margin of greater gain, in the oil sector as in the agricultural sector.
If you look in detail at these figures, we see that African countries have arrived about 19 billion in aid and various funds, but over three times as much, 68 billion, came out with taxes evaded by multinationals, accounting for 6 percent of the Gross domestic product of the entire continent.
Mr. President, in your era, you have made many promises but failed to fulfill them, therefore, as the chairman for the Economic Community of West African States-ECOWAS, we strongly believe you will use that position to start from somewhere to address this chronic problem that has crippled the African continent.
Another important issue which I need to inform you is, President Nana Akufo Addo, many corrupt African politicians not interested in the continent's progress collaborate with foreign multi-national companies to commit such criminal acts, therefore, to be successful, first, you need to tackle the corruption at home.