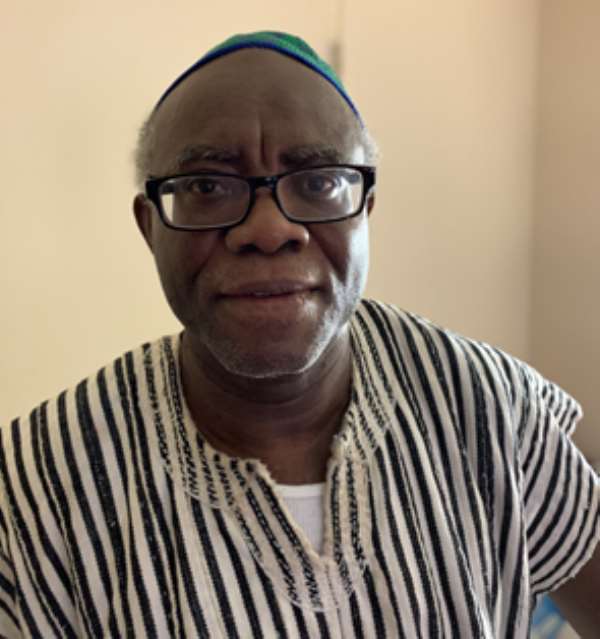 Fundamentally, I have absolutely no grudge against the construction of religious edifices in the name of sectoral or denominational unification of any sort. That is really what the controversial question about the decision by President Addo Dankwa Akufo-Addo to raise up the Greater-Accra Metropolitan Skyline, the architectural foundations of a National Cathedral may be squarely and inescapably about. And there is absolutely nothing amiss or remiss with such a decision or ideational objective in principle. At least that is my individual and personal belief. Plus, the even more significant fact that as cultural, psychological and philosophical symbols, both Cathedrals and Mosques have played significant roles in the seminal shaping and development of Continental African and, in fact, Global Civilization as a whole.
The preceding is what the cultural and philosophical concept of Africa's Triple Heritage, as masterfully delineated by the immortalized Kenyan historian and political scientist, Prof. Ali A. Mazrui, is squarely about. This concept, which was radically popularized by Ghana's first postcolonial leader, Mr. Kwame Nkrumah, was actually propounded and discursively and inimitably fleshed out by Afro-Caribbean theologian, scholar, anthropologist and philosopher, namely, Dr. Edward Wilmot Blyden. Blyden called it the "African Personality," a very neat label which President Nkrumah proudly and shamelessly cannibalized, that is, pontifically plagiarized and pretended to have singularly created and/or invented the same. Prof. Mazrui would promptly and almost vengefully expose this fact of historical canard or humbug when some fanatical Nkrumaists rather sophomorically attempted to impugn the scholastic integrity of the self-described half-Omani Arab and half-Black Mombasa African native.
For Prof. Mazrui, if Mr. Nkrumah found it absolutely inconsequential to modestly and respectively acknowledge the source or sources of his systematic ontological discourse on Global Africanity, then, of course, neither was the erudite Kenyan scholar obligated to acknowledge the influence of the Ghanaian leader whom Prof. Mazrui once sarcastically described as "The Leninist Czar." It is also interesting and significant to note the fact that the Albert Schweitzer Scholar in the Humanities at the State University of New York (SUNY), Binghampton, where Prof. Mazrui also ran his Global Studies Institute in the last decade, or so, of his life was a proud Muslim and a jealous Swahili Cultural Nationalist to the marrow. But the prolific and versatile writer was also intellectually well-balanced enough to equally acknowledge and celebrate the age-old phenomenal achievements the Western World, where he would later school and teach for most of his life as an adult.
In brief, I am hereby speculating about what Prof. Mazrui, whom I personally met several times and chatted with, mostly at academic confabs right here in the United States of America, would have said about the construction of a Christocentric multipurpose Ghana National Cathedral by President Addo Dankwa Akufo-Addo, especially the fact that the very Ghanaian citizens of the Islamic ideology and faith who vehemently opposed the proposed construction of the National Cathedral are now heartily and rapturously celebrating the opening of the Turkish-constructed Ghana National Mosque Complex at Kanda, in suburban Accra (See "National Mosque to be Opened to Public Tomorrow" Modernghana.com 7/15/21). There is a quite common English word which has almost thoroughly become naturalized and indigenized by Ghanaian citizens of the present generation. That word is a noun in at least two of its uses, namely, "Hypocrisy" and "Hypocrite."
The adjectival form of the preceding word variations is also used very often, as in "Koo Gyam, don't be hypocritical." I have been even much more elated by the fact that the opening of the Great National Mosque Complex was attended by President Addo Dankwa Akufo-Addo and Vice-President Alhaji Mahamudu Bawumia. That is the kind of harmonious and ecumenical Islamo-Christian kinship that many Ghanaian citizens are very proud of and would not hesitate to point out to the rest of the outside world as the most civilized mode of human existence on any good day. We are also informed that like the privately funded proposed Ghana Interdenominational National Mosque, the Kanda-located National Mosque Complex, first brought to local public attention by the late Alhaji Bature via his Al-Hajj newspaper, if memory serves yours truly accurately, was constructed by some three Turkey-based nongovernmental organizations. I sincerely and frankly don't purchase the factual veracity of the latter yarn or narrative. But who really cares, anyway?
*Visit my blog at: KwameOkoampaAhoofeJr
By Kwame Okoampa-Ahoofe, Jr., PhD
English Department, SUNY-Nassau
Garden City, New York
July 24, 2021
E-mail: [email protected]