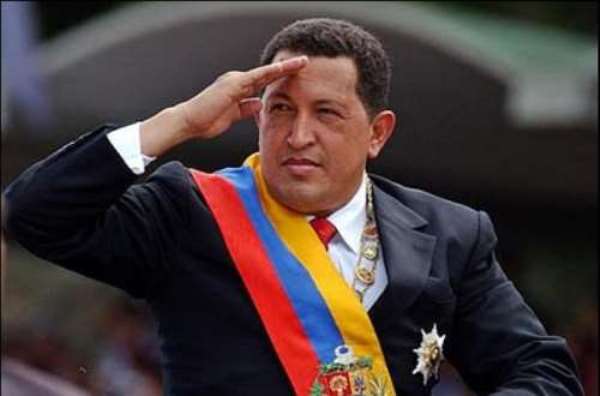 I thank you all for coming here today. I represent the countryside of the volunteers of the Hugo Chavez International Foundation for Peace, Friendship and Solidarity (HCIF-PFS). My name is Dauda A. Turay and from Makeni, Northern Sierra Leone.
I have come here with neither silver nor gold to offer on this auspicious occasion, but to join our fellow volunteers in Freetown and other parts of world to wish Commandante Hugo Chavez Happy Birthday. I prepared this piece as a golden gift to present on this well-deserved birthday. At 67 today, I must say to all of you that: "Chavez Never Dies". He lives with us and he is everywhere. We are therefore, honouring today the height of a golden leader and a Messiah in the 21st century.
This is a day worth remembering of a life meaningfully spent for humanity. No doubt the name Hugo Chavez is written in gold. An African like you and I, Commandant Hugo Chavez spent his life to bring smiles to his country- men and women and left for us a legacy worth preserving forever. The Bolivarian Project he initiated is a living testimony to the achievements within the short period Commandant Chavez served as President of Venezuela. These achievements are too numerous to mention here. In short, I will say, Commandant Hugo Chavez was the only leader who had the courage to make the ultimate sacrifice for the love of his people and humankind.
The legacy left behind by this genius Revolutionary leader is being strengthened by his successor, the constitutional President Nicolas Maduro, who despite blackmail and misrepresentation in the corporate media, has continued the good works from where Commandant Chavez left before his death in 2013. It is uncommon for a politician to stand by the covenant of his former boss, with his people. But constitutional President Nicolas Maduro is doing exactly what is expected of a caring, responsible and selfless leader. With such valour, patriotic spirit and attitude being displayed by constitutional President Maduro, Venezuelan has reoccupied its rightful place amongst the comity of civilized nations.
The enemies of the Venezuelan people cannot deny Commandant Hugo Chavez this golden opportunity on his 67th golden birthday.
We love Venezuela.
Happy Birthday Commandant Hugo Chavez!
Read by:
Dauda A. Turay
Secretary for the Hugo Chavez International Foundation for Peace, Friendship and Solidarity (HCIF-PFS)
Regional Bureau for Northern Sierra Leone