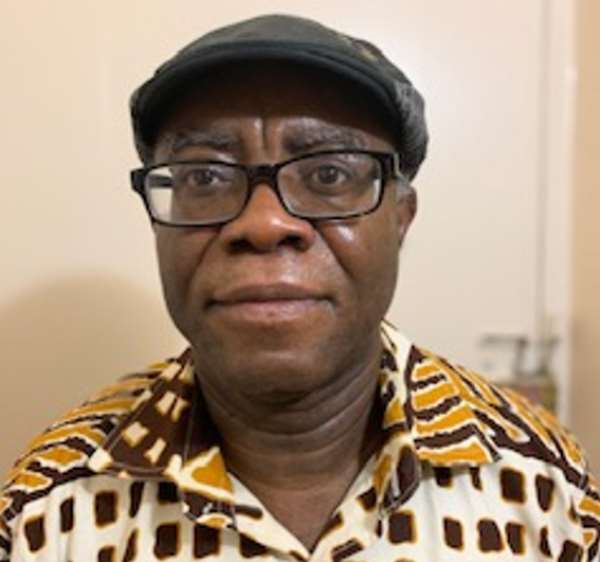 He has played an undeniably yeomanly role in the enviable political success story of the New Patriotic Party (NPP). One distinction here, though, is that relative to Mr. Abdul-Malik Kweku Baako, Editor-Publisher of the New Crusading Guide, the achievement record of Mr. Kennedy Ohene Agyapong, the New Patriotic Party's Member of Parliament for Assin-Central, in the Central Region, is at best blotchy and decidedly mixed in ways that can be reckoned to be incontrovertibly neutralizing. You see, his disastrous record on the strategically inadvisable ousting of Mr. Kwadwo Owusu-Afriyie, late, aka "Sir John," is one that cannot be both easily forgotten or forgiven.
Then also, Mr. Agyapong's inordinate tendency to gauge the worth and relevance of the New Patriotic Party from the viewpoint of his personal contractual deals, or the lack thereof, makes it an extremely tough sell for anyone to believe that the Editor-Publisher of the New Crusading Guide could be reckoned or deemed to be corrupt in ways that cannot be said of the vainglorious and narcissistically stentorian proprietor of the KenCity Communications Network (See "Kweku Baako Challenges Ken Agyapong to Make Public Alleged Corruption Video" 3News.com / Ghanaweb.com 7/21/21).
But, of course, Mr. Baako has not been without his own lion's share of human foibles. For me, personally, Mr. Baako's links with famed mercenary investigative journalist Mr. Anas Aremeyaw Anas, especially in the sticky matter of the latter's Mahama-sponsored assault on the judiciary, is not one that is very flattering or complimentary, in view of what we all officially and unofficially know about the political track record of the former President in the area of professional and administrative integrity. You see, collaborating with Kwame Gonja to thoroughly undermine the credibility of the judicial establishment unwisely left Mr. John "European Airbus Payola" Dramani Mahama with absolutely no check or brake on the thoroughgoing corrupt shenanigans of the man the late founder of whose own party, namely, the National Democratic Congress (NDC), perennially and incessantly described as Ghana's most corrupt leader in the entire postcolonial period.
Still, one thing that cannot be ignored about the Editor-Publisher of the New Crusading Guide is that of consistency. Which is that Mr. Baako has been staunchly and unquestionably consistent in his support of the Akufo-Addo-led New Patriotic Party in ways that cannot be equally said of the firebrand Assin-Central Member of Parliament. After all, was it not Mr. Agyapong who smugly and pontifically informed the nation, scarcely a half-year into the first term of the Akufo-Addo Presidency, that so thoroughgoing corrupt were the newly elected President's Chiefs-of-Staff, actually the one Chief-of-Staff and her two deputies, that anybody craving access to the Presidency had to fork up several dozen thousands of cedis to be afforded the same.
Now, how could such a self-destructive party insider claim to be more progressive and beneficent to the interests and the success of the Danquah-Busia-Dombo ideological establishment? But what I also equally want to tackle here is this myth, trucked and retailed by the leftist likes of Messrs. Baako and Kwesi Pratt, Jr., for just two striking examples, that, somehow, there ever once existed a geopolitical phenomenon called "Nkrumah's Ghana" or "Kwame Nkrumah's Ghana," which was all perfect and kosher where official corruption was concerned. The stark fact of the matter is that barely four years into his official tenure of some nine years, first as Westminster-type Prime Minister of Ghana and subsequently as a so-called Executive President, on the very day and morning in which yours truly was born, in what has become globally known as Nkrumah's "Dawn Broadcast," a bitterly frustrated and grossly incompetent and increasingly autocratic President Nkrumah was forced to temporarily sack several of his key cabinet appointees on grounds of insufferable corruption.
Even a casual reading of the new guidelines of official conduct that Mr. Nkrumah sought to lay down amply and clearly demonstrates that the Revolutionary Leader of the New Ghana and the New Africa had absolutely no clue of how to effectively rein in the exponentially high level of rot that had taken grips of these cabinet appointees, nearly every one of them. No wonder then that in absolutely no time, the so-called Savior of Ghana or The Osagyefo would deliver his people smack into the very heart of Dante's Inferno. To be certain, it was President Nkrumah who inaugurated the blueprint for nepotism and rank corruption in postcolonial Ghana. I am also certain that Mr. Baako is well aware of the Report of the Jibowu Commission, that had been set up to investigate rank official corruption in Ghana and the shocking findings of the same.
As well, I am certain that Mr. Baako is very familiar with corruption-associated names of Nkrumah cousins and clansmen like Messrs. Yaw Djin, Ambrose Yankey and Kwesi Ghapson. In other words, present-day rank official corruption and all, the last place in time that any reasonably enlightened bona fide citizen and avid student of Ghanaian politics would want to revisit or be returned to is this funny imaginary utopian country called "Nkrumah's Ghana." It is the sort of sheer humbug and hogwash that no intellectually balanced Ghanaian citizen ought to entertain.
*Visit my blog at: KwameOkoampaAhoofeJr
By Kwame Okoampa-Ahoofe, Jr., PhD
English Department, SUNY-Nassau
Garden City, New York
July 20, 2021
E-mail: [email protected]