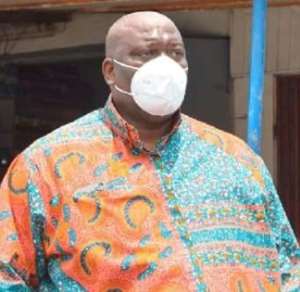 Dear Hon. Henry Quartey, I salute you and commend you for the good work you are doing as the Regional Minister for Greater Accra Region. To a large extent, you have demonstrated enthusiasm in the performance of your duties. You like moving around and it shows that you are not a desktop type of manager. Indeed, we need people like you to transform society just as Nehemiah did for his people in Biblical times.
However, I wish to remind you that in a democratic dispensation like ours under the 1992 Constitution, the pursuit of any developmental agenda must conform to rule of law and other good governance principles such as acting humanely or empathetically towards workers.
I watched to my dismay on television this week (specifically Monday, July 26, 2021) that you went round again as part of your commendable "Make Accra Work" project to make Accra clean. While on the tour, you visited the Ayawaso Central Municipality. You expected to meet Mr. Emmanuel Sonni Alohleveh, the Municipal Environmental Health Officer (MEHO) on duty but he was absent. Having noticed how filthy the environment in his area was, you directed his removal from the place on live TV.
You enquired the whereabouts of the MEHO from the Municipal Coordinating Director (MCD), Ms. Eugenia Agbenyegah on live TV and she told you that the MEHO was unwell so he sought for permission to be absent from duty on medical grounds. However, you dismissed this reason on live TV. To me, this was demeaning to the MCD who is the chief administrator at the Municipal Assembly because you doubted her account and insisted that the MEHO would not work there again. Hon. Regional Minister, this was inappropriate and an unfair administrative practice. The days when Chairman Rawlings and other military leaders were dismissing public servants on live radio and TV are long gone, sir. Under the 1992 Constitution, an aggrieved employee can run to court or CHRAJ or National Labour Commission to have your unfair decision (s) quashed. This should not be lost on any manager regardless of how hard working he is.
As the political father of the Greater Accra Region, you should be interested in employee welfare and healthy workforce. You should not only focus on productivity. Doing so will deviate you from being employee-centred. In any event, the Labour Law mandates sick leave given by a certified physician. You did not even care to find out as to what was actually wrong with the MEHO. Perhaps a call from you to him to check on his health would add remarkably to his healing process.
Sir Quartey, such a posture of yours under reference is not only an intimidating management tactics but it also flies in the face of both the 1992 Constitution and the Labour Law, 2003 (Act 651). I wish to remind you specifically that Article 23 of the Constitution requires public officers like you to act fairly. It states, "Administrative bodies and administrative officials shall act fairly and reasonably and comply with the requirements imposed on them by law and persons aggrieved by the exercise of such acts and decisions shall have the right to seek redress before a court or other tribunal."
Hon. Regional Minister, Article 296 also proscribes public officers from exercising discretionary power arbitrarily and capriciously. The same article of the Constitution equally requires that your administrative actions should not be based on resentment, prejudice or personal dislike. Rather, such actions shall be in accordance with due process of law. Causing the removal of a sick MEHO on live TV based on your resentment cannot be said to be in accordance with due process of law because it flies in the face of natural justice and related constitutional provisions.
Your directive that the MEHO (Mr. Alohleveh) should be brought to your office to answer questions regarding his absence during your visit also amounts to disrespect for organisational structure and micromanagement because you do not manage the Ayawaso Central Municipal Assembly directly. As such, you lack the required locus in law and good governance to begin any disciplinary action against the MEHO.
It is also my gentle reminder to you that as the Regional Minister, you do not hold unfettered positional power so your administrative actions are subject to judicial review and those that the courts find to be unfair can be set aside.
Much as some of us support your commitment to work and the enthusiasm with which you perform your duties, we will expect that you operate without committing procedural impropriety and acting unfairly towards public servants, like the MEHO.
The last time I checked, Hon. Quartey, the District/Municipal/Metropolitan Assemblies demarcate waste collection zones for various waste management companies. As such, MEHOs or DEHOs do not collect the waste; they only supervise and sometimes give abatement notices to people who breach waste management regulations and bye-laws. The MEHO under reference (the one you want to be removed from Ayawaso Central) may be doing his work but the Municipal Assembly may be owing the waste management companies so the waste collection is not being done regularly. Sir, you ignored all these factors and turned your vituperations on the poor MEHO even in his absence.
Administratively, you should have finished the tour, held a meeting with the Assembly managers (MCE, MCD, MFO etc.) and filed your displeasure or sought for answers. You rather did all this on live TV. I find it strange. The success of any developmental agenda thrives more on carrying people along carefully rather than forcefully.
I thus suggest you should re-consider your intended action against the MEHO (Mr. Alohleveh) and be guided by the Constitution and Labour Law in dealing with public servants.
On this note, I salute you once again and wish you well. May the Lord God guide and protect you to continue doing the good work you started.
~Asante Sana ~
Author: Philip Afeti Korto
Email: [email protected]