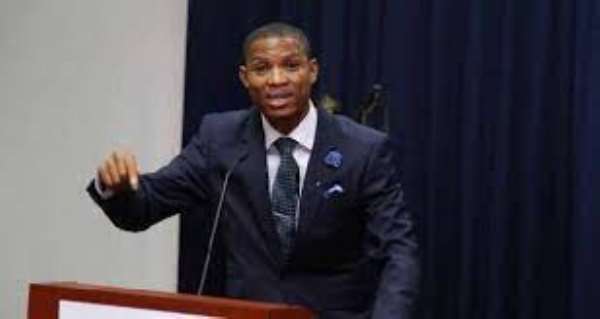 Francis Xavier Sosu, MP, Madina
The member of parliament for Madina has come out clear on his stance on the controversial anti-LBGTIQ bill (Promotion of Proper Sexual rights and Ghanaian Family Values Bill, 2021) that is currently before parliament for passage into law. In a long article, Francis Xavier Sosu, MP, details his stance on the bill, stating among other things that there is no human rights in LGBTIQ. He also emphatically stated in his article that he is a man of values and morality and will 'never be a gay rights advocate' although he is a human rights activist.
According to Madina MP, his Christian values simply cannot allow him to advocate for a position that stands against these values. Neither is the collective position of the people he represents in parliament in support of the activities of LGBTI persons in the country. Francis Xavier Sosu is also the president of Youth for Human Rights Africa, and a Lawyer by profession
The new LGBTI bill in his view, represents a bold attempt to bring sanity and finality to Ghana's position on the matter. In his view, parliament is not a leadership unto themselves, but a representation of the values and aspiration of the people they lead.
If this is true, it is strange that employment, good roads, good drinking water, affordable housing, good economic conditions of the Ghanaian, lower taxes, and general wellbeing of Ghanaians are not part of these aspirations.
For example, in 2020, the unemployment rate in Ghana was at approximately 4.53 percent of the total labour force. The unemployment rate is the percentage of a country's labour force that are without jobs but are available to work and actively seeking employment. Ghana's unemployment rate, according to statistics is above the worldwide unemployment rate.
According to Habitatforhumanity (one of the world's leading housing charities), the population and the housing situation in Ghana is so alarming that the need for housing assistance cannot be over emphasised. Housing deficit is in excess of 1.2 million (according to the Government of Ghana, 2016). Currently, the situation is worst.
According to a report available at habitatforhumanity.org, Ghana needs at least 85,000 housing units annually. Many places in the capital are overcrowded, with unstructured compound housing systems. Streetism and homelessness are running into thousands, and when the rains come, many people struggle to find a hiding space.
There appears to be a general resentment against LGBTIQ persons in Ghana. Many people who are against the activities of LGBTIQ persons state morality and, personal values, religion as well as culture as reasons for their rejection of LGBTIQ persons and their activities. It appears that other matters of economic concern, such as corruption and unemployment do not carry as much weight as issues of sexuality.
In 2018, a survey report published by the Africa Center for International Law and Accountability revealed that Ghanaians were more concerned about LBGTIQ than they were about corruption and poor roads (Acila Survey, 2018).
Although it appears Ghana is leading an anti-LGBTIQ crusade in the face of unemployment and deepening economic hardships, it is also interesting to note that Ghana has already signed unto the United Nations human rights protection mechanism that binds the country to ensure that it protects all minorities including LGBTIQ persons in the country. If parliament goes ahead to pass the anti-LGBTIQ bill, it will be in direct contradiction to what the country has pledged to do on the global front.
It is interesting to note that the following specific recommendations have been accepted by Ghana at the United Nations Universal Periodic Review (UPR) as a country committed to ensuring non-violence and non-discrimination against LGBTIQ persons in the country.
Ghana will:
146.59 "Take the steps necessary to protect lesbian, gay, bisexuals, Transgender and intersection persons from violence and discrimination on the basis of their sexual orientation and gender identity".
146.60 "Ensure that victims of discrimination and violence based on sexual orientation and gender identity has access to rehabilitation and remedy and that all perpetrators are punished".
146.61 "Take measures to fight against violence and discrimination based on sexual orientation and gender identity."
146.62 "Continue promoting gender equality through specific laws, plans and programs".
146.63 "Continue to implement the discrimination reporting system in order to tackle stigmatization and discrimination of the most vulnerable groups"
146.64 "Continue promoting economic and social sustainable development in order to lay a solid foundation for the enjoyment of human rights"
146.65 "Expedite the development of a concrete national implementation framework on human rights."
What is the UPR?
The Universal Periodic Review (UPR) is a special process which involves a periodic review of the human rights records of all 193 UN Member States. The UPR is an innovation of the Human Rights Council which is based on equal treatment for all countries. It provides an opportunity for all States to declare what actions they have taken to improve the human rights situations in their countries and to overcome challenges to the enjoyment of human rights. The UPR also includes a sharing of best human rights practices around the globe (UNHRC,n.d.).
Will the new LGBTIQ law protect lesbian, gay, bisexuals, Transgender and intersection persons from violence and discrimination on the basis of their sexual orientation and gender identity or it will deepen the already widespread resentment against these group of people? How will the new law be compatible and accommodative of united nation's human rights laws and conventions, of which Ghana is a party to?
What are the values and aspirations of Ghanaians according to Francis Xavier Sosu, MP? Is the Ghanaian aspiration only to see the persecution of a minority group whose activities goes against the values and culture of the people? Is the Ghanaian aspiration only relegated to corruption,poor economic conditions, unemployment, poor health systems, lack of good roads and poor living conditions?
It appears Ghana is not ready to have a real conversation on the LGBTIQ concept in view of the growing economic hardships and structural challenges that currently risk the future of the country.