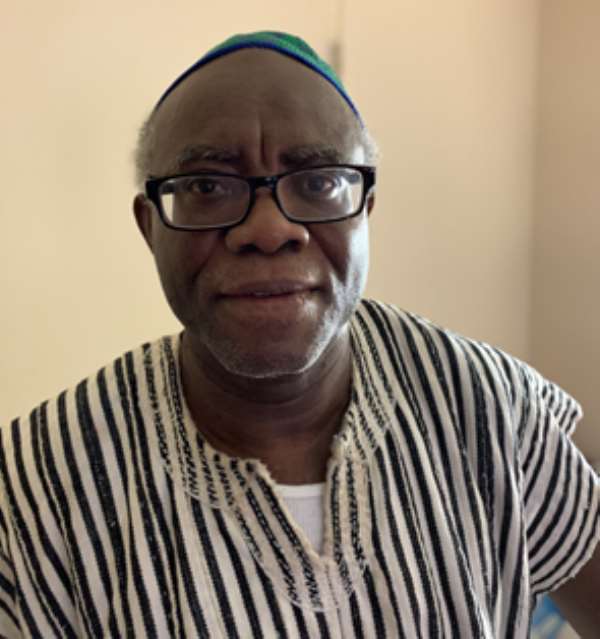 She is often shown in photographs standing beside former President John "European Airbus Payola" Dramani Mahama, in the very position that is traditionally reserved for the legitimately wedded wife or spouse of the latter. I am just making a curious observation, not attempting to make any unorthodox or politically and culturally loaded propositions or suggestions. And in nearly every accompanying news story that yours truly has chanced across, Ms. Joyce Dzidzor Mensah is reported to be desperately and passionately pleading for the Government-of-the-Day to pay her what she insistently claims to be due her as Ghana's former HIV-AIDS Ambassador.
In this particular photograph that I have in front of me, clicked in from the website of the Modern Ghana media portal, once again, Ms. Joyce Dzidzor Mensah is shown in a two-panel photograph in the right panel of which she is shown with a then-President Mahama, decked in an indigo Joromi top wear with a white-and-black engraving smack in the middle of the front of his shirt the tip of which flares out from where his covered stomach begins, or perhaps even slightly on top of his potbelly. Ms. Dzidzor, for her part, is wearing a white short-sleeved shirt with an upturned collar like a polo neck, the perforated front of which has the right handle of what clearly appears to be a pair of dark-brown glasses.
Once again, the news caption of the story says the following as loudly as it possibly could: "I Need My Money, Government Dumped Me After Using Me to Raise Funds as HIV/AIDS Ambassador – Joyce Dzidzor Alleges." This particular story is dated June 14, 2021. I have been keeping this on file for quite a considerable while now, even as the Dear Reader could readily attest by the date of the authorship of the present column, with the intention of writing about it. But I have not had the time to do so because I have been very busy preparing for and teaching two summer courses on College Composition and Literature, a course that I avidly like to teach, because it gives me the necessary pedagogical amplitude to select literary material from a diversity of sources, virtually global in scope like the multiethnic and racial composition of the backgrounds of the students that I teach and have been teaching for more than two decades now, ranging from white or a diversity of ethnic and cultural backgrounds within the global white or European-American Community – that is, from Irish to English to Russian and Polish to Scottish and German.
This summer, I even got to teach an Italian-born woman who recently immigrated to the United States from Northern Italy, who spoke near-impeccable English with a British-sounding accent. Giuliana, not his real name, told me that she attended a secondary school in her native part of the Italian peninsula (Or is it the Iberian Peninsula?) where they had English or British teachers teaching them the English language. I took an interest in using my extremely rudimentary knowledge of Latin to figure out that her surname or family name translated into English as "A Good End."
Anyway, even as one reader uncontrollably peeved by Ms. Dzidzor's seemingly perennial and incessant screams for whatever amount of money former President Mahama may owe her to be promptly remitted to her by the present Government, not the previous John "Akonfem-Kanazoe" Dramani Mahama-led government of the National Democratic Congress, but presumably any government-du-jour, pontifically observed, the normal or standard practice has been for Ambassadors of charitable causes, such as the one for which Ms. Dzidzor had been allegedly named, to be voluntarily named or designated. Which means that almost invariably, anybody named as Ambassador to such charitable causes, admittedly quite noble causes, as HIV/AIDS, Cancer, Malaria and Diabetes, among legions of other ailments or diseases, is often so selected because s/he may already be a fairly well-heeled celebrity with considerable personal wealth who may be willing to use the glow of their celebrity status to raise, for example, medical treatment funds for people afflicted with any number of the kinds of ailments enumerated above and still more.
In the case of Ms. Dzidzor Mensah, it very well appears that she may have been recruited by operatives of the Ghana AIDS Commission in the pay of the previous Mahama regime to work for money, pretty much so because the plaintiff had also been marketed right from the get-go as a celebrity who was afflicted with the HIV/AIDS disease and had been openly and publicly advertised as such. From what we learn elsewhere, Mr. Mahama's AIDS Ambassador had also been given a car and other perks and privileges to go with the job. Which obviously points to the possibility that the quite smashingly attractive Ms. Mensah or Dzidzor-Mensah had been recruited more because she had also been deemed to be physically prepossessing, at least relative to Ghanaian standards of beauty, as perceived by notorious skirt-chasing prominent politicians like the former President, to be quarried and exploited with reckless abandon, and not because the plaintiff was already a financially and/or professionally successful celebrity who was willing to use some of her physical endowments and celebrity status to raise funds for the Ghana AIDS Commission (GAC).
If all the preceding observations or at least the most salient of them have relevance and validity, then it goes without saying that somebody higher up on the socioeconomic and political ladder in the country has a bounden obligation to step up to the proverbial plate and offer the general public some definitive answers and/or explanations. And that person or personality well appears to be none other than former President Mahama, the man whose unmistakable image almost invariably appears besides that of Ms. Dzidzor-Mensah's, whenever the subject of her passionate and desperate cry to be paid or remunerated for her officially engaged celebrity services appears in the news.
We make this equally passionate call to the former President because recently, when the payment of the salary emoluments for Mesdames Rebecca Akufo-Addo and Samira Bawumia, Ghana's First and Second ladies, respectively, became the subject of national controversy, Mr. Mahama promptly stepped into the public arena to inform Ghanaians about what Nana Akufo-Addo's immediate predecessor thought about what he deemed to be egregiously amiss with the Rebecca Akufo-Addo and Samira Bawumia's parliament-approved salary-emolument payouts or payments.
*Visit my blog at: KwameOkoampaAhoofeJr
By Kwame Okoampa-Ahoofe, Jr., PhD
English Department, SUNY-Nassau
Garden City, New York
July 10, 2021
E-mail: [email protected]