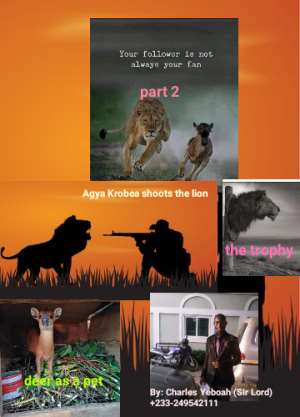 The four-legged animal who followed the deer we learnt after all from part one that he was not an admirer, but a merciless preying lion who faked as a friend in order to pounce on the lonely meek deer.
Thanks to the hunter, Agya Krobea, the lion was scared away, the deer was kept as a pet, and overnight, those who paid money to enter the hunter's compound to see this handsome creature with such a victorious history made him rich.
And with the rich purse, he (the hunter) hired colleague hunters to join him in a hunt for the rampaging lion who is now a threat to those that tread the plains, from Goka to Jankufa, be they humans or other weak and vulnerable animals as was the plight of the young deer.
Agya Krobea and his team of heavily armed hunters had not trekked minutes into the forested plains, and insight was this pursuer of the deer, the lion, prowling in readiness to accost the saved deer if it was left loose into the woods again.
This time the merciless carnivore tested the might of the hunter's bullet, and with one pull of his trigger, Agya Krobea shot down the king of the jungle. And to ensure it was indeed dead, the colleague hunters sprayed their pellets on the fallen beast, and they brought its head home for a trophy, which also brought in additional tourists to the hunter's compound, and enriched him the more to bursting.
Moral lesson
If you're saved from your pursuer, remain where the saviour has kept you.
The safe pair of hands will now pursue your pursuer (s), and at last the road to your stardom will not meet threats anymore.