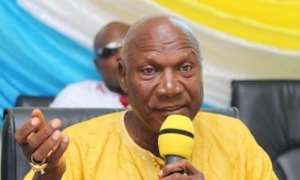 On a day, they marched over economic injustice. Same day, Atta money man was readying to dole out to the sometimes gathering of the motherland's best brains but some others thieves and brigands, largesse of hard foreign currency. To share is a whopping borrowed USD28 million cash. Each gets at least USD101.818. Just imagine they take that free money as many times as they get sworn into office.
Add the judgment debt shares; the bribes they take to confirm ministers and who knows whichever appointees. Add all that to retreat perks and ex-gratia every four years; and you come to understand why everybody wants to 'make' laws. As they keep mum over it, it's the innocent among first ladies, who have become their punching bag.
Under congress' Asomdwee and Onaapo, abanmufoɔ sii ɔman no sika koso te sɛ nam; tutuu ɔman nam no asrɛ ne abasa. Dɔm bi mma no adi wɔn deɛ awie na wɔn abɛgyina hɔ sɛ ɔman panyin ne nasoafoɔ ne napamfooɔ na awe nam no a wamma wɔn mmrafoɔ no bi (Under Asomdwee and Onaapo, the motherland's money became booty and after congresspeople in the minority have chopped their share, they are now complaining about executive corruption).
Cars at $28 million borrowed money is a public money spending outrage which has been made, by design or accident, to be beclouded in the 'pay first ladies salary' matter. Someone wants to right the wrong of appending women to men, presidents having always been all men. Those seeking to defend could evoke maternity leave right, which is now extended as paternity leave right. Men take double salary; women have to struggle for a pittance of allowance.
By the way, one would have thought the issue would have been presented as a bipartisan nonpartisan consensus issue with data on detailed treatment of first ladies over the years. But the reality is, if your spouse went about amassing wealth including stealing people's money by running dubious micro-credit schemes and selling government foreign scholarships, she won't need money for you to ask for pay for her. Instead, you would go political point scoring by disagreeing that she should be paid a salary. There's a job description for first ladies which exists in practice, and I'm sure one of these days, someone would competently formalise it.
In fact, when congresspeople were in power, they chopped all the meat and made sure they sucked out the marrow from the bones, to leave pure dry bones. Now that some Atta man, who is not president, has gone collecting some bond money, congress ampɛbrɛ dɔm kumaa are ready to chop that, at least, USD101818 each. My compatriots, remember and never forget all that in 2024; because democracies that give people of the congress mould opportunity to run government, never progress.
[[[It's hard to believe, but on the day they were marching in red and black, whining about economic injustice with fair treatment for all, Atta Sika was preparing to dole out the USD28 million cash to them.]]]
When congresspeople assumed the reins of government in 2009, one of their first actions was to cancel the Kufuor duty-waived, not dashing, lecturer facility car purchase facility. It was a deal that ensured each lecturer was entitled ton it once, not every four or even ten years. No lecturer was given a loan. A lecturer had to find his or her own money to pay. The congress minister, who by standards of competence did not fit the role, the one who abolished the scheme, did so as vengeance against lecturers for punishing him for his undisciplined iniquities. He is now a multiple recipient of at least USD101.818 every four years.
This same ampɛbrɛ man told lecturers no one gets paid in dollars in Ghana and, therefore, scrapped President Kufuor's policy of improving lecturer salaries by indexing it to the dollar. Today, he has no qualm sponsoring borrowing in dollars to pay him in dollars. I hear his BASIC salary is GH¢25,000 every month. If you add the allowances and bribes, he should be taking some GH¢100,000 every month!! For what, my compatriots? A lecturer's salary is not even GH¢5,000 a month!
Ampɛbrɛ and his like have approved all the bad loans contracted. Many of those loans and contracts attracted judgment debts they, giving the way they operate in bribe taking, should have benefitted from. Allegations of $5000 adidi agya bribe, vetting bribe all kinds of other bribes have come from the dishononourables themselves, including the venerated spokesperson himself. Who am I not believe them?
Every bribery story involving them has come from their house. So how can those of us outside the house completely doubt those allegations? When honourables or an honourable say/s there has been bribe no one who is not an honourable can dispute that. In their typical no morals in politics, they gleefully slice a piece of the national pie for themselves. No wonder appointees in the executive branch of government also want cars they use sold to them every four years.
Number 28 is etched in the national psyche; whether for good as in 28th February march to express discontent freely; or, on the opposite side, ominously, for bad as in the Mensa-Bonsu Page 28 jailing to stifle free expression. In millions of dollars, 28 is once again haunting the motherland; 28 million United States dollars, to buy cars for the privileged. So, 28 is, once again, a number of national enigma.
Shamelessly, they held a press conference to condemn a 77 year old's small amenities flight costs. They never bothered to count the costs of the travels of their president of 50 something years old. All, despite the fact that the best performance of the 50 something does not measure up to the worst performance of the 77.
By Kwasi Ansu-Kyeremeh