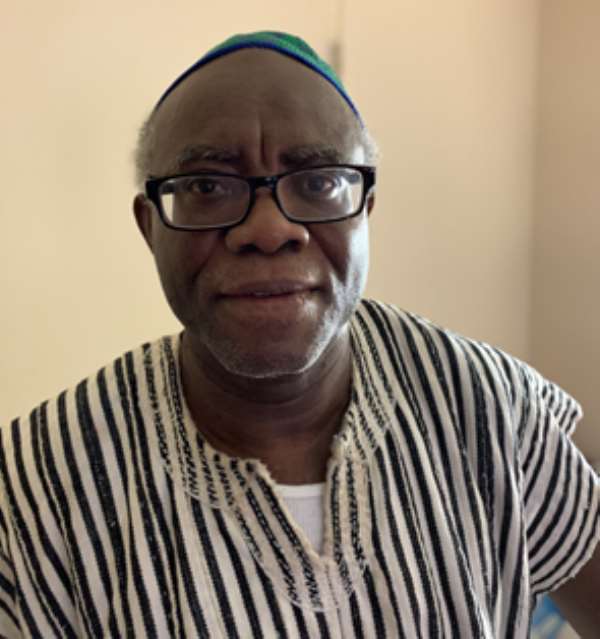 He is described as a Professor of Linguistics and Principal of the Ajumako Campus of the Winneba-based University of Education (UEW). But the fact of the matter is that Prof. Ephraim Avea Nsoh talks and sounds like a very envious and ignorant professional and professorial pedestrian, especially when he intemperately accuses Dr. Yaw Osei-Adutwum, Ghana's most dynamic, revolutionary and innovative educator for the past 20 years, of behaving as if the latter were a Minister of Education in the United States of America – typical trashy talk by operatives of the faux socialist main opposition National Democratic Congress (NDC) – where, by the way, the Lake Bosomtwe native both trained and managed a public school system in the State of California before returning home to serve his country in ways that Prof. Nsoh, who did not particularly distinguish himself as Upper-East and Upper-West Regional Minister in the rag-tag tandem regimes of the Mills-Mahama-led National Democratic Congress, could scarcely fathom (See "Stop Acting as if You're a Minister in the US Cabinet – Prof. Avea Nsoh to Adutwum" MyNewsGh.com / Ghanaweb.com 7/18/21).
Maybe somebody needs to inform the Principal of the former third-rate Ajumako School of Languages that Americans run a far better public school system than the total mess that passes for public school education in Ghana. You see, during the tandem Mills-Mahama regimes of the National Democratic Congress, about precisely the same time that Prof. Nsoh served as a non-cabinet regional minister, the Paris-, France, based Organization of Economic Cooperation and Development (OECD), the United Nations-sponsored and globally respected think-tank, ranked Ghana's public school system as the worst of the public-school systems of some 145 countries. In short, Ghana was ranked a horrific 145th out of the 145 public school systems rated by the OECD during the afore-referenced period. It is also inescapably significant and ironic to note that Ghana was then headed by the late President John Evans Atta-Mills, an erudite and well-respected recently retired tax-law associate professor of the country's flagship academy, to wit, the University of Ghana.
In sum, the contention here is that merely sporting the title of a college professor does not necessarily mean that this mordant and inveterate Osei-Adutwum critic knows what he is talking about, or that the critic is of the same academic and professional caliber as Ghana's current Education Minister, who has a proven professional track record of sterling administrative and pedagogical performance. His vaunt or bragging rights would be more relevant, if Prof. Nsoh could also point to a comparable and/or enviable performance record of worthwhile achievement as the man he so vacuously and gratuitously seeks to belittle and drag down to Prof. Nsoh's own rather undistinguished and unremarkable level of academic and professional competence and lackluster performance track record. You see, when the present writer was an "A"-Level student in Ghana, namely, at Prempeh College, Kumasi, he published several "O"-Level Literary Appreciation Commentary Notes on English Literature and test-taking skills that were required reading at several reputable secondary schools, including the Ghana National College, Cape Coast, and Sunyani Secondary School.
I am quite certain that Prof. Nsoh cannot point to any such "precocious" record of achievement. Which, of course, is not to necessarily imply that he may not be making a heck of a quite significant difference or contribution at the level of the tertiary institution or academy where he presently teaches and works as a Principal Administrator. And, by the way, if he cares to Google it, Prof. Nsoh would likely locate at least one of my commentary notes, titled "Commentary Notes on a Selection of African Poetry by Senanu and Vincent." At least a copy of this 17-page cyclostyled 11 by 17-inch booklet or pamphlet, the last time that I checked, was in the archival storage system of the library of Indiana University at Bloomington, Indiana. That goes to show you, Prof. Nsoh, the admirably high premium that American academics or educators and librarians place on public education in ways that you cannot even imagine.
It also smacks of the sort of morbid inferiority complex that I constantly advise my community college students to shy away from, especially women and ethnic minorities, when a palpably envious or jaundiced Prof. Nsoh accuses Dr. Osei-Adutwum of acting and behaving like a Minister of Education in the Biden Administration. You see, acting like an American educator or education administrator almost invariably implies aspiring to higher scholastic standards. So, it is not clear to me whether the Principal of the Ajumako College of Education means that Dr. Osei-Adutwum may be unrealistically aiming at a standard of academic performance that Prof. Nsoh deems to be too high for the mental capacity of the sort of Ghanaian students that he has had to deal with or he has been dealing with. Which would be rather unfortunate and criminally absurd.
The critic also waxes flippant when he accuses the Education Minister of contracting a private company to print past examination questions for Junior High School Pupils at the whopping cost of GHȻ 34.8 Million, when the Government Printer could have performed the same job for a much lower cost, without giving his audience any forensically researched ballpark low cost figure. Now, this sounds nauseatingly like a stereotypical Ghanaian professor of the sort given to much talk and little worthwhile research-based knowledge and skills. For a man who belongs to the kleptocratic party of Mr. Alfred Agbesi Woyome, namely, the Mills-Mahama-chaperoned National Democratic Congress, so-called, it is rather ludicrous for Prof. Nsoh to presume to second guess Dr. Osei-Adutwum on the question of whether the Education Minister is smack about the ungodly business of contractual backroom and/or backdoor deals.
*Visit my blog at: KwameOkoampaAhoofeJr
By Kwame Okoampa-Ahoofe, Jr., PhD
English Department, SUNY-Nassau
Garden City, New York
July 18, 2021
E-mail: [email protected]