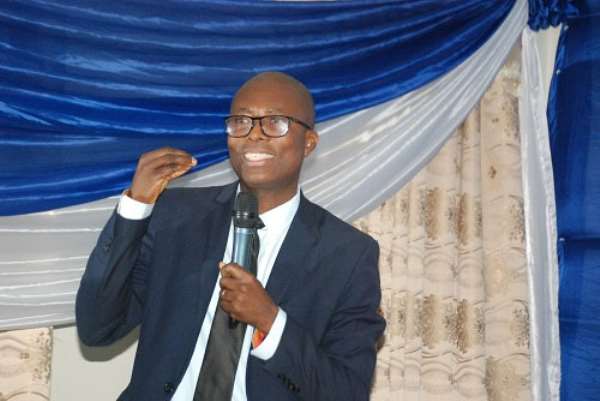 Dr. Emmanuel Koblah Srofenyoh
The Medical Director of the Greater Accra Regional Hospital, otherwise known as Ridge, Dr. Emmanuel Koblah Srofenyoh has said that there is an uptick of COVID-19 cases.
He could be suggesting that the facility is now registering a relative increase of cases as compared to the immediate past when we witnessed a sharp drop in the incidence of the pandemic. Of course this is a countrywide trend.
Although he was rebutting the social media report that the facility's ICU has been filled to capacity with COVID-19 cases, he nonetheless pointed out that the number of persons testing positive and requiring attention is on the increase.
That is a significant disclosure which all Ghanaians must take note of and act accordingly.
If the Medical Director's observation does not constitute an alarm bell we do not what else is.
In the last wave of the pandemic Ghana in spite of the wanton recklessness of many Ghanaians, we managed to pull through leaving some persons to deny the ailment.
After somewhat subduing the ailment through an effective government intervention and winning international acclaim we appear to be slipping in our adherence to COVID-19 protocols.
Many are yet to come to terms with the reality of the mutating nature of the virus and refuse to abide by the protocols our best bet against the pandemic even we are doubly vaccinated.
With no announcement that the protocols have been withdrawn it is amazing how all of a sudden these are no longer generally being observed.
The numbers are rising but with a strict adherence to the WHO guidelines there is no reason why we should be apprehensive.
Some countries which did as well as Ghana and even did better in their management of the pandemic are nonetheless witnessing another wave of the pandemic.
Some parts of Australia are reportedly witnessing a resurgence of the pandemic in spite of a concerted management that reduced the incidence of the disease to zero at a point.
The lesson here is that even those who were spared the high COVID-19 related mortality rate because of strict measures including lockdowns cannot afford to be complacent.
The authorities might have to repackage a fresh campaign to create the necessary awareness among the populace about the rising cases and the implication of this trend.
We have endured enough economic repercussions of the pandemic that losing our guard as we are definitely doing today would create an avoidable fresh wave.
The only places where total adherence to the COVID-19 protocols is taking place are public offices and banks. Not so on commuter buses and at marketplaces but nobody cares.
The MMDAs must be empowered by central government to enforce the law on the application of the protocols.
The President's directive to the law enforcement agents to deal with those who breach the protocols is still in force and should be enforced accordingly.
---Daily Guide