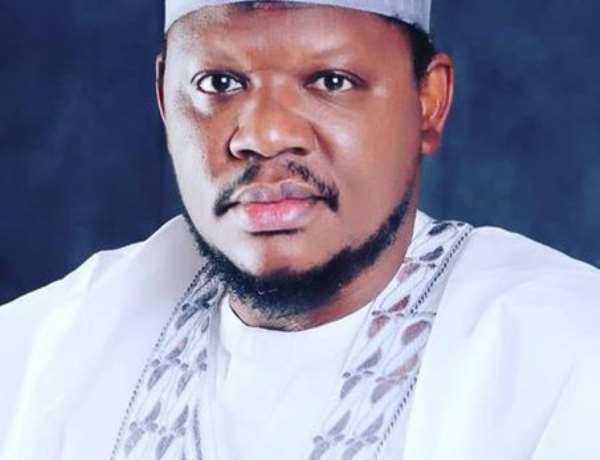 Alhaji Ismailia Aliyu Gwarzo
This is the Alhaji Ismailia Aliyu Gwarzo who apparently said these very insulting, arrogant, sickening words concerning the Igbo and Yoruba ethnic nationalities of Nigeria. "The problem with you Southerners is that you can never understand the north. We are a mystery to you and you cannot comprehend us despite all your boasting that you are better than us. You claim to be educated but in fact you are uneducated and uncivilized. What do you know about education and what has it done for you? We Fulani toss a small bone to you from our table and you betray and fight each other like dogs for it. You crawl before us and beg us for crumbs. That is your lot in life. You are nothing more than beggars.
Cowardly and contended slaves! Just like your fathers served us, so you shall serve us. Just as you serve us, so your children shall serve us. And just as your children shall serve us, so their children shall serve us. We are born to rule. Leadership is our blood. No-one in this country can stop or change it. No-one can touch us. Allah has given us Nigeria. It is gift to our forefathers from him. Our great grandfather Sheik Othman Dan Fodio and the Mujahadeen fought for it. Our grandfather the Saurdana, Sir Ahmadu Bello expanded our borders and frontiers. Our father President Muhammadu Buhari has come to complete the job and he is doing very well. You see the most effective chains are the invisible ones. We already have you in those chains but you just don't know it. We took our power back in 2015. We will not release it to southerners or unbelievers again. Not in the next 100 years! It is true that we came from Futa Toro and Futa Jalon many years ago and conquered the north.
Now every inch of it belongs to us. Every Fulani whether from Mali, Senegal, Guinea, Niger, Chad, Cameroon or anywhere else is our brother and has a right to be here with us. We are Fulani before Nigerian and our allegiance is to our Fulani brothers all over West Africa more than you. Now we will conquer south and we do it in the name of "one Nigeria". In that "one Nigeria" we shall remain the masters and you shall remain the slaves! None of you are going anywhere. Nigeria will never break. We will not allow it" And he appends his name - ALIYU GWARZO.
For those Nigerians in the Diaspora particularly who have never heard of, or known, Alhaji Ismailia Aliyu Gwarzo, he is a retired security and intelligence official of the Nigerian government. He was an assistant inspector general of police and subsequently became the first director of the State Security Service soon after it was formed on 5 June 1986 by Military President Ibrahim Babangida to replace the National Security Organization, NSO. He later became Babangida's National Security Adviser and that of Presidents Ernest Shonekan and Sani Abacha .
Gwarzo was always in the news during the reign of these heads of state, serving the three regimes in various capacities before and after his retirement. He served in the Babangida administration as a police commissioner before he was elevated to the post of Assistant Inspector General. After he retired, Babangida appointed him the first Director-General of the State Security Service (SSS) in June 1986. As part of the government reorganization in September 1990, Alhaji Gwarzo was named Minister of State, Police Affairs.
However, he was linked to the theft of $2.45 billion from the Central Bank of Nigeria . On 30 September 1999 Nigeria asked the Swiss Federal Office for the Prevention of Money Laundering to freeze all Abacha and Gwarzo assets and those of others associated with the regime.
In January 2000 it was reported that $654 million was found in about 140 Swiss bank accounts in the names of Abacha, his family and associates. Gwarzo, the self-styled slave master, was implicated. After the death of Sani Abacha, Gwarzo ran into conflict with the government of Abdulsalami Abubakar concerning his mismanagement of the $2.45 billion. Gwarzo was placed under house arrest for three months before he was freed. He was arrested again in connection with the same missing money. As the director-general of the State Security Service, he was also fingered when Dele Giwa, the editor-in-chief of Newswatch magazine, was murdered with a parcel bomb on October 19, 1986.
As National Security Advisor (NSA) for President Ernest Shonekan , who took office in August 1993, and then for General Sani Abacha from November 1993, he was said to have concentrated mostly on security matters and was not involved in foreign policy decisions. However, Gwarzo asked for funds for a campaign to cultivate the friendship of East African countries and the OAU to rein in support for Nigeria to gain a permanent seat on the United Nations Security Council .
Within Nigeria, Gwarzo collected money from government and private sector of the economy for use in the pro-government propaganda. The amount he spent was leaked to the press and that undermined the credibility of the government. Gwarzo and Major Hamza al-Mustapha , Abacha's Chief Security Officer, were said to be responsible for much of the torture, killing and wanton looting that happened during Abacha's draconian rule.
Gwarzo was said to have issued fake security reports that made it possible for hundreds of millions of dollars to be transferred from the government into private accounts owned by Abacha's relatives, and in the process made himself very rich. A preliminary report published by the General Abubakar transitional government in November 1998 threw more light on the process.
General Abacha would normally tell Gwarzo to prepare funding requests for fake security projects, which Abacha approved as Head of State. The Central Bank of Nigeria would usually send the funds to Gwarzo in cash or travellers' checks, and Gwarzo would take the money to Abacha's house. Sani Abacha's son Mohammed would arrange to launder the money to offshore accounts. An estimated $1.4 billion in cash was delivered in that way.
For his personal benefit, Gwarzo persuaded Abacha to let him flood the market with US dollars to maintain a stable exchange rate. Gwarzo bought $100 million from the Central Bank of Nigeria at the official rate of N22 per dollar, and sold it at the market rate of N84 per dollar, tucking away the profit.
After Abacha's death in June 1998, General Abubakar immediately placed Gwarzo under house arrest. He was freed after three months in detention. Eventually, he was accused of stealing $2.45 billion from the Nigerian Central Bank.
In August 1998 the government said it had found about $500 million that Gwarzo hid in bank accounts and safe houses. By November 1998 Abubakar announced that the government had recovered $250 million from Gwarzo. According to Reuters , that month a presidential spokesman said the government had recovered US$750 million from Gwarzo of which $625.2 million were in U.S. dollars and £75.3 million were in pounds sterling, worth about US$125.4 million.
In November of that year, a newspaper story said 37 properties, five vehicles and 16 trailers of fertilizers had also been seized from Gwarzo. Gwarzo insisted that he was merely 'an errand boy' to the late Abacha. More money was found in Luxembourg and Belgium, and it was suspected that he hid huge sums of money in other countries.
It was at this point that President Olusegun Obasanjo issued an informal injunction restricting Gwarzo to his home town at the outskirts of Kano to prevent alleged plots. Gwarzo was under house arrest for 18 months. No charges were brought against him. In September 2000 Gwarzo appeared before a Swiss judge and a team of Swiss detectives in Abuja . He offered to pay back another $500 million to the Federal government.
According to a report in Newswatch in February 2004, Gwarzo and others known to have stolen large amounts from the government were still free, roaming Nigerian streets. Although Obasanjo had established the Independent Corrupt Practices Commission (ICPC) soon after he was elected President in 1999, the law was not retrospective and couldn't deal with crimes committed before the law came into being.
So, I was quite embarrassed that Chief Femi Fani-Kayode spent so much time and energy replying to his man who obviously cannot read his own compass despite the fact that he rose through the ranks to the level of an AIG, only God knows how. Fani-Kayode should have easily deciphered the fact that having held all those positions in government and having been restricted to his house for fear that he might come up with some kind of mischief to distract the government from its focus, he simply wanted to attract attention to himself.
He desperately wanted to be seen somehow as relevant in the scheme of things in the country after his restriction to his home. I even understand it became difficult for him to attend meetings like weddings and things like that. He was incarcerated in his house and could only visit and work in his farmland. They say, despite his age, he was still looking healthy and good – which goes to buttress the contention that the guy was only in search of relevance. And the best way he thought he could gain that relevance was by picking on the Southerners the delusional way he did. Or was it really delusional after all?
On a more serious note, anyone who has studied the psychology of fear and the disposition of fearful people will discover that the fearful people are always the aggressive ones who don't usually feel safe even with their own shadows. They would often resort to what is called "defence mechanism".
The weak man would normally risk being beaten up to challenge a stronger man to a wrestling match or even a verbal or physical fight. The chances are that the strongman might initially ignore him. And that is probably when the strong man gets his shock if the weak man attacks him when he is not ready or expecting an attack.
But if he instantly accepts the challenge and immediately starts to mercilessly beat up the weak one, that weak one is most likely to find an escape route. He will be heard shouting "Okpamioo…Okpamioo…Ogbugom…He wants to kill me!" And maybe some people would hear his shout and come to his rescue.
That is the type of psychology Alhaji Gwarzo exhibited here. In Nigeria today, the North is internationally recognized as the real weakest link. In education more than 80% of their people are stack illiterates. So they don't count intellectually. Even economically, they have only a few very rich families and again over 90% of their people are unable to sustain their livelihoods without street begging. That is why they are always the aggressive ones to the ones who can afford to tolerate them. They are the ones who like to live by the sword. They are the ones who have no value for human life.
They are the ones for whom the lives of cattle worth more than the lives of human beings. They are the ones who will 'traditionally' marry young girls who have scarcely turned 10. They are the ones who stone a woman to death for committing adultery but the man who committed the sin with her has no case to answer. They are the ones who will shout the battle cry and threaten the heavens would fall. They are the fearful ones.
It is all called "defence mechanism." So, if they start their plan to deep the Koran in the sea, possibly in River Niger or Benue River, southerners should get down to their own plan to hoist their Bible on the highest peak of Plateau State. There are implications, religious implications.
But come to think of it: there are many ways the Southerners behave that seem to buttress some of the points this man spoke about – which is the reason Shakespeare said "sweet are the uses of adversity". Everyone knows, for instance, that if all Igbo and Yoruba team up politically, they will easily dislodge the governance of Nigeria permanently from these arrogant northerners who have shown through the more than 40 years they ruled Nigeria (as against 8 years the East ruled and 12 years the West ruled) that this idea of ruling the country is way beyond their capacity. What have they succeeded in doing to Nigeria these 40 years if not "backwards ever, forwards never"?
After the first handshake across the Niger, another handshake should have followed in Abeokuta or Ibadan. Then another in Owerri and another in Oyo or Lagos should have followed. The tempo of the meetings should have been kept on the rise and each meeting should have consolidated the burning desire to redeem Nigeria from greedy northern leaders like Gwarzo who are bent on milking the country dry and thriving on blood money.
Imagine how much money this man must have stolen from Nigerians. If the billions of dollars are changed to naira, everyone knows what that kind of money can do for the country. And here this shameless man stands to talk about the Fulani perpetually ruling Nigeria as their God- ordained birthright, to use as they like. Whoever spoke like that? What an insult!
But he may be right.
Why was there no follow up after the first handshake? Simply put, it was because of betrayal! Someone or a group of southerners must have taken money from the northerners to rest the idea.
But even at that, the inviolable truth remains that only a coalition of southern states can save Nigeria and make it the great, just and prosperous country it should be – where every Nigerian would be happy to be called a Nigerian.
We all know this but like Gwarzo rightly said, a little money thrown at the feet of some southerners by the northerners could easily swerve them to change their minds and sabotage their own people and their country's wellbeing. That is probably why the man seemed so confident about the vulnerability of the South. About them he says: "We Fulani toss a small bone to you from our table and you betray and fight each other like dogs for it. You see the most effective chains are the invisible ones. We already have you in those chains but you just don't know it."
Without fear of contradiction, I think this is quite true coming from a former national security adviser. I don't see any evil in his alert. This is just an eye opener to the southerners because it is frank talk. It is now left for the southerners to act and act firmly to forestall any of these insults in the future. How can the saboteurs in the south be fished out? And what must the southerners do to the saboteurs among them to serve as deterrent to intending ones so that the southerners can work to save Nigeria from self harm? That is the challenge southern leaders must tackle immediately.
Once they decide on that, which might necessitate another handshake, let the war of sense and sensibilities begin. We are all witnesses.