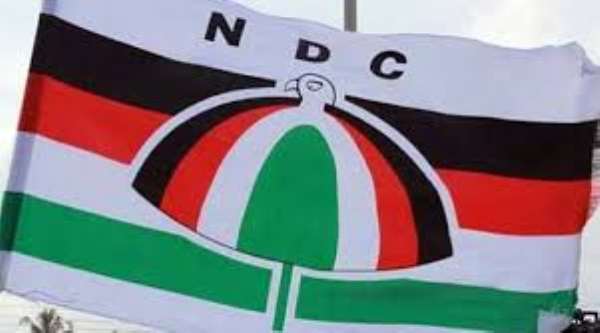 PRESS RELEASE
To: All Media Houses
We the Cadres of the National Democratic Congress (NDC) have observed with concern and disappointment the rate of deterioration of the state of security in the country.
Under this NPP administration, Ghana has witnessed a surge in government sponsored terrorists activities, such as the Ayawaso West-Wuogon Constituency Parliamentary Bye-election, the Techiman South election shootings, the Ablekuma Central collation centre shooting, cross-border crimes, including arms peddling and weapons proliferation in Ghana, human trafficking, serial and contract killings, kidnapping and armed banditry as some of its major national security shortfalls that the government must urgently tackle to ensure safety and security of citizenry. It is clear that the country is witnessing regime security as opposed to national security and surge in crime is a result of leadership failure. Ghanaians now live in fear much about the situation and pronouncements that have the effect that they have given up and cannot do anything about the crime situation in the country.
The threat of terrorism and violent extremism in Ghana has heightened discourse across the nation. Given the southward spread of extremist groups in Burkina Faso and the porous nature of our borders, there are concerns over cross border incursions into Ghana.
Violent crime is on the rise, including broad daylight armed robberies across the country. Nationwide, violent crime results in more than 500 deaths per year. Criminals frequently carry weapons; the most prevalent are locally manufactured pistols, rifles, and shotguns, also a number of weapons are smuggled into the country while our border security personnel are not able to do much about the situation. Reliable sources estimate that there are 1.2 million unregistered guns in Ghana.
The recent violence at the Ayawaso West-Wuogon Constituency Parliamentary Bye-election in January 2019 linked to State sponsored terrorist groups, such as Invisible and Delta Forces suggests the gravity of the threats it poses to Ghana's democracy. Unfortunately, these groups have been absorbed into the National Security apparatus. The ability of these terror groups to seize public assets and interfere in court proceedings to free their colleagues from prosecution is also a manifestation of the threat they pose. It indicates an attempt by the groups to entrench themselves as a semi-autonomous institution that threatens the legitimacy of the State.
Recent crimes in Ghana – June 2021
The number of crimes that have occurred within two weeks of June 2021 are alarmingly very scary and this demands immediate action from government to curb the situation and ensure safety and security of our country. Some of the crimes within the last two weeks are as listed.
Armed robbers raid forex bureau close to Police headquarters
CCTV footage of 23-year-old woman murdered by friend
Four arrested over attacks on motorists at GIMPA
Wife of KK Sarpong's aide shot dead
Woman, aged 27 stabs partner to death at Abesim
Notorious armed robber grabbed at Assin Fosu
Bullion van robbery and the killing of a Police Officer and a civilian
The two police officers who robbed Indian businessmen of cash in a hotel
Woman 'kills' son at Taifa
30-year-old man killed over GH₵10 debt
Trader jailed eight years for child stealing
Two suspected kidnappers arrested at Abeka Lapaz
17-year-old TV 'thief' beaten to death at Barekese
Multiple defilements across the country on the increase
Robbery attack at Paga leaves one dead, another injured
19 Burkinabes busted for unlawful entry into Ghana
Retired Police officer, 72, arrested for defiling 6-year-old granddaughter in Central Region
Kumasi: Suspected taxi driver killer grabbed
3 galamsey operators jailed 45 years by Takoradi Circuit Court
Prime suspect in murder of 24-year-old-lady in Koforidua commits suicide
Car snatcher allegedly ties taxi driver to the back of his car and drags him to death
One killed, two others injured in robbery attack
27-year-old hairdresser stabs lover to death for being denied grasscutter soup
64-year-old man allegedly shoots himself in room at Ebiram
Notorious Highway robbers block road, gun down woman
Police arrest four suspected narcotics dealers in Ashaiman.
Causes of the present insecurity in the country
People in government establishing special groups among the official security agencies
Importation, distribution and sale of weapons to unauthorized i.e. landguards
Excessive unrealistic promises to party foot soldiers that have not been met
Economic hardship in the country
Issuance of licenses for importation of weapons without due diligence and process
Official intervention for release of arrested criminals,
Corruption where criminals allegedly pay their way out which situation annoy especially the youth,
Armed robbers now being emboldened by some in government and security agencies,
Inadequate equipping of law enforcement agencies
Inadequate security intelligence training
Injustice - politicization of the judicial system (absence of rule of law)
Marginalization, high of levels nepotism and favoritism
High rate of unemployment
Extreme economic hardship.
Recommendations
Government should marshall the will to enforce existing laws
Purging the security forces off criminals
Effective monitoring of porous borders
Immediate replacement of State Security leadership with more efficient and competent persons
Officers who should have gone on retirement should be made to go home. Those who are due for promotion should be considered based on transparency and competence
All security ministers have demonstrated gross incompetence so they should give way for competent ones to take charge
Recruitment into the security services should be transparent and not based on party and tribal lines
Adequate equipping of the security services
Professionalism must be applied in the security services
Economic situation in the country must be improved as sound economy is better than body armour
Employment opportunities must be created for all
Equal opportunities for everyone irrespective of tribal or political orientation.
In conclusion, we call on the Akuffo Addo / Bawumia government and their security advisors to as a matter of urgency call a crisis meeting to find immediate workable solutions and sack the IGP, Security Minister, Interior Minister and the Defense Minister. The country needs fixing and it must be fixed NOW!
Com. Mark Taykyi-Banson
Communication Officer, Cadres of NDC
0556532767