November 15, 2000
|
General News
President Rawlings inaugurates Takoradi Thermal Plant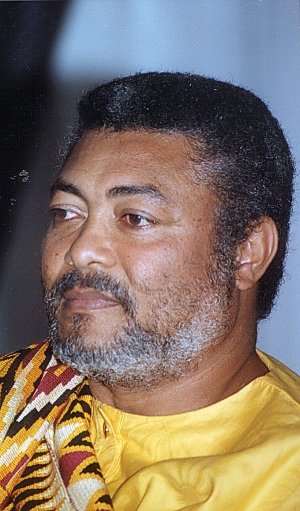 President Jerry John Rawlings has inaugurated a 330-megawatt Takoradi Thermal Power Station at Aboadze, 17 kilometres east of Takoradi, and reaffirmed the government's determination to stop the country's over-reliance on hydro power.
The 441-million dollar plant has dual firing capability to burn Light Crude Oil (LCO) as well as natural gas. It is initially using LCO as the primary fuel, which is supplied through a maritime tanker unloading facility and connected pipeline. The potential sources of natural gas under study for delivery to the plant include the Tano Oil Fields, Nigeria and Cote d'Ivoire.
The Volta River Authority (VRA) has entered into a joint venture partnership with CMS Generation of Michigan to increase the capacity of the plant with another 330 MW to bring it to 660 MW. President Rawlings spoke about the energy crisis the country faced in the past and said "the prudent thing for any government to do is to develop a mixture of energy sources in order to ensure an uninterrupted flow of power at all times."
"That is why we have invested in thermal power plant and at the same time have signed a Memorandum of Understanding with Brown and Roots Consortium as a preparatory to the development of the Bui Dam."
President Rawlings said the demand for power has been increasing at an average of 10 per cent a year due to the growth of industrial and commercial use of power and the boom in the construction sector. "In addition to all regional and district capitals, more than 2,000 smaller communities have now been connected. Under Phase 111 of the Self Help Electrification Project (SHEP), work is going on to connect almost 600 additional communities," he said.
He said in the Western Region, 214 communities have already been connected, whilst work has begun to connect a further 141 under the SHEP programme and 111 under joint funding by the European Union and the Ghana Government. President Rawlings said although the government has taken steps to ensure the provision of adequate energy infrastructure for the country and to ensure that the energy crisis does not occur again, there are other steps that must be taken.
Mr Gilbert Dokyi, Chief Executive of VRA, said the people of Aboadze were adequately compensated. The package, which is over 20 billion cedis, includes cash compensation for crops and property destroyed, schools, roads and a cold store.
He said VRA is actively involved in efforts to bring natural gas from Nigeria to the plant via the West African Gas Pipeline Project. "The Takoradi Station will be the anchor customer to provide the necessary market to realise this increasingly important West African co-operation project," he said.