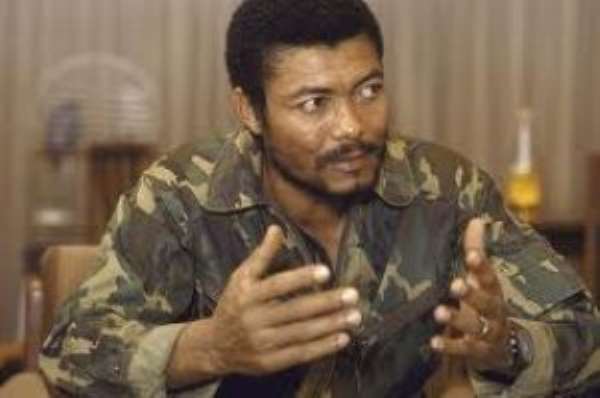 Insecurity in this country did not start today and it will not end unless we face the facts and hold the bull by the horns. Anytime I hear NDC propagandists trying to pin the issue on the chest of the current government, I begin to wonder if they do look back as historians do. Sometimes their utterances make you think as if during the nearly twenty years rule of the late Mr. John Rawlings and the eight years of the Mills/Mahama administration, Ghana did not experience armed robbery cases. They try to score political marks anytime there is an arm robbery case as if before leaving power Ghana was free of armed robbery. Very sad indeed!
I like traveling down memory lane so that we could compare what happened to what is happening in order to appreciate issues. During the era of Osagyefo Dr. Kwame Nkrumah we never heard of any armed robbery cases. One may say the population was comparatively very small and life was fine. But one cannot say we had no unemployment in this country. Either than that Nkrumah's government would not have established the Labour Office where unemployed men and women used to queue in search of jobs. In fact, people did not pick up arms to rob simply because they were unemployed.
When Professor Busia took over, the situation was the same and even when General Acheampong, a military ruler, took over the reins of power we did not hear of armed robbery cases. The reason is that General Acheampong did not form paramilitary groups to prop up his regime. In fact, we did not fear the soldiers because they did not go out there to brutalize civilians. Dr. Hilla Liman's regime was the most peaceful era as far as arm robbery is concerned. Liman took over from the AFRC junta which had literally sold everything on the shelves of stores and for the first time Ghanaians came to realize that sugar, soap, milk, toothpaste, baby food etc. were 'essential commodities'. When Dr. Liman introduced the Trade Liberalization Policy which led to the mass importation of essential commodities into the country, he did not use soldiers to supervise the sale of these items even though people queued to get them. In his case he rather formed the Vigilante Group, made up of unarmed civilians who controlled the unruly crowd of customers.
Enter Rawlings and his wish-to-be-forgotten 31st December Revolution. This junta became so fearful of being overthrown to the extent that immediately Rawlings and his fellow bloodthirsty goons held the reins of power, the junta sent young men and women to Cuba, Bulgaria, Libya and other countries ruled by revolutionaries to be trained in communist propaganda tactics and the way to handle guns so that they could defend the revolution against any insurgency. Back home, the junta formed the Peoples Defense Committee (PDC), Workers Defense Committee (WDC), the committee for the Defense of the Revolution (CDR) and other paramilitary groups, armed them to the teeth and charged them to go out there to defend the revolution.
By so doing, Rawlings did not know that he was sowing dragon teeth at his backyard. These guys terrorized Ghanaians and reported anyone who spoke against the revolution to the authorities who punished them ruthlessly, leading to the death and maiming of thousands of Ghanaians, not to talk of the disappearances of many more. Ask Kwesi Pratt. It was he who claimed he had the names of two hundred and twenty eight full-blooded Ghanaians who disappeared in the cause of the revolution. For more than one decade these goons held Ghanaians at ransom and strutted the land with impunity. More arms flowed into the hands of these nation-wreckers when America threatened to invade Ghana. That was when Rawlings said "West Africa will burn" if Uncle Sam dared.
All these guns and ammunitions, like the Account 48 of the AFRC era were not accounted for. When eventually Ghana decided to abandon the revolution and towed the path of civilization by embracing democracy, these cadres of the revolution who had arms hoarded them. Mind you, the same PNDC metamorphosed into NDC with these same hoodlums and continued to unleash more terror. Because they were revolutionizing, they had no time to get proper education so they became unemployable. Sadly because the junta did not take stock of the arms given out to these inexperienced guys to defend the revolution, they had no way to retrieve them. So Ak 47 assault rifles, Uzis and pistols remained in the hands of these usurpers of power who paraded as cadres of the revolution.
If you become surprised when an arm robber is caught with these type of guns which could only be handled by trained soldiers and police officers, do not look afar for the answer as to where they came from. They say the devil finds work for the idle hand and so instead of dying of hunger these guys prefer to go out there to rob people in order to survive. Those who are cowards hire their weapons to hardened criminals to go and rob and share the booty with them. After all, they say man must eat!
NIGERIA'S EXPERIENCE
After the Biafra War, Nigerians came face to face with rampant armed robbery cases on a daily basis. Soldiers who went to that war, like the cadres of the revolution, got possession of weapons which were never retrieved. These ex-combatants became unemployed after the war so in order to survive the hash economic reality of the time, they took to armed robbery. To curb the menace, the then Nigeria government sent crack police officers to Bulgaria to learn the tactics of combatting terrorism and other social vices like armed robbery. These police men went through vigorous training and returned home to face the armed robbers. They were called Mobile Police Force. They were as wild as German attack bulldog's and could jump down from a vehicle driving at eighty kilometers an hour without any injury.
In no time armed robbery in Nigeria came down drastically because they met their match in these well trained and serious police officers. Don't you think it is time for us to send some of our police officers to Bulgaria for this type of training? I sincerely think so. Arnold Schwarzenegger is the former California governor and was once Hollywood actor. One of his favourite cigars is Swisher Sweets. So here I go. Puffing away like the way Fidel Castro of Cuba did his thing. Any Challenger?
From Eric Bawah