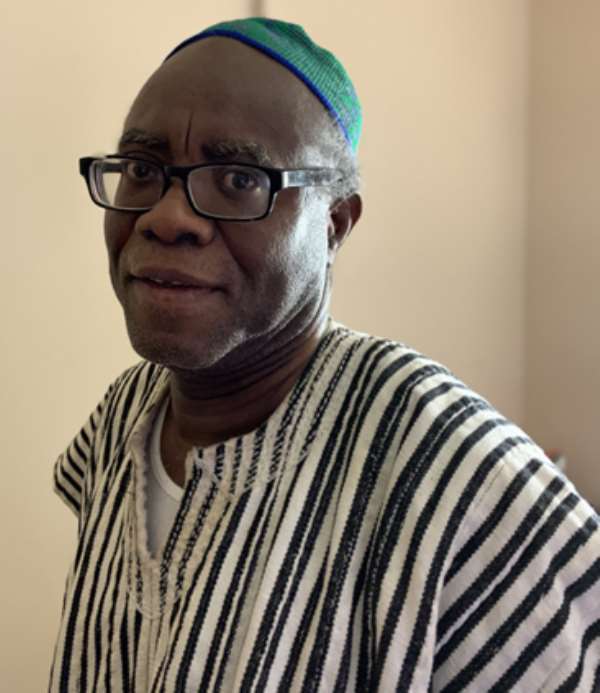 I sincerely don't see and don't know that there is any exhibition of bigotry by the members of Ghana's Christian Majority against their Muslim brothers and sisters (See "Bigotry Against Muslim Students Won't Be Tolerated – Muntaka Fumes" Modernghana.com 5/11/21). What I do know is that the sort of "Pussy Imperialism" that is rigidly practiced by Muslim Ghanaians, and I suppose this is actually global in kind and thrust, does not foster an amicable relationship of mutual respectability and trust. This is what powerful and influential Muslim politicians like Mr. Mohammed Mubarak Muntaka, the Chief National Democratic Congress' Parliamentary Minority Whip need to promptly address. And on the latter score or count, it would be equally worthwhile, if we also heard what the National Chief Imam has to say on this most sensitive and delicate albeit very crucial subject of intercultural relations between Ghanaian Christians and Muslims.
For the likes of the Kumasi-Asawase Member of Parliament to be taken seriously, when they speechify the rest of us about Christian bigotry or offensive anti-Muslim Christian behavior, they need to explain to the rest of us what makes the coercive conversion of prospective non-Muslim Ghanaian men who fall in love with their fellow female citizens of the Islamic faith and decide to press their conjugal suits with or marry these women not a patent act of insufferable bigotry of the highest or the most heinous order? There may, of course, exist the Constitutional Separation of Religion/Church and State, but it practically stands to reason to critically observe that religious practices are also cultural practices that must be envisaged to be integral to our daily existence and therefore cannot be clinically bifurcated as such.
In other words, one does not routinely gather and pack up one's Christian or Islamic faith and then head for the nonreligious or secular public arena to interact with Ghanaian citizens from all walks of life for the rest of the day. We bring with us our culturally shaped and conditioned religious experiences, ideologies and practices wherever we go. You see, you cannot pray five times a day facing the direction of Mecca or Saudi Arabia and tell us that this is not religious bigotry, as I had occasion recently to tell a young Ghanaian Muslim man who works as a security guard at the local branch of the bank where I do most of my financial transactions. This was after Mohammed – and they are often almost invariably called Mohammed – bitterly complained about the bigotry of New Patriotic Party (NPP) clerics like the Rev. Isaac Owusu-Bempah against the presidential ambitions of Vice-President Mahamudu Bawumia.
In turn, I asked Mohammed, who is also a staunch supporter or sympathizer of Ghana's main opposition National Democratic Congress, how many Muslim-professing candidates the NDC have been putting up as Presidential Candidates of the National Democratic Congress. The fact of the matter is that the NDC is passionately anti-Muslim, although several of its most prominent members and operatives pretend as if they have the interests of the predominantly Muslim-Zongo communities at heart. It goes without saying that whatever significant policy initiatives promulgated by any Fourth-Republican government of remarkable benefit to Zongo community residents has come from the Akufo-Addo-led government of the New Patriotic Party, including the definitive resolution of the hitherto seemingly intractable Yendi Chieftaincy Crisis or Skin Affair. You see, you cannot pray looking towards Mecca and expect manna to fall from the skies and flood our farmlands and marketplaces in Ghana with a bumper harvest.
There is a psychological price that we all collectively and individually pay each and every day of the week for such pathological cultural and spiritual self-alienation which we need to be very mindful of and ought to be seriously talking about and trying to rectify as a nation desirous of becoming successful and prosperous. The Wesley Girls' Senior High School Impasse had more to do with administrative conformity than sheer religious bigotry, except that it was not strategically and very wisely handled. I also take this prime opportunity to commend the Kumasi-Asawase NDC-MP for backpedaling on his earlier foolhardy attempt to promote incestuous child marriage in the Legislative Chamber of Ghana's Parliament in the name of Islamic cultural and moral values. You see, we don't live in 7th-Century Mecca or the Arabian Peninsula to be blindly and indiscriminately indulging in cultural practices that are so far behind the times.
*Visit my blog at: KwameOkoampaAhoofeJr
By Kwame Okoampa-Ahoofe, Jr., PhD
English Department, SUNY-Nassau
Garden City, New York
June 6, 2021
E-mail: [email protected]