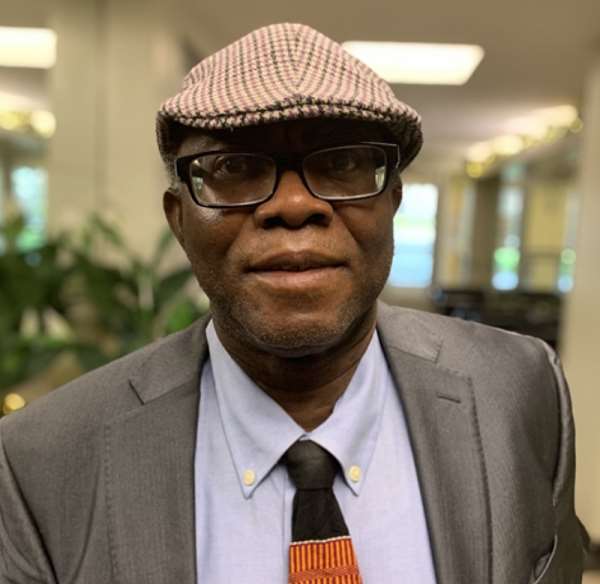 It is highly unlikely that his alleged defamers would have done this to the male or female siblings of any of the previous four Fourth-Republican Presidents, including the late former President Jerry John Rawlings, who was widely known to use the couple, or so, jets owned by the Ghana Airforce (GAf) to privately instruct his eldest daughter, Ms. Ezanetor or Zanetor Agyeman-Rawlings, and the latter's two other officially known sisters, Yaa Asantewaa and Amina, and their brother Kimathi, how to fly without having to worry about paying for both the number of hours spent illegally teaching the now-Dr. Zanetor Agyeman-Rawlings and the three other Rawlingses children how to fly, a feat which the piratical National Democratic Congress' Member of Parliament for Klottey-Korle Constituency, Accra-Central, casually and publicly brags about in interviews, on both radio and television, from time to time.
Plus, the Rawlingses are not known to have ever paid for the cost of the gallons of expensive aviation fuel that it took to instruct each and every one of these now-adult children how to fly at the expense of the Ghanaian taxpayer. Now, let's talk about "The Principles of the Rawlings' Revolution." I will fully come to this issue in a separate column in the near future; which, of course, is that vis-à-vis the ungodly and bloody 42nd anniversary commemoration of the so-called June 4, 1979 Revolution, it was actually a mutiny led by the then Ghana Airforce's Flt-Lt. Rawlings, Dr. Zanetor Rawlings was widely reported to have pontifically and self-righteously claimed that it was the sort of political climate perceived by the robber-barons of the National Democratic Congress to negatively inflect or characterize the Akufo-Addo Administration that had prompted the bloody intervention of the Rawlings-led junta of the Armed Forces Revolutionary Council (AFRC) in June 1979.
Now, this is patently, luridly and insufferably absurd. Because contrary to what this shameless political pirate would have Ghanaians believe, on June 4th 1979, it was the Gen. F W K Akuffo-led junta of the Second Supreme Military Council (SMC-2) that held the reins of governance. The democratically and popularly elected Dr. Hilla "Babini" Limann's government, which Mr. Rawlings also overthrew criminally by the force of arms, did not assume the legitimate reins of governance until early September of that year. The main objective of the so-called Rawlings-led June 4th Revolution had absolutely nothing whatsoever to do with the imperative need of infusing revolutionary discipline into a thoroughgoing corrupt junta leadership. At any rate, long before his recent demise, reportedly via causes attributed to COVID-19, Chairman Rawlings himself never missed the least opportunity to bitterly lament and emphasize the fact that the political and institutional vehicles that he personally created, during the protracted course of some two decades, had produced more corrupt politicians and leaders than could ever be said of either the Gen. Ignatius Kutu Acheampong-led National Redemption Council (NRC) junta, later renamed the Supreme Military Council (SMC-1), or the F W K Akuffo-led Second Supreme Military Council.
So, it is quite obviously clear that Dr. Zanetor Agyeman-Rawlings could not be talking about the same juntas that her late father led. Well, back to my Uncle "Bompty" Edward Akufo-Addo's defamation suit against the key operatives of the Class Media Group. By the way, I have never personally and physically met Dear Good, Old Uncle Bompty, who is described by the media as Managing-Director of the Amaadi Cold Stores Company Limited. But he is my uncle, nevertheless. For as the old maxim goes, "Blood is thicker than water." But, of course, both Nana Akufo-Addo and Uncle Eddy have a much younger insufferably meddlesome and scarcely morally and politically savvy cousin who could never ever be described as my uncle. At best, that shady and reprobate character is just a veritable political buffoon and a pathological clown to me. An influence-peddling gangling standup comedian or comic, as New Yorkers are wont to say. There is, of course, that globally well-known saying that goes as follows: "Gossip, gossip evil thing, / much unhappiness it brings; / if you cannot say something nice, / [then] don't talk at all is my advice."
It is actually a choral-group song that I first heard the legendary Ghanaian composer-musician and the leader of a group called the Voices of Labone Choir, by the name of Mr. Ishmael Adams, render with silken, angelic splendor at the Arts Center of the Arts Council of Ghana some 40-plus years ago. Well, for some people, it is about the nicest thing that can be said about them. That is, talking trash and filthy about them is about the only nicest thing to say about them at all.
At any rate, in his widely reported defamation suit, my good, old Uncle Bompty – you know, it was this apparent nickname of "Bompty" that set me alight; it sounds so rhythmically delicious that it did not seem the least bit to matter to me how Uncle Eddy came by such a name. At least the seasoned poet in me thought so. Well, reports have it that Uncle Bompty, he is actually "Daddy Bompty," if one reckons the fact that he belongs to my late father's mother's side of the family. Uncle Bompty is reported to be demanding a cool and decent GHȻ 10 Million from Radio Program Host Kwabena Bobbie Ansah and the proprietors of the Class Media Group broadcast network, that allegedly offered Mr. Bobbie Ansah the powerful platform to maliciously trade and truck lies about Uncle Bompty's supposedly being in the routine habit of flying in the Falcon 900 EX Presidential Jet which, as it turns out, my dear, good, old Uncle Edward Akufo-Addo, Jr., has never flown in.
Then, there is this other self-inflated and self-infatuated panjandrum by the half-Afropean name of Mr. Mensah Thompson who calls himself the Executive-Director of a shell of a so-called Civil Society Organization (CSO) known as ASEPA, or the Alliance for Social Equity and Public Accountability. Now, I hope these two jaundiced hatemongers and their sponsor or sponsors get precisely what they asked for and certainly deserve. An indelible lesson learned the hard way, as my neighbors are wont to say.
*Visit my blog at: KwameOkoampaAhoofeJr
By Kwame Okoampa-Ahoofe, Jr., PhD
English Department, SUNY-Nassau
Garden City, New York
June 5, 2021
E-mail: [email protected]