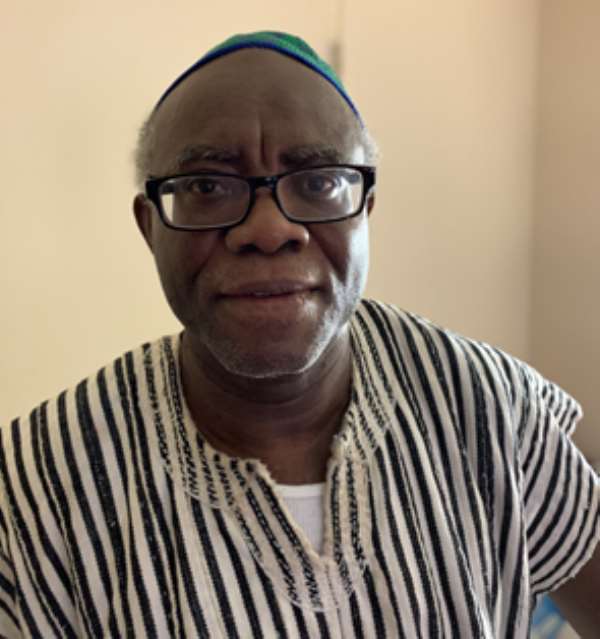 Our elders of yore had a saying that continues to resonate with the present generation today. And that maxim went felicitously as follows: "When a naked wo-/man promises you a bolt of cloth, you had better listen to her/his name." The first problem that the 2020 Vice-Presidential Candidate of the John "European Airbus Payola" Dramani Mahama-led National Democratic Congress has convincing both the Education Minister and the nation at large that, indeed, she has what it takes to genuinely and positively contribute worthwhile ideas for the strengthening and/or streamlining of the Akufo-Addo-implemented Fee-Free Senior High School System, or policy initiative, is that Prof. Naana Jane Opoku-Agyemang's track-record as the Mahama-appointed Education Minister does not in absolutely any way, shape of form demonstrate that the Elmina, Central Region, native is a good or an experienced and an efficient Education Administrator than the much younger but, nonetheless, far more talented and efficient Dr. Yaw Osei Adutwum, who actually has an enviable track-record, from right here in the United States of America, running a public school system.
Naana Opoku-Agyemang has no such experience. So short of platitudes or empty talk, the former Vice-Chancellor of the University of Cape Coast has absolutely nothing worthwhile or constructive to contribute to the streamlining of whatever kinks may be either genuinely or empirically be aptly perceived to be the functional bane to the most effective administration of his hitherto unprecedented visionary and progressive policy initiative (See "Admit You Need Help and We'll Help You – Prof. Opoku-Agyemang Charges Education Minister" Ghanaweb.com 6/7/21). You see, some Ghanaians may be morbidly afflicted with very scandalously short memory banks or mnemonic capacities, but the overwhelming majority of Ghanaian citizens are not so clinically and mnemonically impoverished. We all vividly recall Candidate Mahama cynically and sneeringly campaigning in the runup to the 2016 Presidential Election and telling Ghanaian voters and the rest of the African World, to be certain, the global community at large, that the Akufo-Addo-promised Fee-Free Senior High School Policy Initiative had been tried and tested in dozens of Continental African Countries and been scientifically and empirically proven or found to be a practical and functional impossibility, to speak much less about the patently quixotic and unreservedly lunatic.
The then-President Mahama would go on to further sneer and jeer his most formidable political opponent to the effect that the then-Candidate Addo Dankwa Akufo-Addo was promising to implement what Americans call "Pie-in-the-Sky." In other words, Nana Akufo-Addo was promising to implement a Fee-Free Senior High School System wholly out of political desperation and a megalomaniacal bid to climbing up the august and magisterial seat of the Presidency, which Kwame Gonja brazenly and categorically told Ghanaians was his special and personal divinely sanctioned and ordained preserve and property. You see, rather than waste our limited and precious time and energy resources to pointlessly and publicly debate an epic political loser like Naana Opoku-Agyemang, Ghanaians need to ask the first woman Vice-Chancellor of any publicly funded tertiary academy in the country, precisely what her response had been when Kwame Gonja pontifically told the nation and the rest of the global community that the practical implementation of a Fee-Free Senior High School System was simply absurd and the veritable illusion of a power-hungry aging politician.
The fact of the matter is that if she had not been visionary and professionally astute, talented, creative and progressive enough to help his former boss to see the proverbial light of the imperative necessity to provide universal access to Senior High School Education, as a salutary means of significantly bettering the chances of our next generation of leaders and workers to improving the quality of their lives and that of their children and grandchildren, then absolutely no progressive-thinking Ghanaian citizen or leader can expect Naana Opoku-Agyemang to make any worthwhile contribution to the discourse on the most efficient administration of Nana Akufo-Addo's Fee-Free Senior High School Policy Initiative and Secondary Education System.
Under the Mills-Mahama regime, the United Nations-sponsored and Paris-based Organization of Economic Cooperation and Development (OECD), the globally renowned and respected think-tank, placed Ghana at the very bottom in the ranking of the public-school systems of some 145 countries around the world. So, it clearly stands to reason that Dr. Yaw Osei Adutwum would be far and much better off soliciting the opinions of educators and education experts who have actually designed and implemented successful public school policy initiatives like the one being presently managed or administered by the dedicated and diligent educators of the Akufo-Addo-led government of the New Patriotic Party. We know far better than to facilely and naively suppose that any worthwhile, innovative and visionary contributions towards the direly needed and efficient administration of the Fee-Free Senior High School System could come from professionally, intellectually and administratively bankrupt political opportunists like the 2020 Mahama Presidential-Election Running-Mate.
*Visit my blog at: KwameOkoampaAhoofeJr
By Kwame Okoampa-Ahoofe, Jr., PhD
English Department, SUNY-Nassau
Garden City, New York
June 10, 2021
E-mail: [email protected]