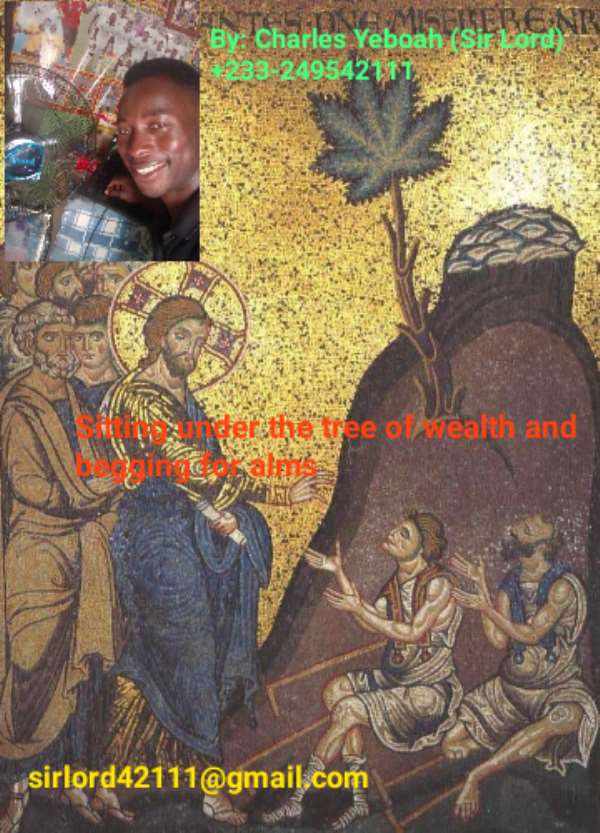 One day a rich merchant was travelling, and he chanced upon beggars sitting under a tree that when harvested it enriches one to bursting.
So this wise rich merchant approached the beggars in clothes of a reverend minister, with the name Messiah, on a mission to rescue the poor folks from their misery.
The Goka people say: _"what the stomach craves for is satisfactory food"_
So the rich merchant who now walks in the name of a Messiah or saviour gave the beggars a day's food, and a good purse that will administer their needs the day after.
The Messiah then used this supposed good deeds and took from them the rich plant they sat under, calling it unprofitable weed.
Upon reaching where his journey led him, the merchant shoved off his Messiah clothing, and sold the rich plant for a fat profit to increase his wealth. And the beggars will forever be depending on him anytime he passed by, and he threw to them food crumbs.
Moral Lesson
For how long are we going to sit by the riverside and wash our hands with spittle?
When will Africa learn the richness in our bequeathed resources, and stop giving it out almost freely, and be dependent on the same benefactor holding tortoise and calabash begging for alms?
When will people know their true worth and use same for their feeding?
Written by: Charles Yeboah (Sir Lord)
New Africa Movement
Voice of The Lord Ministry
+233-249542111
Email: [email protected]