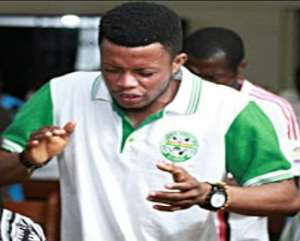 It was on May 8, 2018 at around 1645hrs. I scurried out of my seat and went to see Sampson my younger brother at Jirapa Nurses Training School. I swiftly went to the Jirapa Rural Bank to get him, Sampson, some coins for his provisions at school. As if predestined, I met a gentleman at the entrance of the gate who was on a call. I waved and was moving in as he was looking at me with such tenacity and bewilderment. I felt he probably knows me elsewhere considering how he was looking at me with a zoomed smile broadened all over him. But because he was on a call, we couldn't interact.
I finished my transaction and was about to step out and he beckoned me and said "Wait for me at the gate." As he turned to the cashier to take an instruction since he was about to collect his withdrawals. "Yes sir," I instinctively and humbly responded. It was the first time this would happen, that a gentleman I never met was asking me to stay behind for a reason I never knew. I couldn't figure out anything regarding the instruction he gave me because we never met anywhere. I thought I was in a trouble of some sort. But what kind of trouble? I didn't know. I was nervous, unsettled and uneasy. But with a calm mien, I waited for him at the entrance of the Bank by the security man's post.
He walked out of the bank and looked left and right in a quick successive manner as though he wants to cross a busy road. I knew he was using his apt vision to search for me, so I pulled out of the security man's corridor and headed straight to him. In utter respect, humility and posture, he respectfully bowed and shook me in two hands. With a smile which is still fresh in my memory lane, he asked, "Are you Cornelius?" I responded in the affirmative. He inquisitively asked, Sampson's brother? I said yes. There he stopped, looked at my face again and zoomed in another smile. "I have heard about you from your brother" he said. I was not surprised though because Sampson has many friends and have introduced me to them even without my consent.
As we were heading towards the campus, I walked gingerly behind him, my hands respectfully folded behind my back, measuring my steps while admiring his soberness and the well calculated distances between his steps each at a time. His well-ironed trouser didn't catch my attention as compared to his well-polished Italian shoe that every true gentleman crawls to have one. His happiness flowing with restraint, was resplendent, staying appropriately in his face like a sentry at his post, imbuing him with evident royalty and beauty that pronounced his handsomeness apt gentility. As we got to the stairs of the entrance, he folded his left hand in his pocket in newness and pouty, he walked in his usual majestic pace, intermittently glancing around in anticipation to reaching Sampson's room for steadiness.
As I walked behind him, my mind's continuous turmoil was conspicuously absent from Sampson whom I was eager to meet. It was a compulsory requisite every time that I looked on his face to tap the beauty of smiles that beams like a man who just won a bet or lottery running into millions of Ghana cedis for no work done.
The uneven profile, perfectly fits this gentleman, as I sit and secretly admire his haircut which signals an unbridled humility and a Christ-centered individual, I realized that this gentleman is part of the many few who are humane and intellectually sophisticated that does not need any scientific prove. As I monitor his choice of words, I realized the tributaries of his words are from Biblically source as he drives intelligence with critical dispensation of the Good News where the culture of respect, propensity, theology and the resonating glean from his face were the center of gravity of his utterance that is very true without any scientific truth. This unveiled another picture about him to me that he belongs to the "Touch not the Anointed" category of God's creation.
After he gave me a laconic standing sermon about Jesus with some few scriptures, he ended his alter call with these words." Humility is a virtue all preach; none practice and yet everyone is content to hear. The master thinks it is a good doctrine for his servant, the laity for the clergy and the clergy for the laity. Let us be the difference." It was from here we exchanged contacts and he left to his dorm.
In short, this was how I got to meet, know and experience Waki.
Today marks a special day in the life of this gentleman again that heaven has to suspend proceedings to celebrate him. Ever memorable and engrossed with exhilarations, he is gifted, pleasing and a fun to be with. As a friend, a brother, a comrade, a confidant and a personal consultant in all elbows of life, I cannot but celebrate this man to the very fullest. His charisma, dexterity and of course Christendom cannot be under estimated in this summarized piece of epistle.
The experience I have tapped from him made me feel so special in my relationship with this guy. I felt favored. Even, if I was his biological brother, he could not have reposed more than such a confidence in me. I learnt some life lessons. He is such a quintessential man who is worth emulating.
Waki, as you celebrate this special day in this special month, I want to let you know that I love you to the very core.
You are special in our hearts.
Enjoy the felicitation and jollification.
Your friend cum brother.
Dogmalkuu Cornelius.