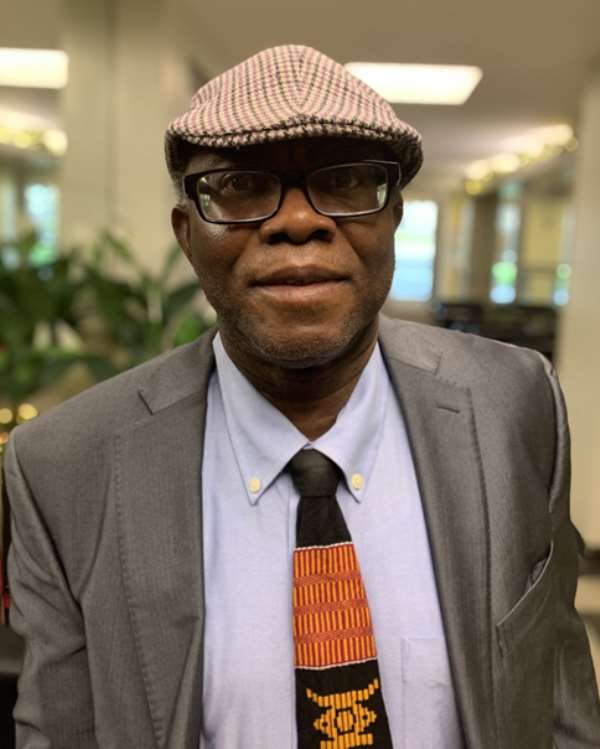 After criminally and unconscionably leading the thievish and murderous pack of the movers-and-shakers of the National Democratic Congress (NDC) to plunder our National Treasury and, in effect, Ghanaian taxpayers to the humongous tune of GHȻ 51.2 Million, as the John Evans Atta-Mills-named Attorney-General and Minister of Justice, in what became globally infamously known as the Woyome Mega-Heist, the last controversy or national debate that anybody expected Mrs. Betty Mould-Iddrisu to join or become an active part of should have been this patently vacuous flap, largely sparked by the John "Akonfem-Kanazoe" Dramani Mahama-led NDC kleptocrats, over the condign and long-overdue conflagration of the Chanfang excavator weapons of mass destruction that threaten to literally drive the Ghanaian species of humanity into extinction (See "Name Any Constitutional Provision that Allows You to Burn Proceeds of Crime after Recovery – Betty Mould-Iddrisu to Akufo-Addo" Modernghana.com 5/28/21).
It is patently absurd but quite understandable within the context of the thievish mindset of the National Democratic Congress' robber-barons, that the veritable weapons of mass destruction that are the Chanfang excavators would be envisaged by Mrs. Mould-Iddrisu as the "proceeds of a crime." At any rate, the first question that the haughty critic of this very wise and visionary and reparative Akufo-Addo policy initiative ought to be asked is this: "What happened to the proceeds from the Alfred Agbesi Woyome Mega-Heist that you, Betty Mould-Iddrisu, so criminally and scandalously spearheaded?"
Both as Attorney-General and later Minister of Education, Mrs. Mould-Iddrisu achieved absolutely nothing worthwhile for the development of the country. What this means is that she has absolutely no credibility, whatsoever, on this issue that she has imperiously presumed to pick a bone about with President Addo Dankwa Akufo-Addo, whose track-record as a legal light and civil and human rights activist, Mrs. Mould-Iddrisu does not even come light years close to. It is also absurd for the Woyome gofer to be so knowingly speculating about the likelihood of the criminal suspects whose Chinese-made Chanfang excavators have been deservedly torched being compensated for their losses down the pike in the form of judgment debts.
Actually, what these murderous scofflaws ought to be worried about is the possibility of being slapped with prison sentences ranging from 10 to 20 years, as stipulated by Ghana's 1992 Republican Constitution. What we have here, contrary to what Betty Mould-Iddrisu would have the rest of her countrywomen and men to believe, are veritable murder weapons of mass destruction of the highest felonious class or order, and not just the benign or innocent "proceeds" from patent acts of cold-blooded criminality. You see, Mrs. Mould-Iddrisu's intellectual and cognitive capacities are so abysmally low that she only sees the monetary value of the Chanfang excavators, and not the staggering cost of the widespread mayhem and deadly violence caused the country's ecosystem and Ghanaian humanity at large.
What this means is that any criminal prime suspect Chanfang excavator-owning legal trespasser and morally reprobate plaintiff who heads to court, expecting to be delivered a judgment debt verdict with value far in excess of the cost of his/her burnt equipment, is highly likely to be met with a bill the magnitude of which would cause her/him to convulse with regret for having so mischievously filed such a capital punishment-deserving extortionist lawsuit, in the first place. In connection with the latter possible judicial case scenario, what the government needs to do, if the Akufo-Addo Administration really wants the Operation Halt policy to have the desired far-reaching impact, is to commission an expert team of environmental scientists and assessors to work out the total monetary sum value of the predatory activities of illegal small-scale miners on the human lives, waterbodies and forestry resources of the country, and then divide it up for payment by convicted and judicially liable Chanfang excavator-wielding nation wreckers to settle with the Accountant-General's Department.
Now, I don't know what she means by "recovered assets" and "recovered proceeds," when what is clearly and unmistakably at stake here are both the short- and long-term deleterious impact of the ecologically destructive activities of Galamseyers on our collective existence as a people and a nation. Even assuming hypothetically that each and every Chanfang excavator is worth about $ 1 Million (USD), it would still not be worth the cost of the human lives unsettled or permanently altered, destabilized and completely destroyed with all factors considered and accounted for in the long haul. You see, kleptocratic politicians and shyster lawyers like Mrs. Mould-Iddrisu are generally not capable of thinking this civically and morally responsibly. All they care about is the magnitude of profits they can make out of any situation or given opportunity, with absolutely no regard for the implications or the harmful impact of such transactional opportunities as they may deem to be fiscally fetching or gainful for their individual selves, at the expense of the greater and more significant wellbeing of the Ghanaian citizenry and the nation at large. The long-term destiny of the country is the least among their major worries.
You see, Mrs. Mould-Iddrisu is understandably flabbergasted that President Akufo-Addo would be so fiercely bold and courageous in his steely resolve to ensuring that the leaders of the National Democratic Congress do not get another opportunity to scandalously albeit shamelessly and successfully campaign for undeserved power at the expense of the existence, survival and wellbeing of Ghanaian voters, as Candidate Mahama and his looting brigade of associates, campmates and hangers-on did in December 2020. This is the main headache and political nightmare of NDC leaders like Mrs. Mould-Iddrisu, Messrs. Johnson Asiedu-Nketia, Inusah Fuseini and Haruna Iddrisu, and not because these globally infamous scofflaws and bloody "revolutionaries" have any respect for the law. People who have respect for the law would not abduct and savagely execute superior court judges simply because these abductors and assassins disagree with verdicts conscientiously rendered by these legitimately sworn interpreters and executors of the rule of law and justice.
*Visit my blog at: KwameOkoampaAhoofeJr
By Kwame Okoampa-Ahoofe, Jr., PhD
English Department, SUNY-Nassau
Garden City, New York
May 29, 2021
E-mail: [email protected]