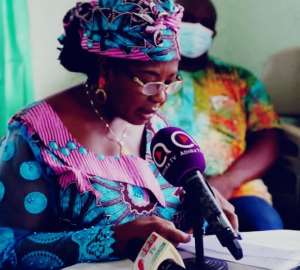 The National Chairperson of the Convention Peoples Party(CPP) Nana Akosua Frimponmaa Sarpong Kumankuma says she's convinced that the 'Culture of Silence' is rearing its ugly head in Ghana.
There's been an ongoing debate recently over claims that the culture of silence is returning to Ghana under President Akufo Addo after former AngloGold Ashanti boss, Sam Jonah KBE made such insinuation at a Rotary Club event he graced.
"Is our deafening silence suggesting that we are no longer concerned about issues that we complained about not too long ago, particularly when those issues persist….. The molestation of and in some cases assassination of journalists, murder of MPs, corruption, the harassment of anti-corruption agents."
Several civil society organizations have also alluded to such a situation in Ghana but the government through the Information Minister Kojo Oppong Nkrumah has vehemently dismissed such claims.
Speaking in an interview on 'Ghana Kasa' show on Kasapa FM/Agoo TV Monday, the CPP Chair stated that the claim that the culture of silence is returning is true as she has had a personal experience to back that assertion.
"…of late if you speak up you are attacked, one cannot even talk. The culture of silence is coming back completely. I will be speaking to the media about one of such attacks later today. Just this past Saturday, we were going to hold one of our usual programme we have every Saturday on another media platform but we were told to stay off due to an order from above. We were not even given the chance to tell our viewers why we would be off air. It is a paid-for programme and we pay every week I don't want to state the amount here. It's a private sector platform just like you're doing here at Kasapa FM and I think there must not be any inteference we must allow the private sector to work," she told host Bonohene Baffuor Awuah.
---kasapafm