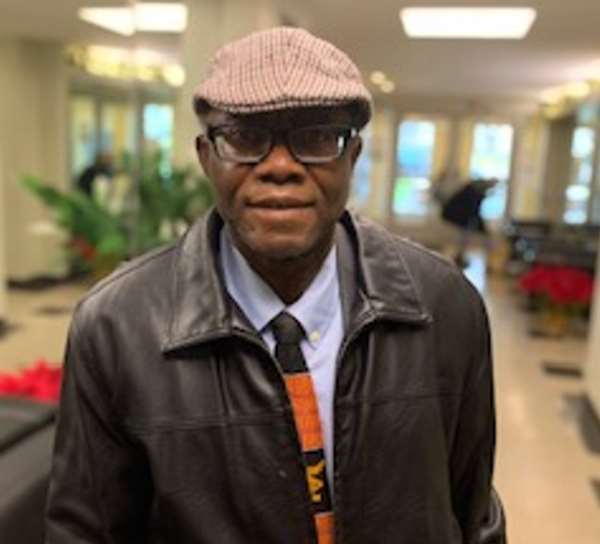 He waxes smug and shameless about the fact that his in-laws or, specifically speaking, the parents of his wife of nearly 40 years, unlike the parents of the unconscionable author of "Bad Blood…[.] The Cross, Star & Crescent Spar in Ghana" (Ghanaweb.com 5/12/21), had not demanded that he convert from Islam to Christianity before permitting the Tamale Suya Boy to take their daughter to bed. You see, had the reverse been the case, it is almost certain that the 40-year-old marriage over which he so effusively gushes would never have occurred. You see, it is this recklessly liberal attitude of Ghanaian Christians towards insufferable Islamic bigotry and anti-Christian arrogance that makes the author of the afore-referenced article suppose that he could cavalierly take Ghana's Christian majority populace for granted. Which is also why he seems to be perfectly in agreement with the fact that one of the cultural highlights of the John Dramani Mahama-led government of the National Democratic Congress (NDC) was the construction of the National Mosque in Accra, with the clearly constitutionally flagrant cooperative assistance of the Turkish Government.
But, somehow, the purely Ghanaian and constitutionally legitimate construction of a National Cathedral by President Addo Dankwa Akufo-Addo is execrably untenable and unacceptable. This is rather ludicrous, to speak much less about the downright farcical, because the clear suggestion by the inveterate Akufo-Addo critic here seems to be that, somehow, the Allah of the Muslim world has greater legitimacy and moral validity than the Divine Godhead of the Christian world. But what even fascinated me the most was the author's thinly veiled threat that in the imminently certain transitioning of the venerable National Chief Imam, the centenarian Sheikh Osman Sharubutu, gauging by human mortality, of course, a much younger clerical replacement is highly unlikely to be as diplomatically accommodating as the present one. Maybe somebody needs to inform this wishful Mahama-minted sometime Mercenary Ambassador to Namibia and Botswana or Malawi, not that I really give a hoot, that he would be living in the proverbial Fool's Paradise to so cavalierly suppose that Ghana's Christocentric majority populace would be apt to pusillanimously back down or backpedal or compromise on our fundamental human and civil rights and responsibilities and let our Muslim minority fellow countrymen and women ride roughshod over us, just because a much younger clerical replacement for Sheikh Sharubutu comes swinging with verbal hand grenades and surface-to-air rocket launchers.
He may not know this, but what the Tamale Suya Boy who has recently cavalierly resorted to calling President Akufo-Addo "The Little Man from Kyebi" has ended up doing or achieving with his chest-thumping emotionally unbalanced article, is to further complicate matters for Jihadist-minded Ghanaian Muslims like himself. He may not have realized this stark reality of the suicidal activities of Nigeria's Boko Haram, so the Mahama-Minted Mercenary Ambassador needs to be reminded of the fact that in Nigeria, the overwhelming majority of the victims of Boko Haram savagery are Muslim. A Ghanaian-grown Boko Haram will be effectively contained in the strongholds of its architects and sponsors of the same, trust me. We would ensure that their barbaric bouts of slaughter become An-All-Muslim Affair. Which means that the dastardly activities of a Ghanaian-brewed Boko Haram are apt to closely follow the trend of its Nigerian antecedent, in the highly unlikely event of Jihadist-minded miscreants like Alhaji Full-of-Himself making the fatal mistake of launching an anti-Christian terrorist assault or war in Ghana.
Whatever the real case scenario may eventually shape up to be, the Tamale Suya Boy may very well have already unwisely provoked the possibility of a self-directed Islamic Genocide in Ghana. I hope I am wrong and that this counter-culture provocation of Ghana's Christian-majority populace never becomes a living or practical reality in our beloved nation in the foreseeable future, because the provocateur is highly unlikely to survive his wishful carnage to tell his sad-ass side of the story. Ultimately, and I stand to be corrected, what we just witnessed at Wesley Girls' High School may very well have quite a lot to do with the generally shabby treatment of Akans of Fante descent by the Northern- and Ewe-dominated leadership of the National Democratic Congress, as dramatically attested by Mrs. Matilda Amissah-Arthur, Ghana's former Second Lady, at the funeral service of the late Vice-President Kwesi Bekoe Amissah-Arthur. As of this press preparation, the former President and recently seismically defeated Candidate John "European Airbus Payola-Guzzling" Dramani Mahama had yet to officially inform the Ghanaian people precisely how the then-President John Evans Atta-Mills met his death.
A death from which the rabid Akufo-Addo critic whose screed is the subject of this rejoinder obviously massively benefited indirectly. You see, the Fantes are damn tired of being pushed around and disdainfully dictated to by people who have contributed, at best, marginally to absolutely zilch to their socioeconomic, political and cultural development. Conveniently and opportunistically piggybacking on the Sam Jonahs of Ghana will also not get the virulent Akufo-Addo critic very far, if also because the British-knighted former Managing-Director of the Asante (Ashanti) Goldfields Corporation (AGC) is himself a major part of the problem that he seems to have suddenly come around to recognizing, albeit rather belatedly, as constituting the bane of Ghana's perennial and seemingly intractable underdevelopment.
It is also the height of desperation when one has to wholeheartedly agree with the empty stentorian effusions of a morally bankrupt media mercenary like Mr. Kevin Ekow Baidoo Taylor, that Washington, DC-based lost soul who concocted the infamous NDC-sponsored videotape sortie of a pre-presidential Nana Akufo-Addo supposedly soliciting a Mahama-like payola package concealed in a white envelope. You begin to wonder what lessons the Chief Imam of Mecca and his clerical associates teach these "Pussy Imperialists" these days on the annual Hajj. Wallahihi!!!
*Visit my blog at: KwameOkoampaAhoofeJr
By Kwame Okoampa-Ahoofe, Jr., PhD
English Department, SUNY-Nassau
Garden City, New York
May 13, 2021
E-mail: [email protected]