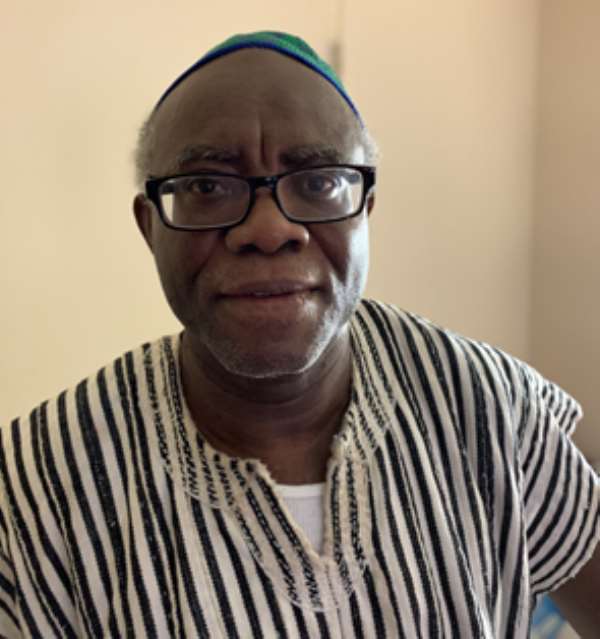 I did not expect that the "Pussy Imperialist" would have gotten over his downright asinine myth of a genial ecumenical kinship that is supposed to exist and to have existed between Ghana's Christian majority community and the latter's compatriots in the Muslim minority community by the time that he churned out his next propagandistic guff against Nana Addo Dankwa Akufo-Addo, the man he so pathologically loves to hate (See "Bad Blood!...[.] The Cross, Star & Crescent Spar in Ghana" 5/12/21). Now, talking about "Christian Hypocrisy," I have said this before and hereby repeat the same: that this "Pussy Imperialist" has absolutely no conscience, whatsoever – he once fed like a newly adopted stray pug from "the Little Hand" of the now-President Addo Dankwa Akufo-Addo, when the Jerry John Rawlings' pit-bulls were baying for his blood.
These days, he has disdainfully resorted to calling his former prime benefactor "The Little Man from Kyebi." That is how gratefully and gracefully cultured this Akan-shagging, shameless vanquished political opportunist was raised, wherever he was born or comes from in our beloved nation. It is also very obvious that he has little to absolutely no sense of what it means to be described as a "bigot," let alone a "religious bigot." You see, religious bigotry is when one voluntarily pleads to be allowed to school in arguably the finest all-girls parochial or Christian educational institutional establishment in the country as a Muslim or Mohammedan, the term that was fairly commonly in use throughout the country while I was growing up, roughly about the same time as this entitlement-afflicted and entitlement-drunk ingrate, and imperiously demanding that all preexisting governance rules be summarily bent or scrapped in favor of that one individual Mohammedan "intruder," all in the special name of Religious Freedom.
Truth be told: You see, Dear Reader, like the equanimous situation that prevails right here in the United States of America, where I have been domiciled for nearly 36 years – I guess I could also aptly claim to have lived here in the United States of America for as long as the "Pussy Imperialist" has been married to his Akan Trophy Wife – as long as any so-called Parochial School or establishment is partially run by public funds or taxpayer money, that institutional establishment ceases to operate exclusively as if it were wholly owned by whichever religious denomination or establishment founded the same. To his hallowed memory, it was Dr. Kwame Nkrumah, Ghana's first postcolonial leader who created what has become known as the "Government-Assisted Schools," largely secondary schools and teacher-training academies in those days. The primary objective was to avoid precisely the kind of dilemma in which the administrators of the Wesley Girls' High School – popularly known as "WeyGeyHey" – and the General Assembly of the Method Church of Ghana presently find themselves.
In retrospect, Nkrumah's otherwise salubrious and salutary policy of Ghana's intellectual and cultural unification was a blessing in disguise. But it is also quite paradoxically interesting to observe that an overwhelmingly significant percentage of our Muslim-raised nationally distinguished and prominent Ghanaian citizens, as well as internationally prominent and distinguished Ghanaian citizens, including the immortalized pioneering Neurosurgeon, Dr. Francis Mohamed Mustapha, of Korle-Bu Teaching Hospital fame, were produced by Christocentric academies, and not the so-called Makarantas or Madrassas. But this is a long story to be recounted or narrated some other time and another day. For now, what is emphatically worth noting is the fact that any remarkable semblance of cordiality that exists and/has existed between Ghanaian Christians and our Muslim community counterparts has been largely due to the "bend-over-backwards" geniality of Christocentric Ghanaians, and not because of any mutually reciprocal relationship between Ghanaian Christians and Muslims.
In a previous article that was published a couple of days, or so, ago, I highlighted the fact that unlike their Christian relatives and neighbors, the leaders of Ghana's Muslim community are in the routine habit of "religiously" using the sexuality of their female members as an imperialist cultural tool or weapon, weapons that are almost as deadly as military weaponry or arsenal, in marriage transactions in which the Christocentric and Islamic cultural identities of an "inter-religious" couple ought to be equally and mutually respected. In a predictably devious and mischievous gambit, the Mahama-minted Mercenary Ambassador who wrote and published the anti-Akufo-Addo screed referenced at the beginning of this column, conveniently fails to objectively address this practical reality of Islamic imperialism or jihadist conjugal mentality. Instead, he rather ironically and scandalously accuses President Akufo-Addo of using the construction of the National Cathedral as a proselytizing weapon against the country's Muslim community.
*Visit my blog at: KwameOkoampaAhoofeJr
By Kwame Okoampa-Ahoofe, Jr., PhD
English Department, SUNY-Nassau
Garden City, New York
May 13, 2021
E-mail: [email protected]