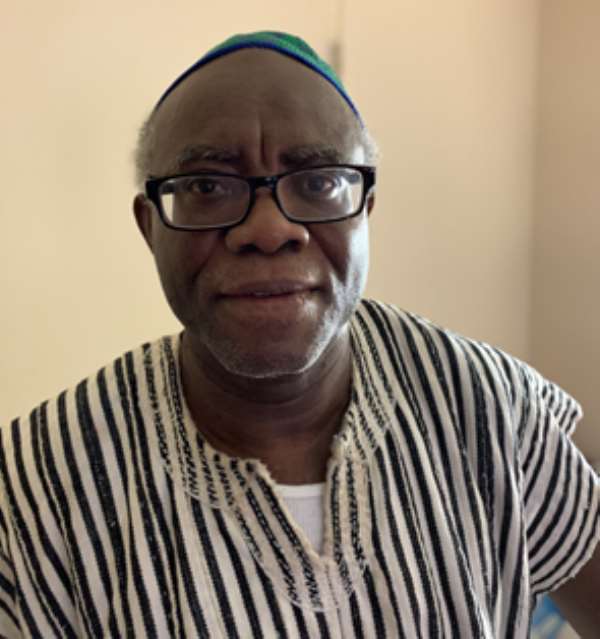 I was personally thrown out of the United States of America Chapter of the New Patriotic Party (NPP-USA) for daring to write and publish a newspaper column at the beginning of the 2000s, in which I critically but conscientiously observed that it was politically and morally unsound for the newly elected President John Agyekum-Kufuor to have packed his cabinet chock-full with his relatives and tribesmen and women, including his immediate younger brother, Dr. Kwame Addo-Kufuor, as Minister of Defense. My plaint at the time with the latter's appointment as the nation's foremost Security Minister had to primarily do with the fact that Dr. Addo-Kufuor was a professionally trained medical doctor, a general medical practitioner, to be exact, and not a national-security expert or specialist.
I would be unconvincingly informed by a party insider that the newly elected President direly needed somebody that he could trust to man the most sensitive national-security portfolio in the country. Unconvincing because as the country's main or leading Opposition Leader, Candidate Agyekum-Kufuor had appointed a retired senior military office by the name of Lt.-Gen. Joshua Mahamadu Hamidu, a former Chief of the Defense Staff (CDS) of the Ghana Armed Forces (GAF), as his Chief National Security Adviser. My logical expectation here was that Gen. Hamidu was an obviously natural fit for the portfolio of Minister of Defense. But, of course, as had become quickly apparent, once victory, that is, real electoral victory had been achieved, Gen. Hamidu quickly and effectively became a political afterthought. He would be shipped out of the country as Ghana's Ambassador to Egypt.
By the logic of the Kufuor or Manhyia Cabal, Gen. Hamidu curiously well appeared to have become an overnight National Security Threat. The Asante Boys and the Asante Brothers were clearly determined to play up our national security matters very close to the vest and to the chest as a virtual familial affair. Which was also precisely why in one of the several columns that I wrote and published on this very subject at the time, I wistfully opined that the newly established Kufuor government was increasingly turning out to be a Who's Who Star Cast of the Kufuor Clan. It was limpidly clear that Mr. John Agyekum-Kufuor studiously intended to duplicate or replicate the Rawlings-Tsikata Diarchy in-toto, or detail-for-detail, boot-for-boot and in college composition speak, comma-for-comma. Maybe it is from these two Fourth-Republican regimes that Ghanaian political pundits came up with the critical mantra of "Friends and Family Government."
I poignantly recall all the preceding just to rather casually emphasize the painful but all-too-common fact that long before Captain Smart, the John Agyekum-Kufuor and Kwame Addo-Kufuor nephew or relative got to where he recently arrived, by way of his month-long suspension by Dr. Kwaku 'Teng or Oteng, proprietor of the Accra-based Angel-FM radio station, where Captain Smart is one of the key current affairs program hosts, yours truly had already been there and done that, as most Americans are wont to say. Well, in terms of content, there is absolutely nothing amiss or wrong with what the young man who is fast approaching his prime, both physiologically and professionally, had to say about the scandalous disappointment that has been the practical approach and official attitude of the Akufo-Addo Administration towards Galamsey, that is, the globally infamous massive and wanton pollution of our nation's waterbodies and, consequently, the unignorable threat that such noetic and willfully destructive predatory human activities have on our very existence as both humans and as a nation.
Those who are rather misguidedly trying to "break-in" this moral and, some cynics would even insist, propagandistic lightning rod, the way captive Africans were once physically and psychologically prepared for the passive acceptance of the morally inexcusable and execrable "profession" that was the proverbial "Peculiar Institution," my profound apologies to the late Mr. Kenneth Stampp, that was Continental African Enslavement (CAE), that is, are very likely to deeply regret their decidedly immodest exhibition of raw power over others and sheer vanity for a very long time to come. Their children and grandchildren are highly likely to equally suffer the deleterious effects of what is being done to Captain Smart today (See "Captain Smart Narrates What Caused His Suspension" Ghanaweb.com 5/7/21).
We shall, once again, be taking up the life-and-death issue of the Galamsey Menace in due course. We hope it would not be too late by then, gauging from the apocalyptically predatory and horrific pace of the wanton and exponential destruction of the country's landed and forestry resources and the lightning-speed pollution of our waterbodies.
*Visit my blog at: KwameOkoampaAhoofeJr
By Kwame Okoampa-Ahoofe, Jr., PhD
English Department, SUNY-Nassau
Garden City, New York
May 8, 2021
E-mail: [email protected]