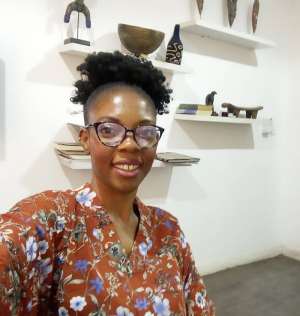 Selassie Davies Lore, Technical Director
1. Ghanaian Fiction of the Month
Book Title: Sons of the Skroll the eagle is home.
About the Book
Cougar's best friend calls them nightmares but Cougar knows the scary dreams that have overtaken his life are premonitions. He believes someone's life is in danger and for some unexplained reasons he shares a strong bond with this character who keeps appearing in his dreams.
The urge to save this endangered character grows stronger with each passing day. is he delusional or is he right about the struggle for a crown and a plot to slay the only living son of the scroll?
Available on all EPP Bookshops nationwide.
Author: Diana Bamford McBagonluri holds an MA in English Literature from Rosemont, PA USA, a BA in English Education from the University College of Education, Winneba, Ghana
2.International Book of the Month.
Book Title: The Lucky One
Author Deborah Cowley with Photos by Kathy Knowles.
About the Book
Massawudu, a 10-year-old boy from Ghana, was born with crooked legs and feet and was unable to walk. He loved school and enjoyed being in the library. His favourite book was Sosu's Call, about a boy called Sosu who couldn't walk.
A meeting with a Canadian filmmaker changed his life. Will Massawudu be able to walk again? Find out in this true story.
Osu Children's Library Fund created the book to celebrate the human spirit and to promote reading and literacy.
Available on all EPP Bookshops nationwide
3. Non Fiction Book of the Month
Book Title: Silence is Not Golden'
Silence is not a woman's best garment as some 16th-century proverb would have us believe. In many situations, speech is golden rather than silver. Emotion suppression has sunk many into various heartrending situations of depression.
People have suffered high blood pressure, poor memory, breakdown in immune system, insomnia, and other forms of poor psychological or physiological conditions due to the habit of bottling up emotions.
Why keep silent to prove that you are strong when in truth you are being weakened by it? Why carry that issue that burns within the recesses of your soul to your grave and deny the living lessons and wisdom from your story?
Call this book the voice of the voiceless and you cannot be truer. It echoes the often-overlooked cry of many women and captures the enduring frustrations of some families out there in the real world.
Available in Shell Shops in Ghana
Author: Kafui Danku
Ghanaian Filmmaker.
4. The Return Series 1.
Book Title: RETURNING HOME AINT EASY but it's sure a BLESSING.
Author:Seestah IMAHKUS
RETURNING HOME AIN'T EASY But it Sure a BLESSING chronicles IMAHKÜS and her husband's sojourn and resettlement in Ghana. A prolific writer, her candid sense of humour makes for an admirable, enjoyable yet serious and commendable read; evoking numerous emotions from her readers, laughter, anger, tears and a burning desire to return home to the land of their ancestors.
For Copies Contact the Ghana Book Club -WhatsApp 0557717596