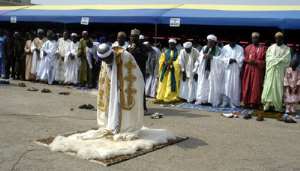 As Muslims around the globe undergo another form of sacrifice to satisfy one of the five (5) pillars of Islam, I wish all NPP members partaking in this sacrifice and compulsory obligation of Islam a very successful festival.
Ramadan is the Arabic name for the ninth (9th) month in the Islamic calendar and it is considered as one of the holiest Islamic months or festivals. The festival involves a month of fasting where believers taking part will not eat or drink anything during daylight hours.
It is held that most or all the scriptures of the Quran were revealed during Ramadan.
Note, fasting is considered to be an act of worship, which enables Muslims to feel closer to Allah and strengthen their spiritual health and self-discipline.
As this Ramadan, which started on Tuesday 13th April 2021, being the second month of fasting falling in the period of the COVID-19, I will admonish all patriots of the Islamic faith to dedicate this year's Sawm to pleading with Allah to totally cleanse our land of this dreadful pandemic and as well seek for blessings and favour for the development of the New Patriotic Party (NPP), and the general steady and speedy advancement of the President Nana Addo Dankwa Akufo-Addo led Government.
More over, in cognizance of the rampaging COVID-19 pandemic and the Government of Ghana's desperation to mitigate its effects in the short run and totally eradicate it in the long run, Muslims should refrain from indulging in any act that has the tendency to breach the Government's COVID-19 protocols and directives and as well further flourish the spread of the virus.
Since the Spirit of Ramadan is not only about fast, but also about feeding the hungry, helping the needy, guarding the tongue, forgiving and not judging others, I will, in furtherance, admonish Muslims to use the holy month to strengthen their love and guard themselves against sin.
To reiterate, have a profitable Ramadan, and may Allah bless you with a peaceful and prosperous life. Moreover, may the blessings of the Ramadan festival be on all of us, and may Allah grant all of your prayers and fasts!
Hhhmm, May God be praised always
Nana Kwadwo Akwaa
Member, Critical Thinkers International (CTI)