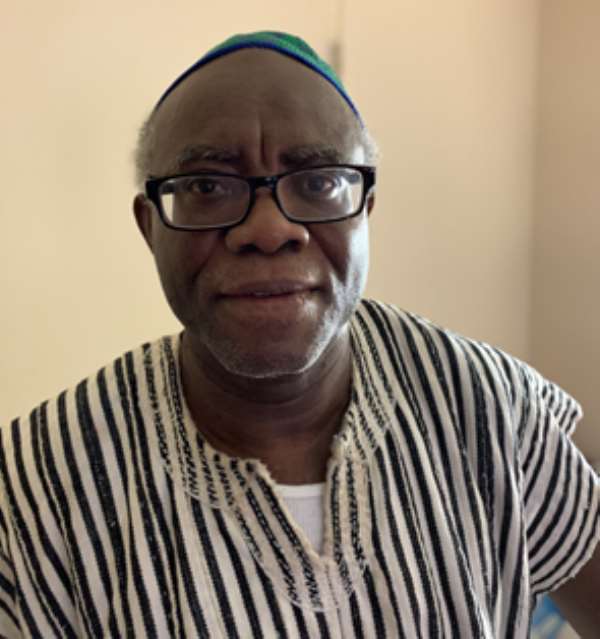 The WhatsApp video clip that I received from one of my regular contacts was titled "We Are Our Own Enemies." It was the theme of a sermon delivered by Bishop Samuel N. Mensah, President of Full-Gospel Church International, Ghana. I am assuming that this is Ghana's branch of a Christian evangelical establishment with a global reach, perhaps funded by some Europeans or Americans, or Euro-Americans. I heard about this group as far back as the late 1970s and early 1980s, if memory serves me accurately, when I lived in the Asante regional capital of Kumasi. It was largely patronized by a group that may be described as college-educated and college-bound professionals. As I faintly recall, the Full-Gospel Church People, as the name of their Christian religious establishment advertised, were engaged in preaching the gospel of success. I even had a friend whose brother, then a recent graduate of the University of Science and Technology, presently renamed the Kwame Nkrumah University of Science and Technology (KNUST), the main campus of which is also located in the suburbs of Kumasi, was an avid member with his newly "acquired" fiancée. The Anokyes, I suppose.
In any event, on the WhatsApp videoclip that we are herein discussing, the Full-Gospel Prelate hits the nail directly on its metaphorical head, which is what we have always known all along, which is that the problem with job creation in Continental Africa by private entrepreneurs is wanton employee theft. Bishop Mensah tells the interesting story of some six wealthy Ghanaian investors he once encountered who scoffed at the very notion of creating jobs in order to help to significantly ease up the acute level of youthful unemployment in the country. Well, as Bishop Mensah tells the story, when fetching jobs have been created by billionaire entrepreneurs like Nigeria's Aliko Dangote, the lion's share of the most gainful jobs, that is, the top management positions, have tended to be parceled out to foreigners, especially to ethnic Indians, because not only are these South Asians almost invariably better trained than their Ghanaian and other African counterparts, even more significantly, these Asiatic-Indians also tend to be far more hardworking and more professionally ethical than their Ghanaian and African counterparts. It is therefore more gainful or profitable to employ more Indians and Asians than Ghanaians and Africans.
As I noted earlier on in this very column, we have always known about this "stereotypical reality," but nobody appears to be bold and frank enough to put this patently unsavory knowledge out into the public domain. "Stereotypical reality" because, naturally, not all Ghanaians and Africans fall into this morally embarrassing category of "thievish lethargy." In other words, the critical question of "Work Ethics" needs to be put on the proverbial front-burner in every national discussion on the high spate or rate of unemployment. We may also, as a nation and a people, do very well and constructively and progressively so, by revolutionizing our school curriculums/curricula by creating courses in personal and professional ethics, beginning right from preschool and kindergarten through elementary, high school and college levels. And on the latter count, I readily own that I am not the very first Ghanaian-American citizen to observe the indispensable fact that while, indeed, it may be seminal to our postmodern and rapid industrial development, nevertheless, no amount or magnitude of fee-free education will socioeconomically advance our country at the most optimally desired level, unless the kind of education that we provide our youths and our most talented and skilled citizenry aims to positively revolutionize our moral worth and work ethic and creates the sort of civically responsible or law-abiding and conscientious human beings of the Indian type, for just one striking example of the sort that Bishop Mensah of the Full-Gospel Church International, Ghana, talks about on the aforesaid WhatsApp videoclip.
To achieve the preceding is apt to take quite a huge chunk of time and capital resources, but then who said that the Romans built their Vatican within a whiff of breath? About the one aspect of his "We Are Our Own Enemies" sermon that I vehemently beg to differ with Bishop Mensah on, is the rather scandalously untutored idea that, somehow, by virtue of their acquisition of the Christian faith or, rather, their Judeo-Christian faith, that somehow, Ghanaians and Africans of the latter faith, perhaps also including the Islamic faith, are far more "religious" than the Hindu-/Hindi-speaking peoples of India and the southern Asia subregion. To be certain, the Hindu of India have one of the oldest and richest religious traditions in the world, if not the richest of any single nationality of people. And, by the way, contrary to what Bishop Mensah would rather ignorantly have his audiences and congregations believe, conscientious thinking and the most elevated ethical thought or thinking is not the peculiar preserve of Christianity or the Judeo-Christian Religion. No, not all.
*Visit my blog at: KwameOkoampaAhoofeJr
By Kwame Okoampa-Ahoofe, Jr., PhD
English Department, SUNY-Nassau
Garden City, New York
April 6, 2021
E-mail: [email protected]