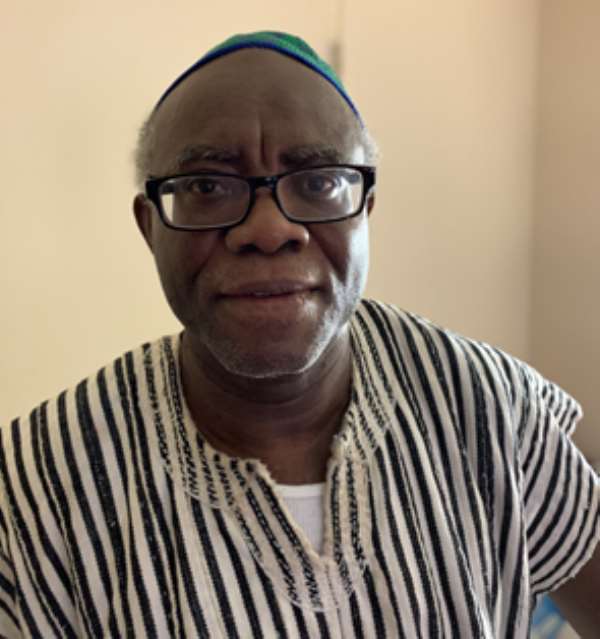 Media operative Ben Ephson has been trucking and hobnobbing with the leadership of the country's main opposition National Democratic Congress (NDC) for so unduly long that the Cape Coast boy appears to have become blinded to the glaring fact that historically, northern-descended Ghanaians have been more actively engaged in the Danquah-Busia-Dombo-inspired camp of the ruling New Patriotic Party (NPP) than they have been in the camp of the Ewe- and Fante-dominated establishment of the National Democratic Congress (See "Northerners Will Soon Know Their True 'Status' in NPP in 2024 – Ben Ephson" MyNewsGH.com / Ghanaweb.com 4/9/21). Still, it can scarcely be gainsaid that Mr. Ephson cannot be seriously challenged or disputed with when he pointedly observes that the late Vice-President Aliu Mahama had been flagitiously afforded short-shrift treatment by the Kufuor-Mpiani Gang.
I have personally written extensively about this scandalous and inescapable fact, in particular the flagrantly devious attempt to make it seem as if it was the "vaulting" presidential ambition of Nana Addo Dankwa Akufo-Addo that had effectively torpedoed the chances of Mr. Aliu Mahama at the Presidency. Of course, the unmistakable fact of the matter is that even if Nana Akufo-Addo had not decided to gun for the Presidency in 2008, it is very certain that the mantle of the party's 2008 Presidential Election would have comfortably fallen to Mr. Alan John Kwadwo Kyerematen, who was widely known and rumored to be the pet favorite of an extant lame-duck President John Agyekum-Kufuor. His flat refusal to even perfunctorily endorse his two-time Vice-Presidential Running-Mate and substantive Vice-President, clearly meant that President Agyekum-Kufuor, for reasons best known to himself, did not trust his Number-Two Man at the Osu Castle.
He would parcel out what clearly amounted to a twin cabinet portfolio to his favorite political steed or racehorse. And that portfolio was, of course, that of Minister of Trade and Industry and Special Presidential Initiatives, the latter added or additional portfolio of which availed Mr. Kyerematen generous access to the Ghanaian equivalent of US Congressional pork-barrel privileges that enabled this Double-Minister to curry undue favor with the country's business community and the Ghanaian electorate at large. It, therefore, ought not to come as any surprise that under the tenure of President Akufo-Addo, the plum portfolio of Minister of Special Presidential Initiatives, or Special Presidential Development Initiatives, would be deftly and surgically decoupled from the traditional portfolio of Minister of Trade and Industry. You see, it was not for absolutely nothing that our sagacious ancestors were known to often say that "S/he who has once been bitten by a snake is deathly afraid of a worm."
Like Akufo-Addo, in the John Agyekum-Kufuor government, it was always crystal clear that an Akufo-Addo government could not afford to sideline Mr. Kyerematen. But it was equally clear that "Alan Cash," as Mr. Kyerematen is popularly known, would also not be permitted to acquire the sort of jumbo wings that would enable the sometime Akufo-Addo antagonist and, some may even volunteer, archnemesis, to fly over and above everybody else. They may understandably not like to hear this, but it is well beyond dispute that none of the prominent party members rumbling for leadership or the party's top-ticket nomination in the runup to the 2024 General Election, has put in the level and caliber of intellectually creative political energy that has ensured that the Akufo-Addo-led New Patriotic Party would be afforded two terms at the Presidency. Even more significant is the fact that under Nana Akufo-Addo and Vice-President Mahamudu Bawumia, more has been solidly achieved on the ground than was achieved by all the four presidents who preceded Nana Akufo-Addo to the helm of Ghana's Fourth Republic.
This is also where the caliber of Dr. Bawumia must be pragmatically measured and assessed. Unarguably, Vice-President Bawumia is the one presidential right-hand man who is actively well engaged in our national develop effort and agenda adequately to merit being called a genuine partner of Nana Akufo-Addo at Jubilee House or the Presidency. On the campaign trail, the soft-spoken and mild-mannered Oxbridge alum is understandably only superseded by his avuncular immediate boss.
*Visit my blog at: KwameOkoampaAhoofeJr
By Kwame Okoampa-Ahoofe, Jr., PhD
English Department, SUNY-Nassau
Garden City, New York
April 10, 2021
E-mail: [email protected]