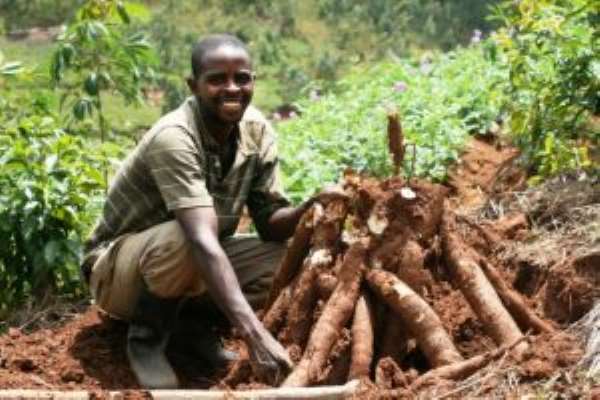 Food insecurity, a scourge on the African continent for generations, is on an alarming rise. Factors ranging from climate change to government mismanagement, have all contributed to this unprecedented situation.
According to research from Africa Center for Strategic studies, over 100 million Africans were facing a crisis, emergency, or catastrophic levels of food insecurity in 2020. That devastating statistic represented an increase of more than 60 percent from the previous year.
The projections for 2021 are ominous, to say the least. In West Africa alone, 23.6 million people are projected to face crisis-level food—an increase of 40 percent from already record levels. Both the U.N.'s Food and Agriculture Organization (FAO) and World Food Program (WFP) warn of additional spikes for at least fourteen African countries experiencing a food crisis in 2021.
A myriad of global trends has led to the current crisis. Conflict has been and continues to be the primary driver of acute food crises in Africa. South Sudan for instance is currently experiencing famine in several regions including parts of Northern Bahr El Ghazal, Jonglei, and the Warrap States.
In northeast Nigeria, nearly 4 million people are acutely food insecure due to militant activity reducing food movements and humanitarian access. Deteriorating currency power and inept fiscal policies have drastically reduced the buying power for large swaths of Africa's population.
According to recent research , this seems to be the dominant factor in southern Africa's falling levels of food security. The economic fallout from the COVID-19 pandemic has exacerbated food security challenges in already unstable regions. Perhaps nowhere is this highlighted more than in the huge risk facing millions of refugees in east and central Africa. According to U.N. agencies , an estimated 3 million displaced people are at risk of starvation, a deteriorating situation that has forced families to consider returning to the places from which they fled. The refugee crisis alone has triggered a $266 million emergency fund drive to ensure food for the next six months.
The mounting urgency of solving the food security crisis has prodded many to rethink the current paradigm. International organizations, while well experienced in providing emergency relief, are failing to address the systemic issues exposing Africa to food emergencies. However, seasoned entrepreneurs, like Zuneid Yousuf, are attempting to tackle these issues head-on.
Yousef stepped into the business world decades ago, making his first successful ventures in textiles from his U.K. base of operations, returning to his native Zambia in the 1990s. Yousef saw incredible potential in Zambia's markets , especially mining and other natural resources.
For three decades the country has been celebrated as an investment proposition for those looking for quality assets in the extractive industry, but for those without local knowledge, accessing the market has been challenging to say the least. His work in the entrepreneurial scene internationally led to the formation of his conglomerate MBI Group which brings together several companies in the region. The group focuses on developing several sectors including mining, energy, agriculture, and fast-moving consumer goods.
Zuneid Yousuf's business ventures have varied through mining, fertilizer, and fuels. His philanthropic initiatives are bolstering African businesses on the international level and fueling global growth. Recognizing the importance of capital investment, Yousef began to leverage his connections in the Gulf, especially the UAE, to merge investors and financers with opportunities in Africa.
Today, it is Yousuf's agri-tech venture, African Green Resources (AGR), that is taking up the twin challenges of food security and economic development.
At the most fundamental level, AGR is about connecting farmers to suppliers and producers with access to markets, value addition, and finance. This year the organization launched an $81 million financing program for agricultural ventures that could impact hundreds of thousands of farms. The organization also has major infrastructural projects in the works , with $150 million funding slated for a 50-megawatt solar farm and irrigation dam. AGR is also looking to facilitate the profitability of mid-scale food producers.
The group's new partnership with the U.S.-based African Fertiliser and Agribusiness Partnership (AFAP) last June will help maze and other essential staple growers increase their yields while strengthening their business viability. This partnership, in particular, is saving local crop markets from collapse. Indeed, the 2019/2020 maize production season is set to reach over 3.3 million tonnes, compared to the 2 million tonnes during the previous season in 2018/2019.
At a time when global trends are increasing the pressure of the food security threat, Yousuf's agri-tech ventures are providing new, working solutions to this decades-long problem. Through philanthropy and harnessing international business resources, AGR is presenting real promise for building economic strength and long-term flourishing in Africa.