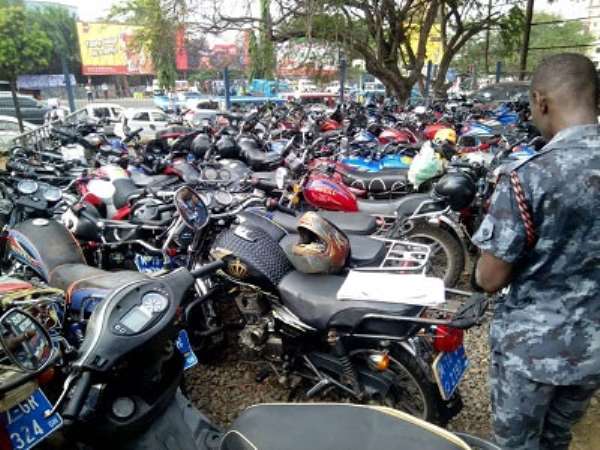 In Accra, motorcycles are not only a source of inconvenience to motorists and pedestrians alike; they are the criminals' choice.
It is unfortunate that those who use this means of mobility for legitimate causes have to endure the inconvenience of necessary police checks for criminal cyclists.
In the past few days, some police commands in Accra have embarked upon an operation to rid the city of unauthorised motorcycles.
We cannot but commend the law enforcement personnel for the exercise, but even as we do so, we shudder to think that this is a nine-day wonder.
Without consistency, the desired objective will not be achieved, and so we encourage them to continue to ensure that only registered motorbikes ply our roads. Besides, motorcyclists who jump red lights or ride dangerously should be arrested and brought before the law.
Many pedestrians have been maimed and others killed as a result of being knocked down by motorcycles, some of them unregistered and therefore untraceable.
Motorcyclists, we are compelled to think, sometimes behave as though they are beyond the law. From not obeying traffic lights to riding without registration numbers, they continue to dare the law with impunity.
As for motorists, only a few have not been inconvenienced by the reckless riding of some motorcyclists in Accra.
In recent times, motorcycles have become important accessories for armed robbers because of their manoeuverability.
Consistent police operations to rid the city of unregistered motorbikes and those being used by criminals must be encouraged.
In Accra, the hoodlums have been emboldened by an indeterminable factor. Perhaps the fire power at their disposal sometimes similar to the ones used by the law enforcement personnel could be the factor. Simple but deadly robberies have recently taken place around the Achimota Forest area and the Awudome Cemetery, both in Accra.
The police have been able to grab some suspects, and killing two in their recent operations.
We have had cause to editorialise on this subject, our interest in it triggered by the importance of public safety; the responsibility of which is a shared one between the police and the public.
The victim of the Awudome Cemetery robbery in which a suspect was gunned down was able to, as the story went, call the attention of the police who succeeded in gunning down one of the hoodlums.
Had the victim not called the attention of a nearby police post, the robbers could have lived to descend upon more passers-by.
With an influx of motorcycles into the country, the prices are not as expensive as they used to be, and besides armed robbers are able to snatch them whenever they need to.
Our streets are littered with countless motorcycles. The relevant laws must apply.
---Daily Guide