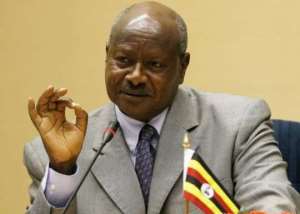 Over and over, we have seen a Muganda whom God raises up, gets us excited but we never seem to move anywhere. The only difference now is the diffusion of information and social media. One figure that rose in 1979 after the removal of Idi Amin, was Professor Yusuf Lule -- he had it all: the good looks women voters yawn for, the education that gets the elites behind you, the support of his tribe, and most importantly, the support of the donors, particularly, the British. He had a true personality cult that no one had had in Buganda since Kabaka Mutessa 11.
He was the second Muganda to become president through back door deals negotiated by the British-- he didn't become one because of elections. When he arrived in Tanzania in 1979 for the Mosh conference, not even Obote knew why he was there in the first place. But Nyerere had received instructions from London to make sure that Lule becomes president.
Unfortunately, Lule did not last long. He made a Luganda statement as soon as he was sworn in," kyemwayagaliza embazi.......", and it was portrayed by his opponents as a typical promotion of Buganda nationalism instead of Uganda nationalism.
These are historical precedents for what we're living through. Someone becomes a leader but get careless with their tongues. Careless statements against westerners and Banyarwanda, appeal to people who don't like Museveni and Besigye, but they end up isolating Baganda. Statements against past and present leaders do a lot of damage.
Terms now, like " twababuka ", " twebelelemu ", e.t.c, mean well in Luganda, but could easily be misinterpreted by non- Baganda. May be, we need a special committee of experts to help with designing a leader's way of communication.
When leaders feel too much love coming from their backyard, they lose their way. For instance, Trump in 2016 said "I could stand in the middle of Fifth Avenue and shoot somebody, and I wouldn't lose any voters". Ya well, some Americans were making notes, and later used it against him.
Finally, Lule knew how to get power but he did not know how consolidate power. As a result, he only lasted 68 days in office before he was removed. He tried to come back to Uganda to stand in the 1980 elections, but then DP leader, Paul Ssemogerere and others, worked with Paul Muwanga of UPC, to ensure that he's locked out. I don't know what Ssemogerere expected to get out of the elections, but here we are-- the interest in elections and press conferences continue, and these days, we even do them on facebook-- it makes us feel important, doesn't it? The supporters even watch out for the number of viewers and compare them against someone with real power.
There is no doubt that Lule knew how to negotiate himself into power. In 1980s, he had formed his own military wing based in Nairobi. He later joined with Museveni's PRA to form NRM-- he became chairman with Museveni as his vice. He probably would have become president again, for a while, in 1986 if he hadn't died the year before(1985). Who Knows?
*Abbey Kibirige Semuwemba*
Stalk my blog at: http://semuwemba.wordpress.com
"Men in authority will always think that criticism of their policies is dangerous. They will always equate their policies with patriotism, and find criticism subversive." - Henry Steele Commager 1902-98