The Convention People's Party (CPP) says Ghana is in total disarray following President Akufo-Addo's State of the Nation Address yesterday.
In a statement, the CPP described Akufo-Addo's address as a repetition of recycled unfulfilled campaign promises.
Among other things, the President delivering his address on Tuesday said all National ID Card numbers will this year be used as Tax Identification Numbers (TIN) and SSNIT numbers.
According to him, there has been more progress in formalizing the Ghanaian economy than there was in the previous sixty (60) years since independence.
"Mr. Speaker, for the first time, we have enrolled 15.5 million people onto the National ID card system (the Ghanacard), and we will complete the process this year. From 1st April, and this is not an April Fool's prank, all National ID numbers will become Tax Identification Numbers. In so doing, the number of people registered by GRA for tax purposes will increase from the current three million (3 million) to 15.5 million.
"I should recall that at the end of 2016, only 750,000 people had TIN numbers. The increase to 15.5 million in just four years is simply phenomenal. Similarly, from the 2nd Quarter of this year, all National ID numbers will also become SSNIT numbers. This will increase the number of people on the SSNIT database from four million (4 million) to 15.5 million! The National ID numbers will also become NHIS numbers. Very soon we will link the National ID to all SIM cards, bank accounts, Births and Death Registry, DVLA, and passports."
The President also hinted of the possible return of the controversial Agyapa mineral royalties deal to Parliament.
"The government will come back to engage the House on the steps it intends to take on the future of the Agyapa transaction," the President told Parliamentarians Tuesday in his State of the Address Address, the first for his second term.
But the statement signed by the General Secretary of the CPP Nana Yaa Jantuah slammed the president for failing to touch very pertinent issues including corruption and the country's current debt stock.
Below is the full statement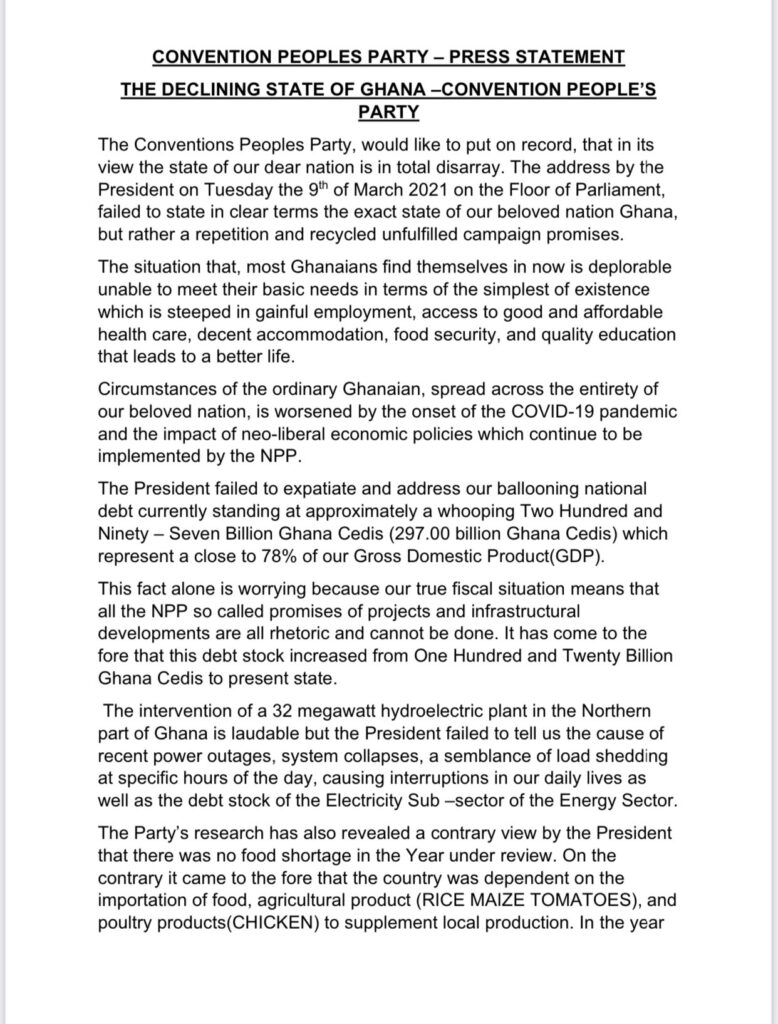 ---starrfm