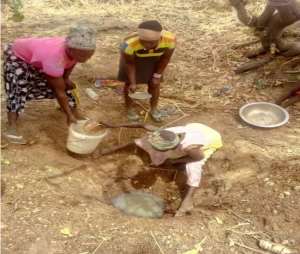 They do not have a borehole and have never drunk clean water. They hate the dry season because their situation becomes worse during that period. For over decades the situation remained unchanged.
The people of Wekaaba No. 2 are leaving in the mercy of the Almighty Allah and believe is the protection of God is the only reason they have not all suffered and died from communicable disease. They have been digging the swampy part of the community day in and out looking for a little drop of water for their households.
the frustration of the people of Wekaaba becomes also critical bin the rainy season as they struggle to cross a valley to Wekaaba No. 1 for health care and education. Amid many challenges, the community felt the need for is a portable water source. In the time of the COVID-19 pandemic outbreak, accessibility to a portable water source is key as it helps to promote hygiene behaviours such as hand washing.
The community has suffered decades of neglect. It is therefore imperative for their Needs to be prioritized.
Ideapath Consult through the 'People Voice project' is intensifying advocacy on the plight of the people to help salvage the situation. We call on NGOs, philanthropists and the cooperate world to come to their aid.
Wekaaba No. 2 is located in the Wa West District of the Upper West Region. The community has a population of 387, with households engaged in pleasantry and gathering of Shea nuts. The lack of water source is not only compromising their health, also threatening livelihood outcomes. If immediate steps are not taken to address the issues, people in the community might flee or die of Thirst.
Author; Tahiru Lukman
Youth Activist, Dev't Consultant & Pan- African Author
Email: [email protected]
Tel: 0209154057 / 0551018778