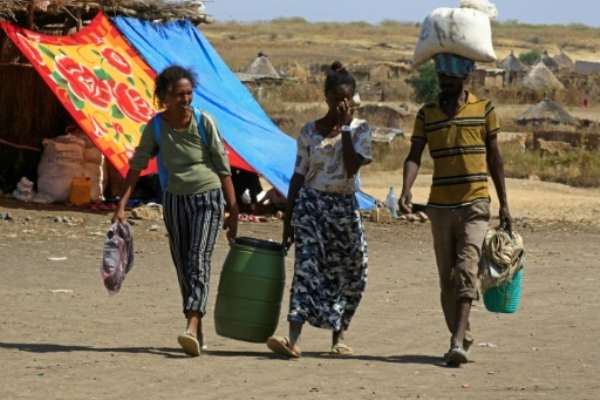 The United Nations must immediately launch an investigation into ongoing allegations of grave violations in the conflict in Tigray, including potential war crimes and crimes against humanity, Amnesty International said following a statement this morning by the UN High Commissioner for Human Rights.
The statement came just before the UN Security Council's scheduled informal discussion of the crisis in Tigray.
UN Human Rights chief Michelle Bachelet's statement echoed Amnesty International's previous call for a UN-led investigation, citing "persistent, credible reports of grave violations in Tigray." It came less than a week after Amnesty International and CNN released separate reports about massacres allegedly committed by Eritrean troops in Axum and Maryam Dengelat , respectively.
Amnesty International's investigation concluded that the Eritrean troops' massacre of hundreds of civilians in Axum in late November 2020 amounts to a possible crime against humanity. The organization also found Ethiopian forces may be responsible for war crimes and, in a previous investigation, quoted witnesses who accused forces loyal to the Tigray People's Liberation Front (TPLF) of carrying out a massacre in Mai-Kadra , a potential war crime.
"The UN High Commissioner's statement today underscores the gravity of the alleged crimes being committed by all sides in the Tigray conflict, and the urgency of the UN acting now. It must dispatch an international, impartial investigation to monitor and report on the situation and to collect and preserve evidence of crimes committed by all parties," said Sarah Jackson, Deputy Regional Director for East Africa, the Horn, and the Great Lakes at Amnesty International.
"Given the complexity and gravity of the situation, an UN-led investigation, rather than a joint investigation with Ethiopian institutions, is urgently needed to establish the truth and lay the foundations for accountability. There is no time to lose – work on this must begin now, before evidence could be destroyed and memories begin to fade."
In her statement, Bachelet emphasized the need for "an objective, independent assessment" of the situation. She reported that "preliminary analysis of the information received indicates that serious violations of international law, possibly amounting to war crimes and crimes against humanity, may have been committed by multiple actors in the conflict, including: the Ethiopian National Defence Forces, the Tigray People's Liberation Front, Eritrean armed forces, and Amhara Regional Forces and affiliated militia."
Amnesty International welcomed the High Commissioner's call for other independent human rights monitors to be provided access to Tigray "with a view to establishing the facts and contributing to accountability". The organization requested access to Tigray on 3 December 2020 and is still waiting for a response.
Closed session at UN Security Council
The High Commissioner's statement comes hours before the UN Security Council is due to hold an informal discussion of the human rights and humanitarian crisis in Tigray.
"Four months into one of the world's gravest humanitarian and human rights crises in Tigray, the conflict has still not been added to the UN Security Council's formal agenda. This has to change," said Sarah Jackson.
"We reiterate our appeal to UN member states to launch an investigation into the situation during the current session of the UN Human Rights Council."