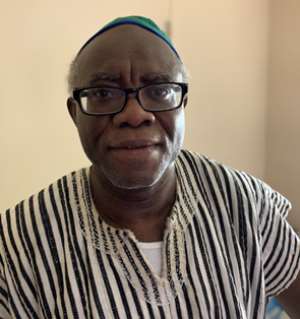 I suppose what people like Dr. Appiah-Kubi, the clergyman, and Mr. Moses Foh-Amoaning, the law school lecturer, are not being adequately told is the fact that fundamentally speaking, these two Bible-quoting gentlemen – they are not really gentlemen in the gallant and classical sense of the term – have absolutely no inalienable superior human and civil rights than any other citizens in Ghanaian society, irrespective of their social status and sexual orientation (See "Give Us a Break! Don't Think We're Not Intelligent – LGBT Promoters Told" Modernghana.com 2/27/21). The fact of the matter is that no individual or group of individuals has a right to impose their will or habits on any other individual or group of individuals, short of legally intrusive behavior that has a tendency to harm or endanger the existence, the lives of individuals or group of individuals who have not signed up onto the same.
We may have been conditioned, each and every one of us, to comfortably hew to a form of behavior that the overwhelming majority of Ghanaian citizenry deems to be normal, but it is also well beyond dispute that we also, each and every one of us "sexually normal" Ghanaian citizens, need to acknowledge the fact that same-sex coital habits or homosexuality, to be precise, is as ancient as heterosexuality. I have also observed times without number, and ad nauseam, that if any form of sexuality or sexual expression occurs in human nature then, of course, it cannot be legitimately regarded or considered to be, somehow, "unnatural." At the worst, the coital practice of homosexuality could be characterized as "reproductively unsound" and consequently "inappropriate," which only assumes that it is the expression of a form of sexuality that does not lead to the reproduction of other species of humans.
You see, Dear Reader, it gets very tricky here, because not all forms of heterosexual coital expressions lead to human reproduction. Scientists all over the world routinely tell us that most coital expressions, heterosexual or homosexual, do not automatically lead to human reproduction. So, this fixation or obsession with heterosexual intercourse as the cultural normative may not necessarily gibe with one's Biblical understanding of what constitutes legal or legitimate sexual expression. The leaders of the so-called National Coalition for Proper Human Sexual Rights and Family Values may definitely not want or like to hear this, but even as the late legendary Ghanaian gynecologist, Prof. Frederick Torgbor Sai, observed many times in his professional lifetime as an internationally acclaimed authority on human sexuality, at best, the pontifical claims to perfect heterosexuality or heterosexual intercourse by "Sex Policemen" like Messrs. Foh-Amoaning and Appiah-Kubi, is downright hypocritical since, in practice, human sexual expression is not immutably or rigidly static but fluid and fluxional.
What Prof. Sai meant by the foregoing expression, that is, "immutably static," he did not specifically use the latter terminology but unmistakably implied the same, is the globally well-known and acknowledged fact that humans are in the "inescapably natural habit" of constant sexual experimentation, virtually to a person. What the preceding observation means is that whenever two consenting adults shut themselves up behind closed doors – and in this context, the focus is squarely on the sexual activities of heterosexual couples – these two consenting adults are as likely to engage in sexual acts that may be traditionally deemed to be as "natural" as to be deemed "unnatural," such as oral and anal sexual intercourse or sodomy. In other words, in the authoritative and professionally expert and impeccable opinion of Prof. Sai, as a collective or community of the human species, we never really left "Sodom," much less "Gomorrah."
It is equally significant to highlight the verifiable fact that in his lifetime, Prof. Sai openly and vigorously promoted the fundamental reproductive right of all women to demand an abortion or otherwise all across the globe. Which, in effect and, of course, also meant a woman's right to choose abortion over birthing and vice versa. I hope Messrs. Appiah-Kubi and Foh-Amoaning are not suggesting, by their clearly blind, fanatical and dogmatic stance on both abortion rights and LGBTQI+ rights that they are, somehow, more "reproductively" expert and sexually more intelligent than global scientific titans like the legendary and immortalized Prof. F T Sai. The morbidly hysterical campaign to shutting down all LGBTQI+-supporting offices and organizations in the country will ultimately not wash. It will not wash because in the scientifically tested and authoritative opinion of Prof. Sai, homosexuality is as "natural" as heterosexuality. Both forms of human sexual expression precede the literary authorship of the Judeo-Christian Bible, as we have all come to know it.
For the right and proper answers to the existence of human sexuality, the Scriptural Text of Legitimate Reference is humanity itself. You see, God or Divine Providence did not first create defective humans by happenstance before seeking to rectify the same, as an afterthought, with the authorship and publication of the Bible. On the latter count, the Roman Catholic Conference of Ghanaian Bishops did not err when recently these very influential prelates issued a public statement acknowledging the fact that both homosexuals and heterosexuals were created in the image of Divine Providence.
*Visit my blog at: KwameOkoampaAhoofeJr
By Kwame Okoampa-Ahoofe, Jr., PhD
English Department, SUNY-Nassau
Garden City, New York
March 3, 2021
E-mail: [email protected]