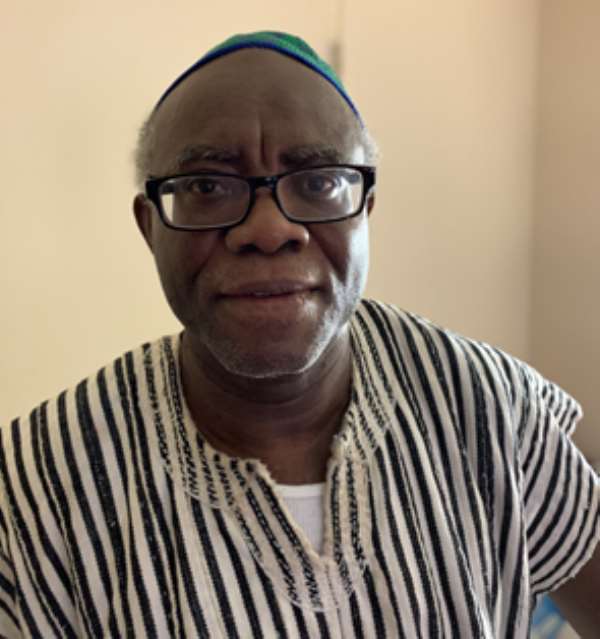 The Parliamentary Minority Leader, Mr. Haruna Iddrisu, is reported to have demanded that Mr. Ibrahim Awal Mohammed, the Minister-Designate for Tourism, Arts and Culture, categorically state his position on the resurgent controversy and debate over the question of whether Lesbian, Gay, Bisexual, Transsexual, Queer and Intersexual (LGBTQI) Ghanaian citizens had fundamental human rights under the 1992 Fourth-Republican Constitution that needed to be respected. This demand, we are told, was made while Mr. Awal Mohammed was appearing before the Parliamentary Appointments Committee (PAC) to be vetted for occupancy of his new portfolio (See " 'I've Never Seen a male Goat or Cow Running after Another Male Goat, LGBT+ Dehumanizing' – Haruna Iddrisu" Modernghana.com 2/25/21).
This is a very good observation which the Akan-majority populace of Ghana has known and recognized since time immemorial. The curious irony here, however, is that going by the system of kinship and patrilineage of the Dagomba people of whose ethnicity Mr. Iddrisu is a bona fide member, one would think that the patent illogicality of the Tamale-South National Democratic Congress' Member of Parliament would have poignantly struck home to the anti-LGBTQI+ protester. The fact of the matter, though, is that it is only patriarchal and patrilineally-oriented Ghanaians like Mr. Iddrisu who are apt to be expected to culturally hew towards the ideology of a male goat or bull following another male goat or bull. You see, among the Akan, there is also that jaded maxim which counsels extreme caution because "Whenever an accuser points his/her index finger at another accused person or target of accusation or obloquy, three of that accuser's own fingers may be seen to be directly pointing at the accuser."
In other words, moral and cultural self-righteousness, as is being presumptuously expressed by the Tamale-South NDC-MP and his ilk at the members of the LGBTQI+ community is, at best, laughably suspect and, at the worst, morbidly scandalous. This is also because contrary to what the powerful opposition parliamentarian would have Ghanaians believe, neither Islam nor Christianity is an indigenous or native Ghanaian culture, irrespective of the considerable length of time in which both major Western religions have been in practice in the erstwhile Gold Coast. As well, I have said this many, many times before and hereby repeat the same, that human sexuality – be it homosexuality and heterosexuality – is the least bit among the major worries of the global Ghanaian community. Rather, it is official corruption and political depravity that are the number one problem and headache of the Ghanaian people.
Besides, in our time and under the thoroughgoing corrupt previous John Dramani Mahama regime, Ghanaians had a Vice-President, one upon a time, whose widely alleged bisexuality was hotly debated in the public arena. And yet, not once did self-righteous politicians like the Parliamentary Minority Leader, then the Parliamentary Majority Leader, come public to openly challenge the late Vice-President Kwesi Bekoe Amissah-Arthur to categorically either acknowledge or unreservedly denounce the morally stigmatizing tag of a pederast that was overtly attributed to the former Atta-Mills-appointed Governor of the Bank of Ghana. As I vividly recall, there was a time that the leader of one of the several LGBTQI+ community organizations released a press statement authoritatively noting that, indeed, the then newly nominated Interim Vice-President was a regular dues-paying member of their organization. Mr. Amissah-Arthur would later lamely claim that he was being blackmailed by an old schoolmate who had fallen on hard times and had resorted to extortion as a means of making ends meet.
I equally vividly remember that Mrs. Matilda Amissah-Arthur, at the time Ghana's Second Lady, did not have anything more substantive to say in riposte or as a means of parrying off the very public and pontifical assertion of the detractors of her husband, other than to lamely testify that "My husband is very good in bed." The question of the possibility of the bisexuality of her husband was never frontally tackled by Mrs. Amissah-Arthur, who would later virulently and vituperatively accuse former President John Dramani Mahama of having ignobly treated his own official right-hand man like the Mahama family dog. Now, what I am inescapably driving at here is the fact that vis-à-vis the question of the official accommodation of members of the LGBTQI+ community, the leaders and key operatives of the National Democratic Congress are relatively far less credible than their counterparts among the vanguard ranks of the Akufo-Addo-led progressive and visionary Administration of the New Patriotic Party. It is as simple as that.
*Visit my blog at: KwameOkoampaAhoofeJr
By Kwame Okoampa-Ahoofe, Jr., PhD
English Department, SUNY-Nassau
Garden City, New York
March 1, 2021
E-mail: [email protected]