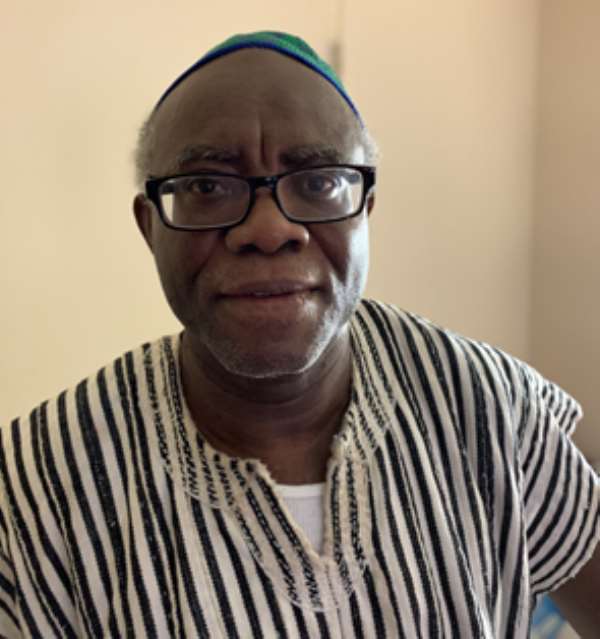 He did what most progressive-thinking and patriotic and eligible Ghanaian voters ought to have done in the 2020 General Election, which ought to have been to vote for the better Presidential Candidate of the country's two major political parties and the relatively more progress-oriented political party as well. Of course, it goes without saying that the far better and more visionary Presidential Candidate with a proven and an enviable performance track record venturing into the 2020 Presidential Election was, you guessed absolutely right, President Addo Dankwa Akufo-Addo, the man who was also recently reelected the Leader, or Chairman, of the 16-member Economic Community of West African States (ECOWAS). And that more deserving political party worthy of being returned to power and democratic governance was none other than the Danquah-Busia-Dombo-inspired New Patriotic Party (NPP).
You see, it goes without saying that none of our Fourth-Republican leaders has governed our country better than "The Little Man from Kyebi," that is, the Simon Kapwepwe who actually succeeded in making the aspirations and dreams of the poorest and most destitute of our youthful citizens come true. A free-loading Mahama-minted mercenary diplomat of a marginal Ambassador had the temerity to disdainfully call for the finest trial lawyer, as well as the most academically and judicially quoted lawyer, "The Little Man from Kyebi," because the grandson of the legendary Osagyefo Nana Sir Ofori-Atta, I, had dared to mercilessly trounce the Bole-Bamboi native and accidental former President and Candidate of the country's main opposition National Democratic Congress (NDC) the way that a good parent canes his delinquent son for playing hooky, as New Yorkers are wont to say, and playing "Kobolo," as the Ga-language speakers of Accra label such morally and socially regressive behavior.
Yes, "The Little Man from Kyebi" also thrashed the rascally upstart and street urchin from Bole-Bamboi because Little Dramani had so irreligiously presumed to squirrel the lone piece of mudfish's head that his recently deceased mother had put into the family's soup to add flavor to the same into his bedroom and under his bed. And, Dear Reader, you guessed absolutely right here again, for a sound beating did an oblong-headed Little Dramani receive, first, from his own birth mother, and then, a couple of decades or so later, from "The Little Man from Kyebi," whose bowler and genius cranial matter, as my own late father once told a student of mine, and his as well, who had taken the ungodly liberty to malign yours truly to the old man, his fatherhood completely unbeknownst to the plaintiff, on account of a disciplinary drubbing that yours truly had delivered the young rascal for neglecting his homework.
The young bastard from Port-au-Prince did not know that he was badmouthing yours truly that Holy Monday Morning to his own father. And you bet the poor plaintiff was served more than an earful; he had bitten much, much more than he obviously could chew, "masticate," as my old PERSCO classmates were wont to say, once we learned from our biology textbook that another more scientific and academically savvy way of saying "chew" was "masticate." Masticate sounded more like the real act. Anyway, this was what the old man later told yours truly that he had told his young delinquent pupil. "Young man, you had better be humble and be grateful to be privileged enough to voraciously imbibe whatever that genius son of mine deigns worthwhile to teach you. You know, if half of the gray matter underneath the skull of my son were packed into your vacuous toddler's skull, you would go bonkers right on the spot!"
Well, the next morning, the young rascal came to class visibly subdued, with his homework done and smiling at me like a rain-soaked pug. Now, anytime I come across either the image or one of those shitty scratches of slime on several media portals passing for a professionally serious, informed expert opinion and an incisive critique of the job performance of Nana Akufo-Addo by that fast-aging Tamale-born kook – clinical nut case, I call him – presuming to disdainfully impugn the integrity of the country's most visionary and dynamic leader in the last 40 years, that is, "The Little Man from Kyebi," the picture of that young dirty bastard immediately comes to mind. But, you see, it does not get any groovier than when the smartest fisherman from the political party of your most formidable opponent hops into a radio and/or television station, uninvited, and pontifically declares to a totally unprepared global Ghanaian community as follows: "I voted for Akufo-Addo. I also told the people in my house to vote for Akufo-Addo, because Nana Akufo-Addo is far more mature, visionary and competent than John Mahama," all you can do is heave a great sigh of relief and salaam Divine Providence for having protected us from possibly the worst political pandemic in Ghana's postcolonial history.
Pandemic Mahama de Bole-Bamboi, as in the patently incriminatory declaration of "The China Virus." But then, you almost immediately realize that about the best that you can say is the following: Hey, Big Brother Bernard Allotey-Jacobs, you are the sort of wiseman that Ghanaians need in abundance, and nearly each and every one of us wishes were a member of our family (See "I Campaigned, Voted for Akufo-Addo Because He Is 'Far Better' than John Mahama – Allotey-Jacobs Reveals" MyNewsGH.com / Ghanaweb.com 2/21/21).
*Visit my blog at: KwameOkoampaAhoofeJr
By Kwame Okoampa-Ahoofe, Jr., PhD
English Department, SUNY-Nassau
Garden City, New York
February 21, 2021
E-mail: [email protected]